August 16, 2018
8/16/18
The fifth installment of NMWA's Women to Watch exhibition series, Heavy Metal, is presented by the museum and participating national and international outreach committees. The exhibition showcases contemporary artists working in metal, including those who create sculpture, jewelry, and conceptual forms. Heavy Metal engages with the fluidity between "fine" art, design, and craft, whose traditional definitions are rooted in gender discrimination.
Heavy Metal—Women to Watch 2018
Artist: Lola Brooks
Nominating committee: Georgia Committee / Consulting curator: Sarah Schleuning, Dallas Museum of Art (formerly of the High Museum of Art)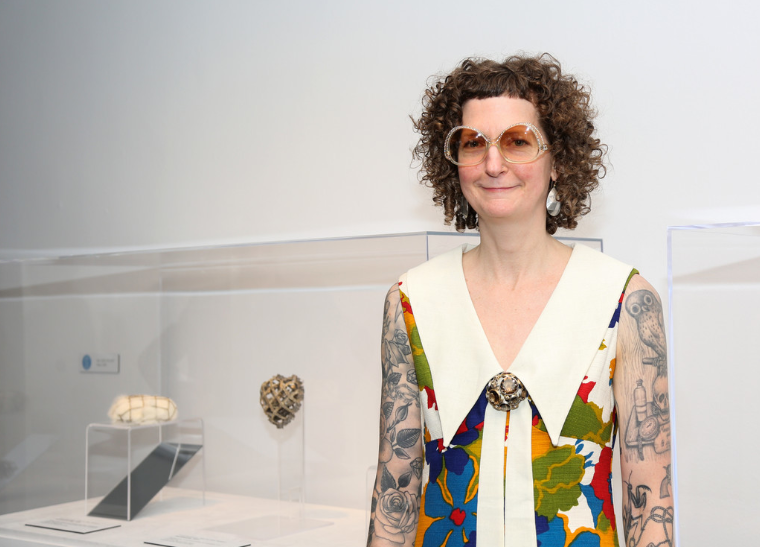 Self-adornment through jewelry has a long history. That fascinating history is something that profoundly interests artist Lola Brooks. "I believe in the power of jewelry's intimate scale and symbiotic reliance on the body, and the fact that its beauty and materiality have always been poisoned by a shameless celebration of wealth, excess, and debaucheries," says Brooks.
Brooks is known for her large and enigmatic wearable pieces, five of which are featured in Heavy Metal. Each contains some of the artist's favorite motifs including hearts, roses, ruffles and bows—all classic romantic symbols. However, Brooks's works contain a subtly edgy and dark quality. Take the dripping tear edged in vermillion coral in the heart of sacredheartknot (2015) or the macabre quality of the dead quails in twointhehand (2015), chained in an endless embrace.
Some of the interesting materials like these taxidermy birds come from Brooks's interest in collecting everything from vintage accessories, potted meats, and plaid pantsuits. Another work, byebabybunting (2015), features a children's vintage rabbit fur muff and antique ivory. "I find power in accumulation," says the artist. "It is an inextricable piece of who I am in the world. With only a few things, I tuck them away to keep safe…If I am lucky, they will become a hoard."
Brooks combines these varied materials with metals and stones of different values including gold, stainless steel, silver, and diamonds, in a way that questions material hierarchy. She often inverts expectations, by using the more precious material such as gold as solder for stainless steel. In a culture that often measures jewelry's value by the volume of its precious materials, Brooks upends expectations.
Brooks's intricate works make viewers wonder, and that is precisely the artist's intent. "I have tossed out the safety of the abstract in favor of the obvious," says Brooks, "in hopes that people may dig a little deeper into what they think they understand, discovering the mysteries that my arrow is aimed at, buried alive somewhere within that saccharine shell of cliché."
Visit the museum to see Heavy Metal, on view through September 16, 2018. Hear from more of the featured artists through the online Heavy Metal Audio Guide.