March 30, 2010
3/30/10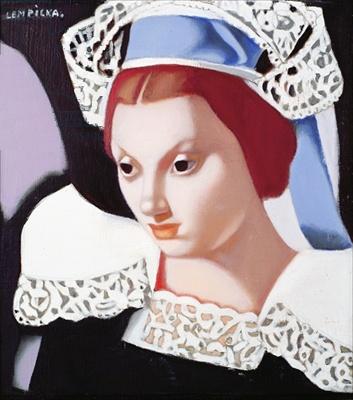 As a leading portraitist of the Art Deco movement in the 1920s through the 1930s, Tamara de Lempicka is truly a force representing women's contribution to art.. Her strong will, extraordinary life, and drive for all things avant-garde kept her in the spotlight for most of her life. Lempicka's technique was elegant and precise, echoing aspects of Cubism, Futurism, and the Bauhaus. Some of her most famous paintings include, Autoportrait, painted in 1929 and Andromeda, painted in 1927, a likeness of the infamous Greek princess.
Born into a wealthy family as Maria Górska in Warsaw in 1898, Lempicka attended boarding school in Switzerland. In 1911, she took an extended trip to Italy and the French Riviera with her grandmother, who introduced her to museums and the great Italian Masters. In 1912, her parents divorced and Lempicka relocated to St. Petersburg where she attended St. Petersburg State Academic Institute of Fine Arts and was trained in various styles. As a young beautiful woman, Lempicka attracted many suitors, including Count Tadeusz de Lempicka, who she married at the age of 18. At the onset of the Bolshevik Revolution, the Count was arrested and Lempicka, after several weeks, was able to secure his escape. The couple fled with their young daughter to Paris. It was in Paris where Lempicka began her career in the arts and established her socialite status.
Not long after arriving in Paris, Lempicka continued to study at the Académie de la Grande Chaumière under the tutelage of André Lhote, a cubist artist of the time. Her first solo show was in Milan in 1925, where she completed twenty-eight paintings in a six month period. After the show, Lempicka became the most fashionable portraitist of her generation, painting the aristocracy and socialites of Europe, as well as showing in elite salons and charging $2,000 per painting.
Famous for her libido, Lempicka was bisexual and often had scandalous affairs. Her paintings were a mirror for her sexual escapades, reflecting the cool, sensual side of the Art Deco movement. Her activities and neglect for her family led to her divorce in 1928. Kizette, her young daughter, was the subject of many of her paintings during her lifetime, even though they had a strained relationship. In 1929, Lempicka painted Autoportrait for the German fashion magazine, Die Dame. The painting became synonymous with the image of the confident, independent woman of the 1930s.
Shortly thereafter, Lempicka became involved with longtime patron Baron Raoul Kuffner, traveling to America with him to show at the Carnegie Institute in Pittsburgh. The couple married in 1933 and relocated to Beverly Hills, CA in 1939, settling into a Garbo-esque lifestyle. She continued to paint throughout WWII in her signature style, yet her work became more abstract, and she replaced a brush with a palette knife as the years progressed.
Lempicka exhibited new paintings for the last time in 1962, the same year her husband died, and vowed to never paint again as the show was not well received. She moved to Texas to be with her daughter and her presence in the art world was overlooked until her 1972 retrospective at the Galerie du Luxembourg. This exhibition brought a resurgence of her work to the public and her return to painting personally.
Lempicka spent her final years in Cuernavaca, Mexico, where she died in 1980. Her personality and impact on the history of women's art has yet to be forgotten and her paintings of the 1920s and 30s are an unmistakable example of the sleek, stylistic forms of the Art Deco movement. Une Jeune Fille Bretonne, painted in 1975, is part of NMWA's collection and showcases the more abstract style of Lempicka's late career.