Ambreen Butt: Mark My Words
Ambreen Butt (b. 1969, Lahore, Pakistan) uses a visual vocabulary that connects culturally specific references with broader ideas about women's hardships and empowerment. Her works highlight everyday heroines with vulnerability and strength; women who protest injustice on the streets and speak back to systems of corrupt power. With her use of beauty and aesthetics to tell stirring and thought-provoking stories, Butt stamps her own mark on the cultural landscape.
"Ambreen Butt makes a striking first impression… Unlike some conceptual or political art, which all too often conveys its message at the expense of its aesthetics, these works are both emotionally resonant and visually captivating. For Butt, making beautiful art about ugly subjects is a conscious choice." – Vanessa H. Larson, The Washington Post, Feb. 6, 2019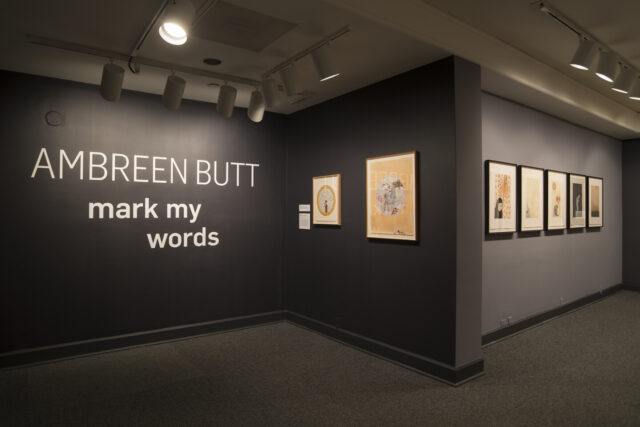 Butt studied Indian and Persian miniature painting, an art form used in historical illustrated manuscripts, in Pakistan before relocating to the United States in 1993. Combining her early training with the conceptual approach prevalent in contemporary Western art, Butt recontextualizes traditional miniature painting to feature modern female protagonists and political subject matter. In The Great Hunt I, the surface of the tea-stained paper is built up with multiple layers of Mylar, which are painted, drawn, collaged, and stitched together.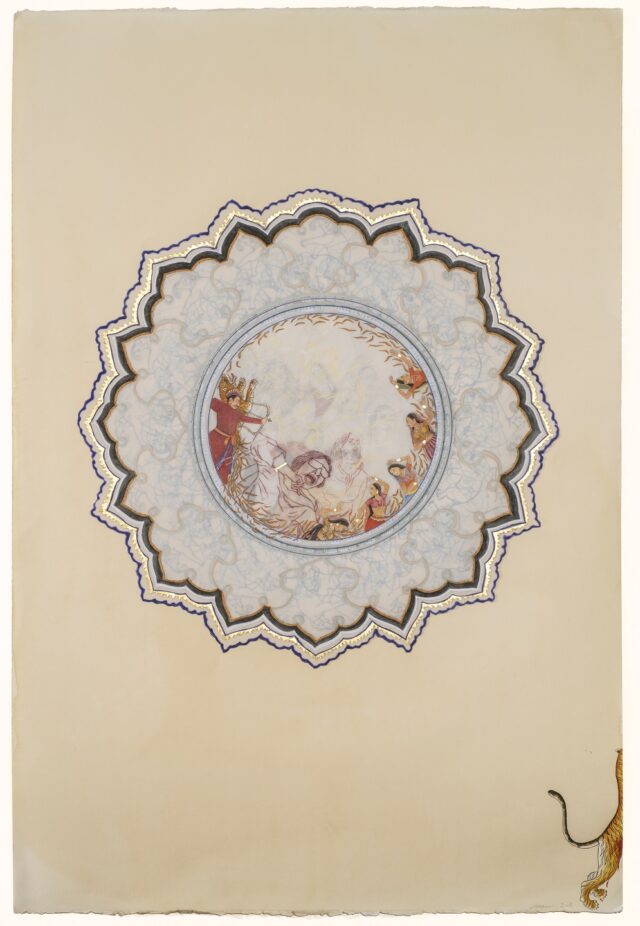 Butt asserts society's vital need for the freedom of speech, encircling the central imagery with text from the poem "Speak" by revolutionary Pakistani writer Faiz Ahmed Faiz (1911-1984):
Speak, your lips are free.
Speak, it is your own tongue.
Speak, it is your own body.
Speak, your life is still yours.
. . . .
Speak, this brief hour is long enough
Before the death of body and tongue:
Speak, 'cause the truth is not dead yet,
Speak, speak, whatever you must speak.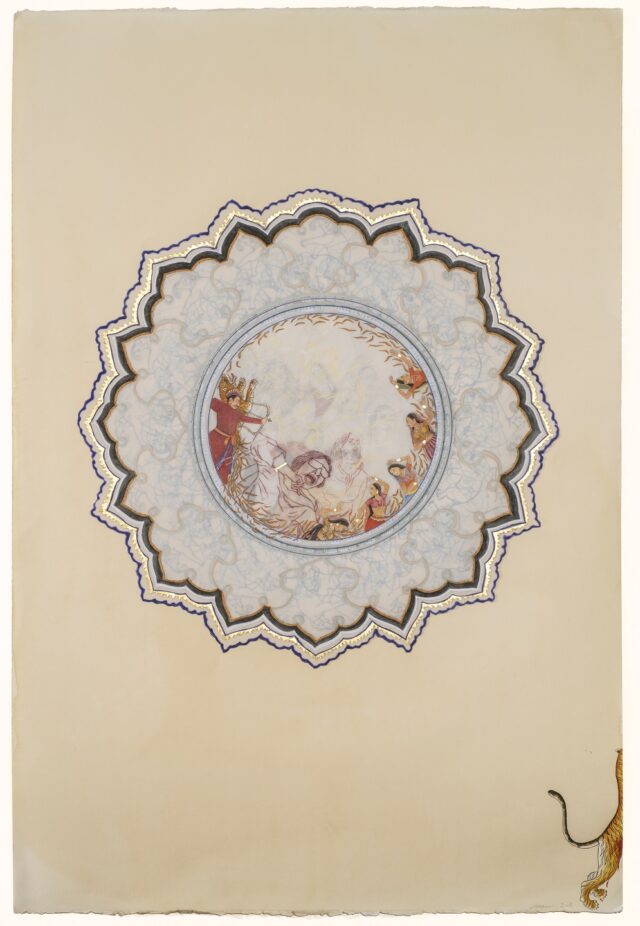 The women in "Dirty Pretty," inspired by the "nayika", or heroine, from traditional illustrated manuscripts are transformed from passive, seductive muses to intrepid activists. These women, Pakistani lawyers who demonstrated alongside their male peers against then-President Pervez Musharraf's suspension of Chief Justice Iftikhar Muhammad Chaudhry in 2007, are seen roaring, their faces contorted as they struggle and resist against law enforcement to make their voices heard. Butt uses imagery adapted from journalists' photos of lawyers who were shackled and beaten by police.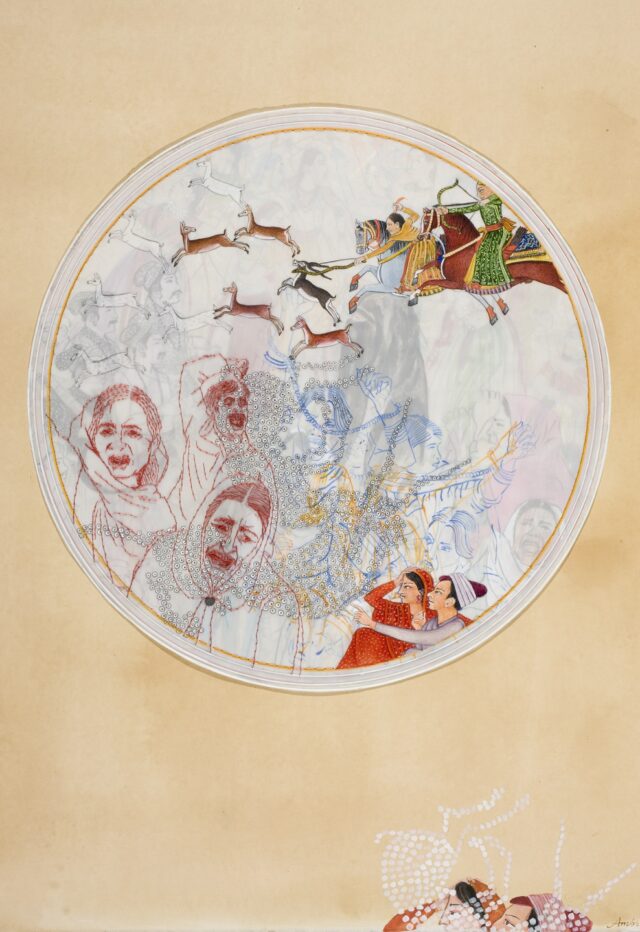 The contemporary female figures are juxtaposed with manuscript illustrations, such as this depiction of a mid-18th-century painting of a royal prince and princess hunting blackbuck antelope. Butt's blending of this historical scene with her representation of modern civil unrest suggests humankind's dual nature of violence and peace, as well as society's persistent abuses of power.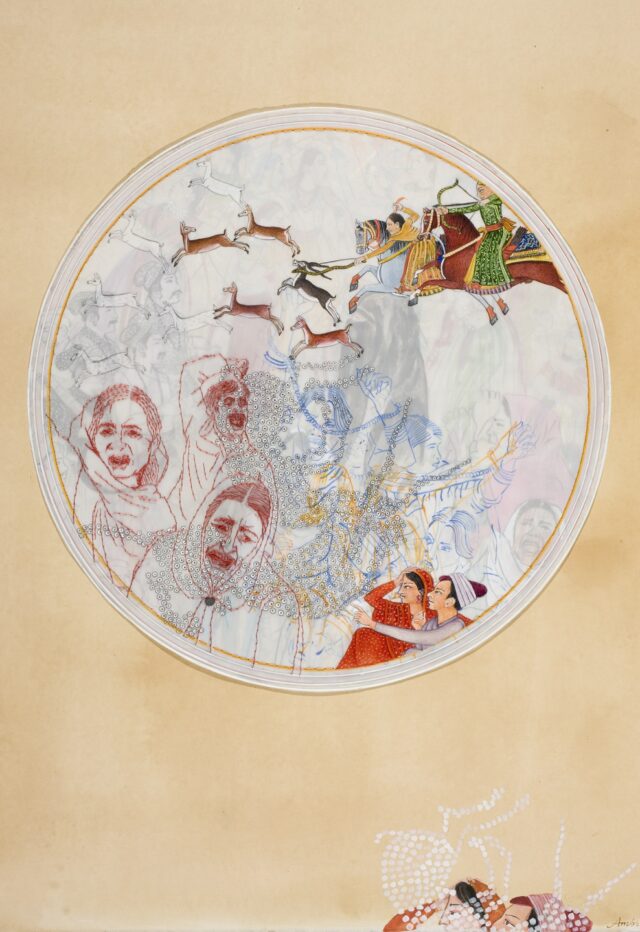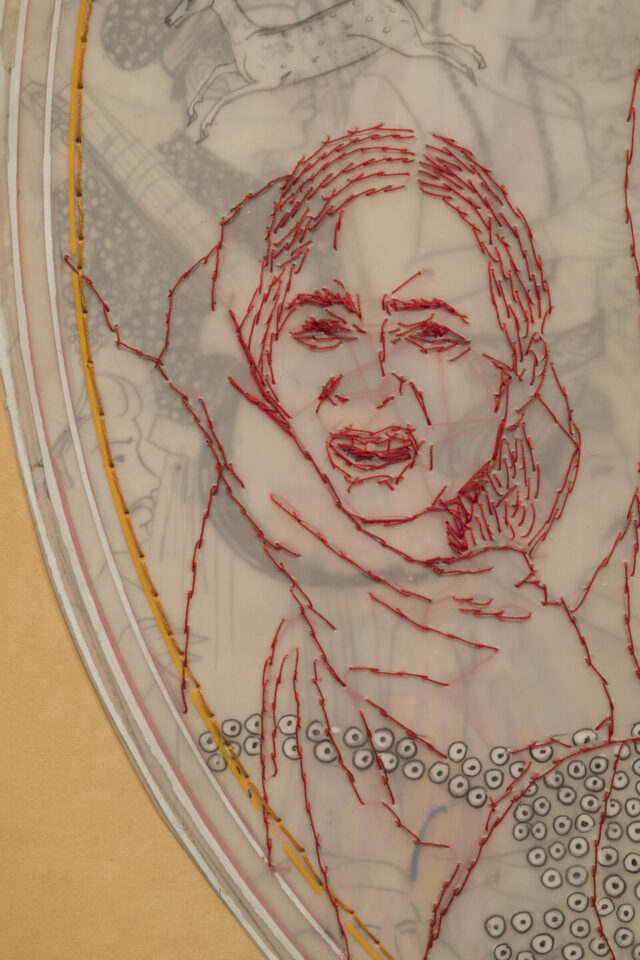 "My protagonist is not an idealized character; she is a mirror in which a million women see their faces." – Ambreen Butt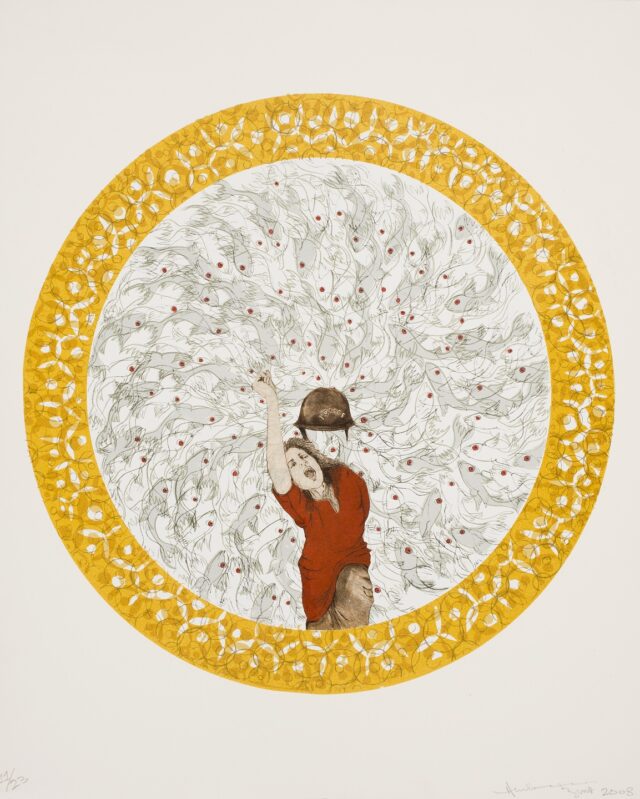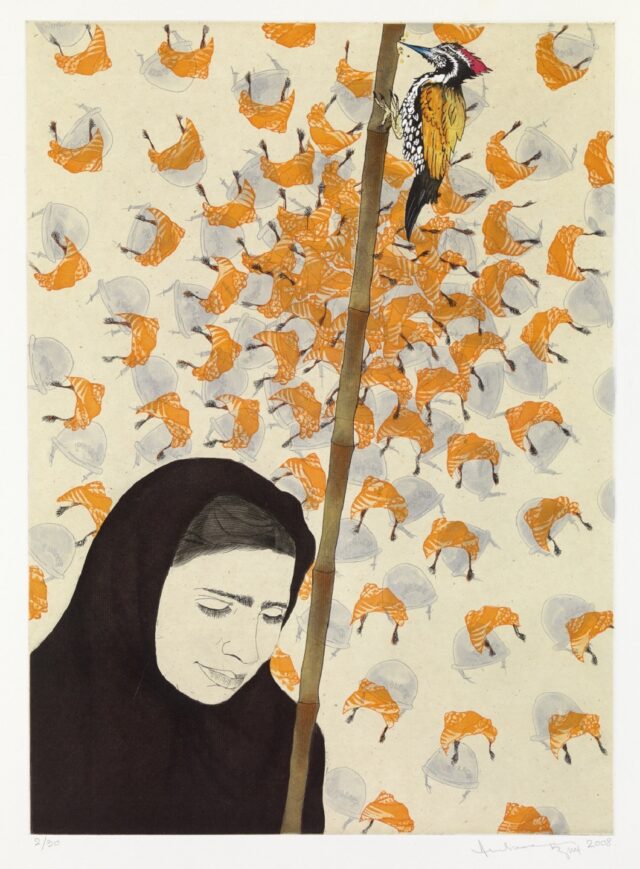 The title of Butt's series "Daughters of the East" (2008) references the 1988 autobiography of former Pakistani Prime Minister Benazir Bhutto, the first woman leader of a Muslim-majority country in modern history. The suite of prints is based on press images of teenaged female students influenced by the conservative teachings of the Lal Masjid (Red Mosque) in Islamabad, who protested the siege of their mosque by the government.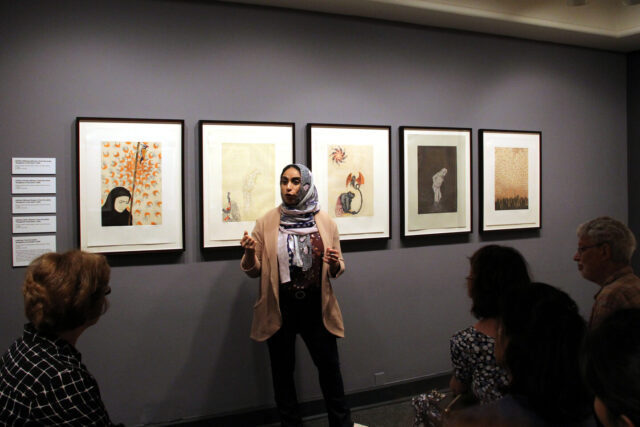 Butt portrays the young women in their black veils standing together in collective unity. The recurring ladybug motif in the background is a metaphor for the way women are sometimes perceived: delicate and appealing on their own, but unnerving in great numbers.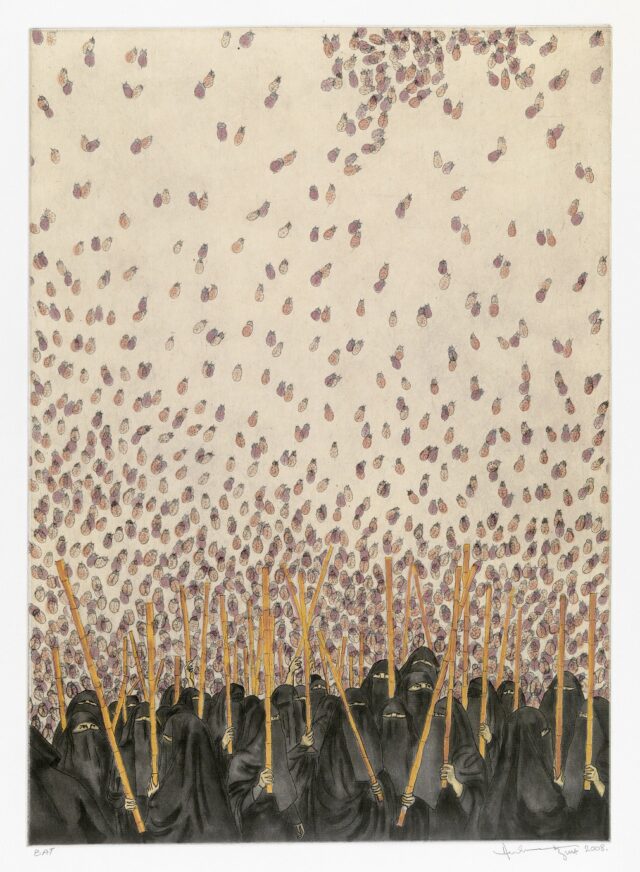 Working with a master printer, Butt embarks on a labor-intensive process where each color etching requires printing on multiple copper plates. For example, the swarm of ladybugs seen in the backgrounds of the prints were drawn on numerous plates, each plate offering another layer of intricate details, adding nuanced shading and depth to the final print.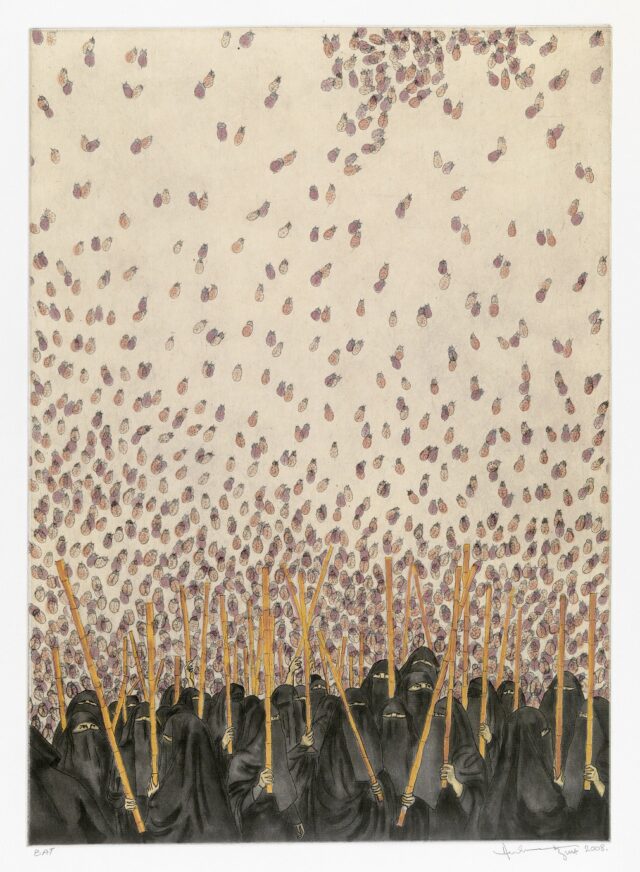 Butt sometimes modelled her figures after herself. In this case, the artist enacted a yoga pose to show the connection between the woman and the dragon, which emerges from her.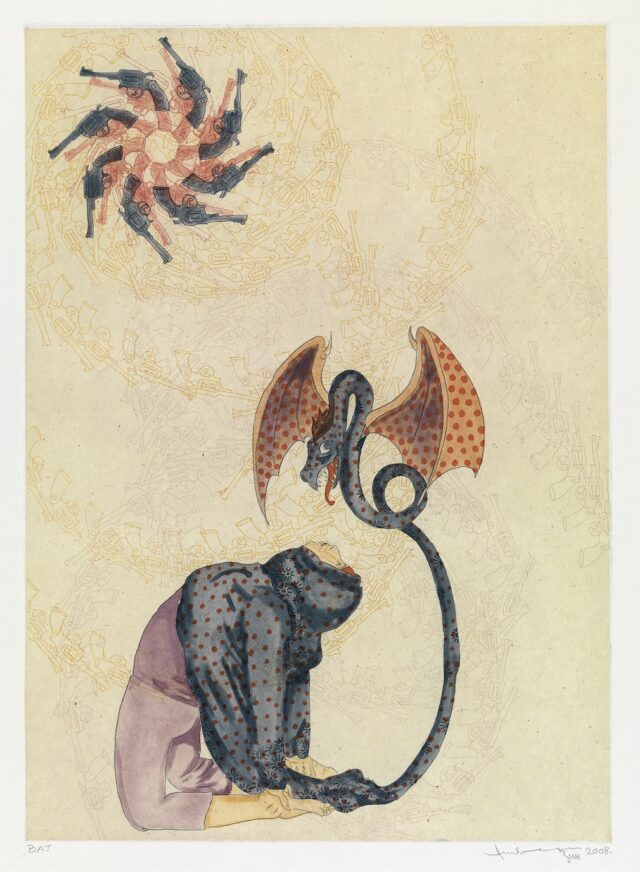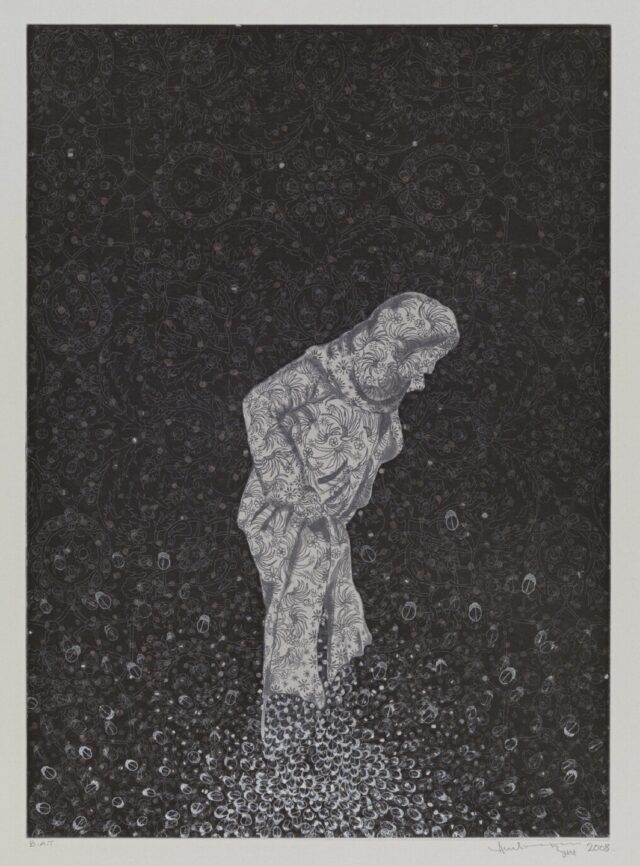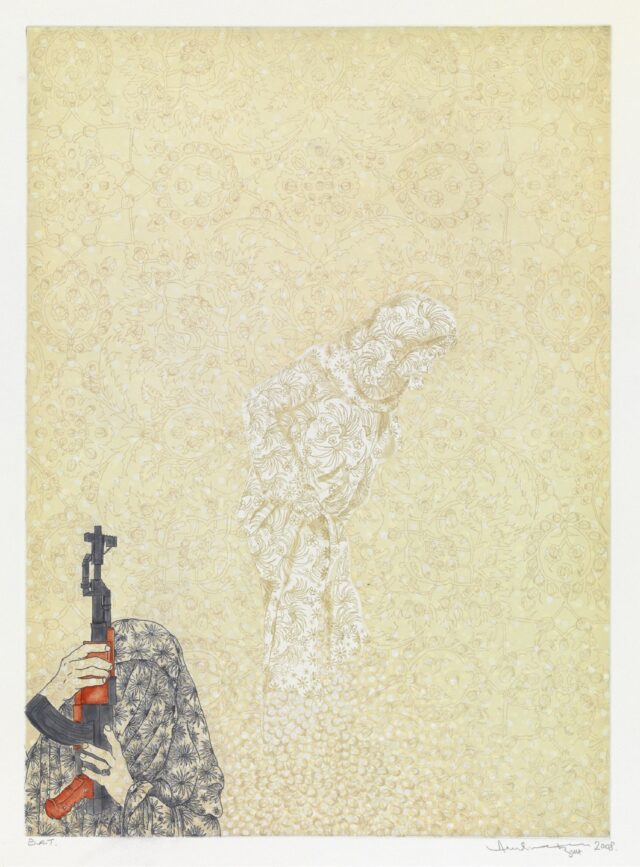 "In the last print from the suite, I celebrate the individual over the group and give a real face to the female under the black veil. The bamboo stick has changed from an image of empowerment into one of vulnerability." – Ambreen Butt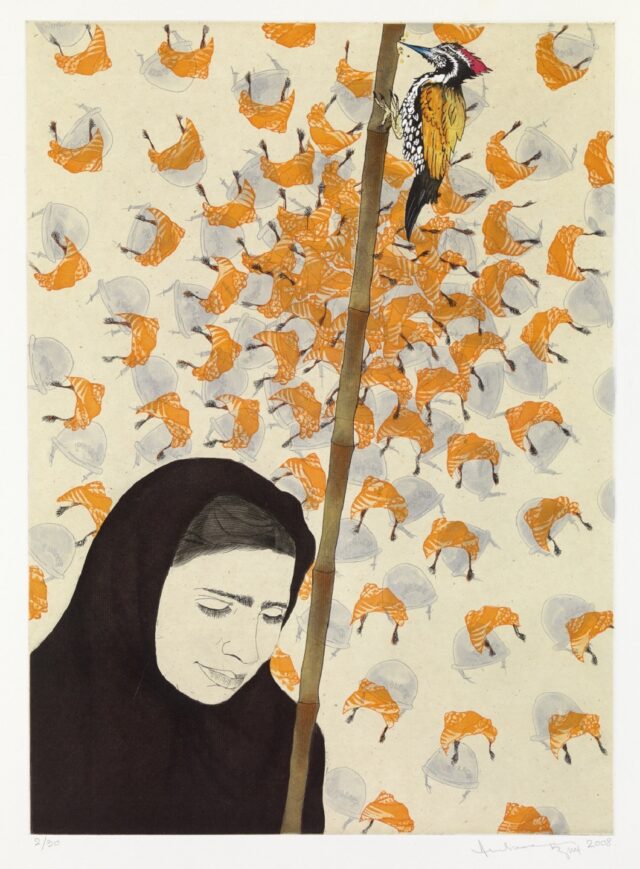 The nearly six-foot tall diptych in "Pages of Deception" evokes the pages of a "muraqqa", an Islamic album traditionally containing specimens of miniature paintings and calligraphy. Butt addresses the intersection of religious ideology and political power through the 2012 Boston trial of Tarek Mehanna, an Egyptian American man convicted of supporting Al Qaeda and disseminating fundamentalist propaganda on the internet.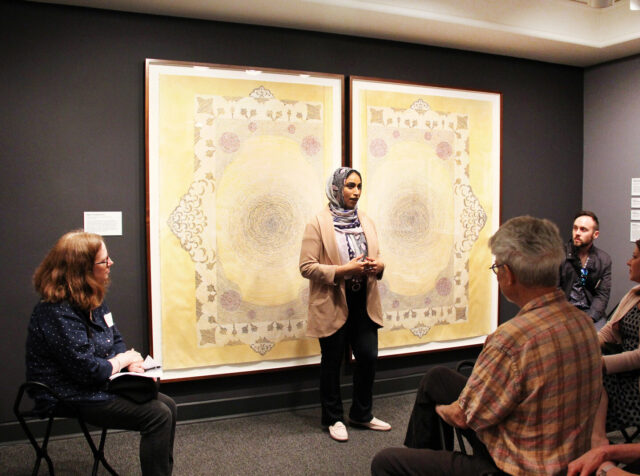 Each panel contains spiraling scraps of text from legal transcripts with the words of the prosecution on one side facing off against those of the defense, opposite. The convoluted arrangement of the words also reflects the difficult and complex questions of national security and First Amendment rights that the case raises. Butt compels the viewer to treat the written word as image that is open to interpretation.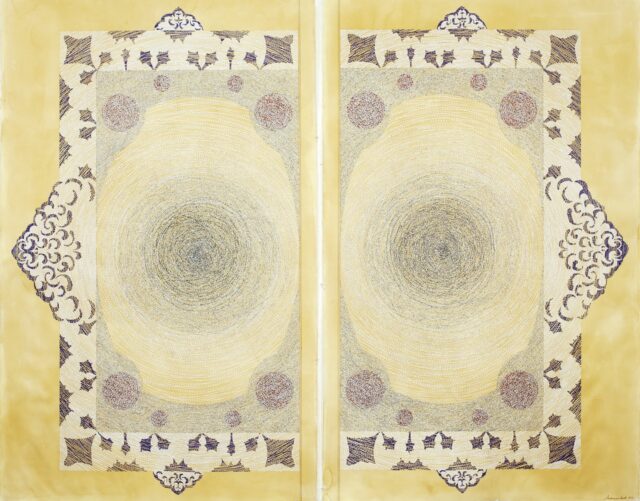 "My use of torn text began [in graduate school] when I incorporated bits of my own journal into an artwork. The ritual of rejecting the version of myself that was preserved in the journal and processing it into a new form, one which had to be read and interpreted in new ways, exposed the vulnerability of the written word and posed new questions about its meaning. I explore ways of transforming text to create images that can be familiar yet untranslatable, the meaning never completely present." – Ambreen Butt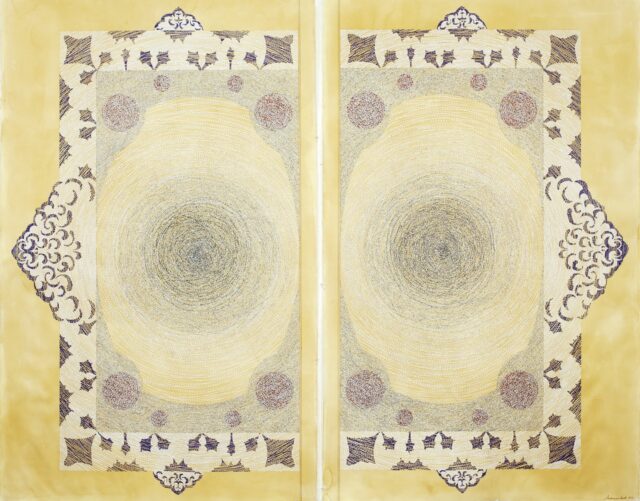 "When you look at it from afar, you see this beautiful work, and then it draws you in, and it commands you to look closer. And then you see, this is a very powerful commentary on social issues." – Philippa Hughes, PBS WETA Around Town, February 26, 2019
For the entire review of the exhibition, see https://www.pbs.org/video/ambreen-butt-uzpmra/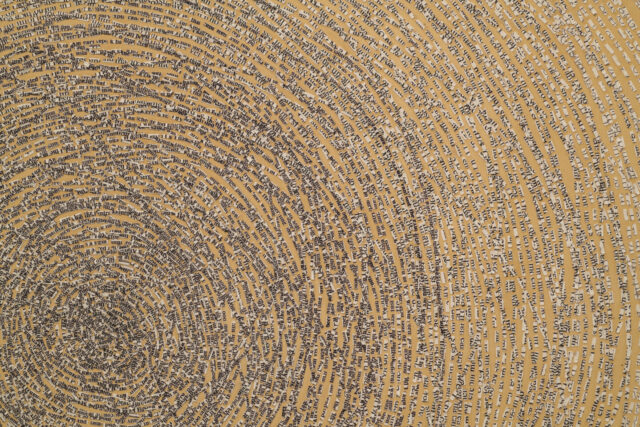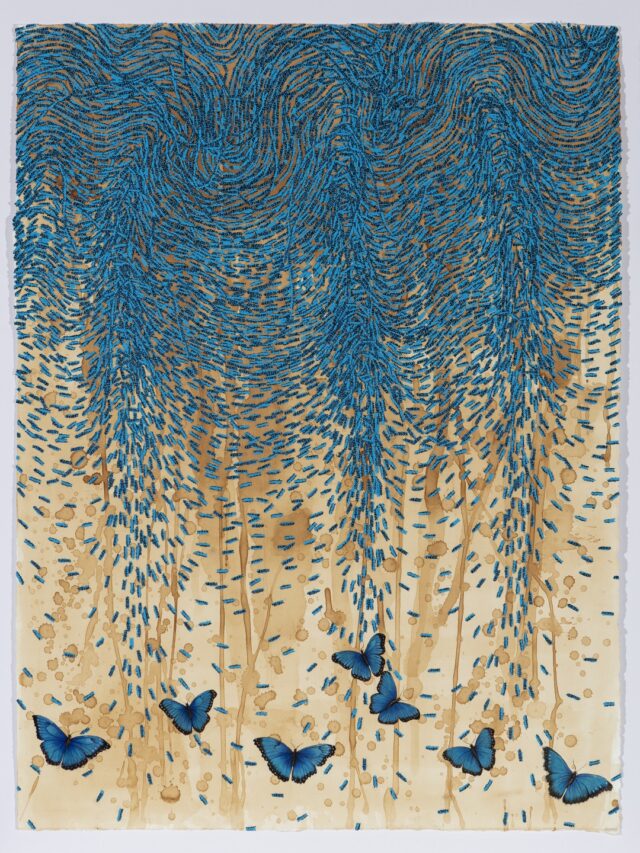 In Ayeesha (3), Butt repeatedly handwrote the three-year old child's name in Urdu, in the same spherical shape as the printed English text.
The collaged paper, ink, and tea-stained marks all converge into a dark, dense center, and Ayeesha's otherwise forgotten identity becomes decipherable to viewers who are confronted with the work up close.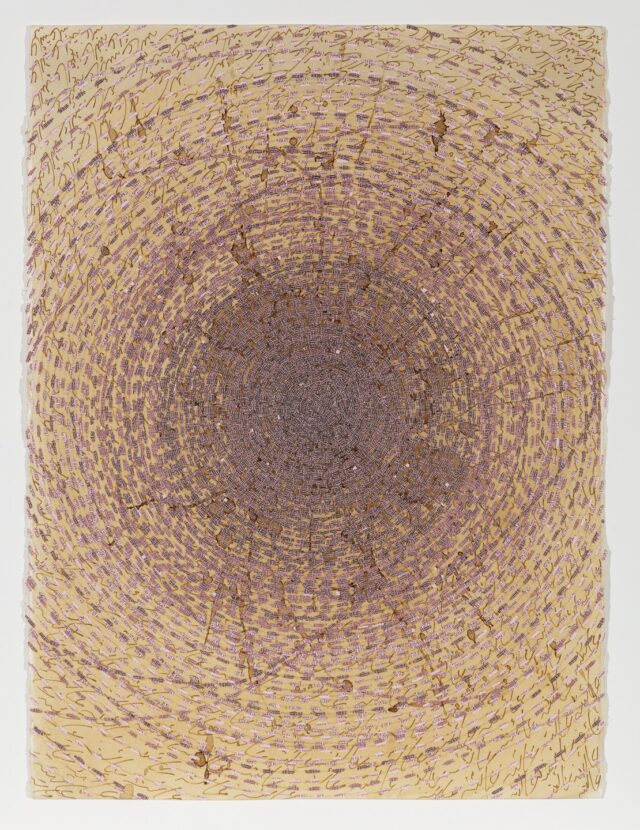 In her most recent iterations of the series, Butt incorporates symbolic imagery. Drawn and painted red, blood-thirsty mosquitos represent mosquito drones, fluttering butterflies connote life and beauty in Shoaib (8) and an open-mouthed dragon in Illyas (13) signifies a system of corruption and violence that annihilates innocent lives.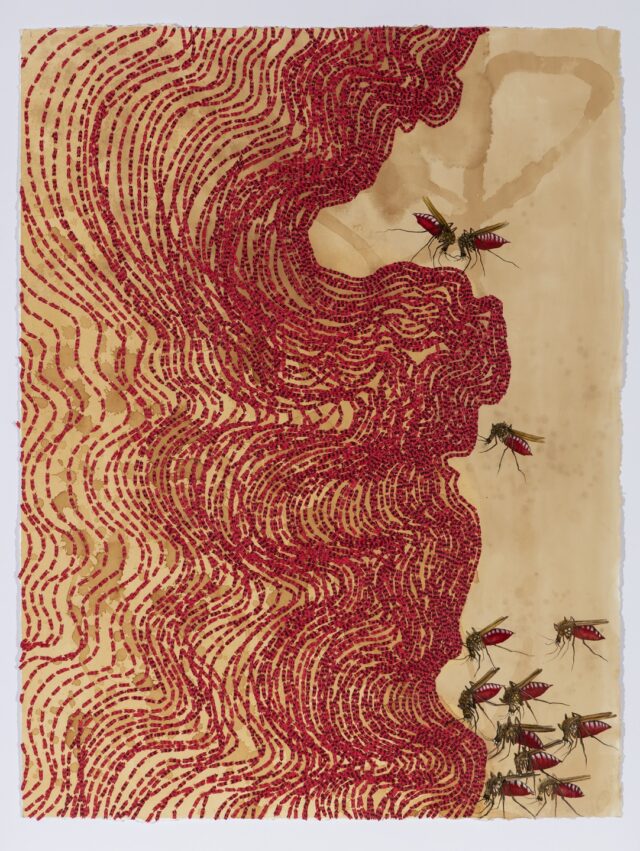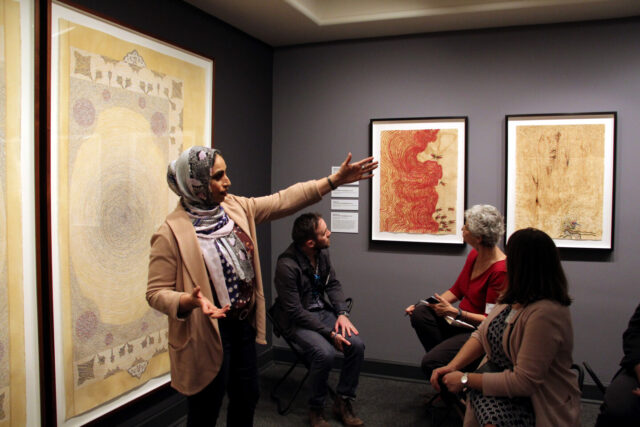 The fragments that trickle down the surface, initially resembling larvae morphing into butterflies, suddenly become the name and age of an eight-year-old victim. Butt forms a dichotomy between the appealing beauty of the butterfly, a mark of life, and the ugly reality of political violence, as if to say that the child himself will never morph into adulthood.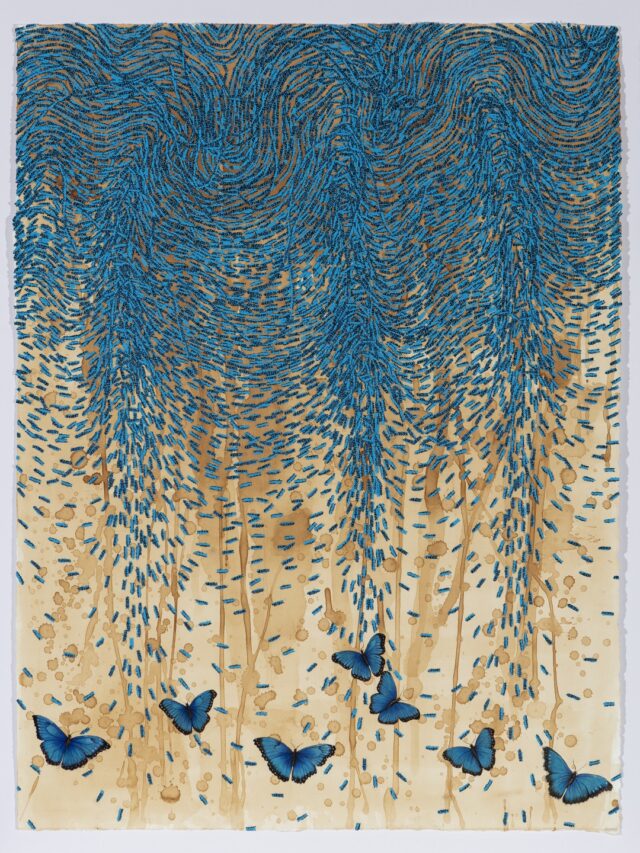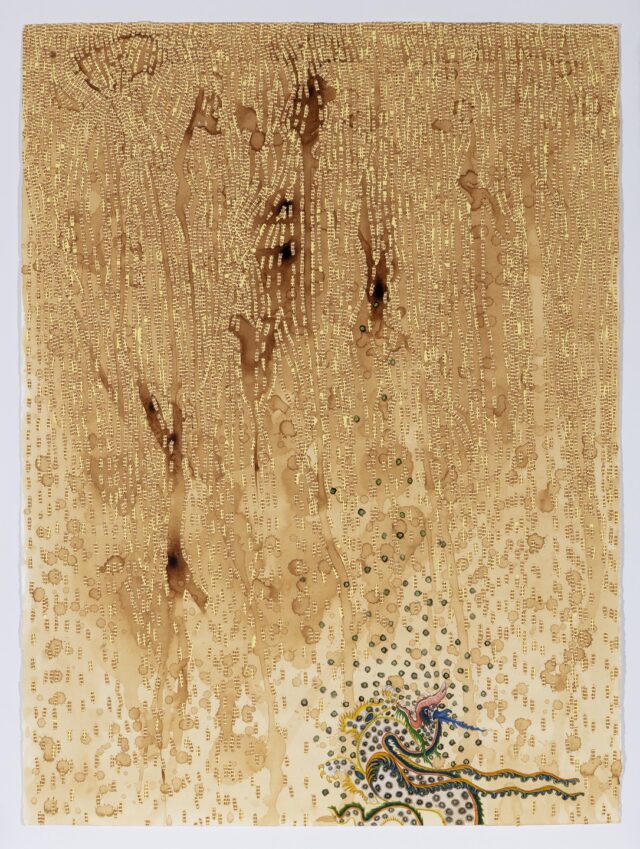 "Our museums are the stewards of cultural history, achievement, and development. At their best, they help us look into our past while providing ideas for the future. Ambreen Butt's work did this for me." – Ari Post, The Georgetowner, January 22, 2019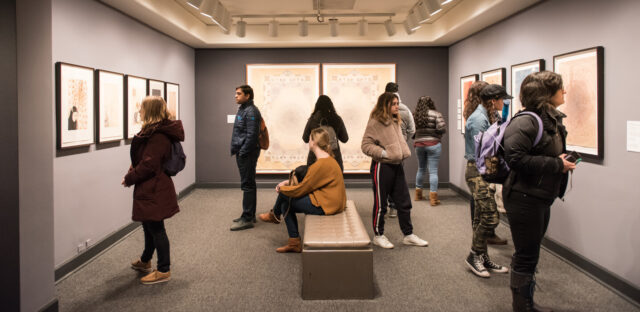 "I have worked hard to develop a visual language that can reflect the complexities of being a South Asian Muslim woman artist in America. My narratives are layered with juxtaposed elements to reflect these complexities, generating a new vocabulary in Western art, but also recontextualizing traditional miniature painting. It has been a blessing for me and a hell of a lot of work at the same time." – Ambreen Butt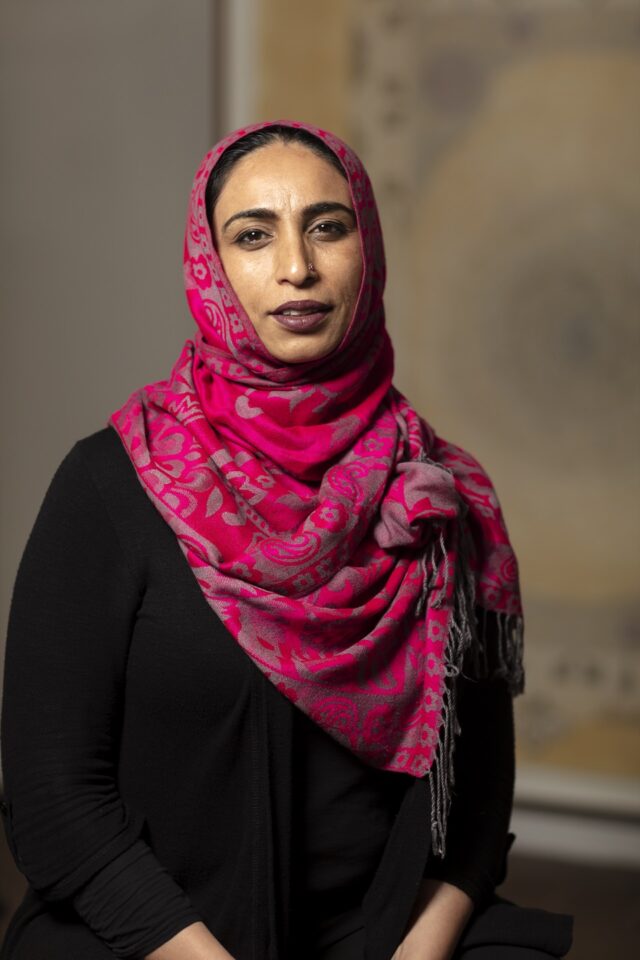 This online exhibition is adapted from the exhibition Ambreen Butt: Mark My Words, presented in the Teresa Lozano Long Gallery at the National Museum of Women in the Arts from December 7, 2018 to April 14, 2019.
The exhibition was organized by the museum and made possible through the generous support of the Belinda de Gaudemar Curatorial Fund with additional funding by the members of NMWA.
All videos courtesy of the artist.