Wanderer/Wonderer: Pop-Ups by Colette Fu
Colette Fu (b. 1969) creates intricate, large-scale pop-up books that depict myths and legends and illuminate little-known cultures. This exhibition presents works from her series "Haunted Philadelphia" and "We are Tiger Dragon People."
Colette Fu began producing books about Philadelphia earlier in her creative life, when she experienced uncertainty and anxiety about her future as an artist. These feelings contributed to her interest in purportedly haunted landmarks around her hometown, which she interpreted into the pop-up book format.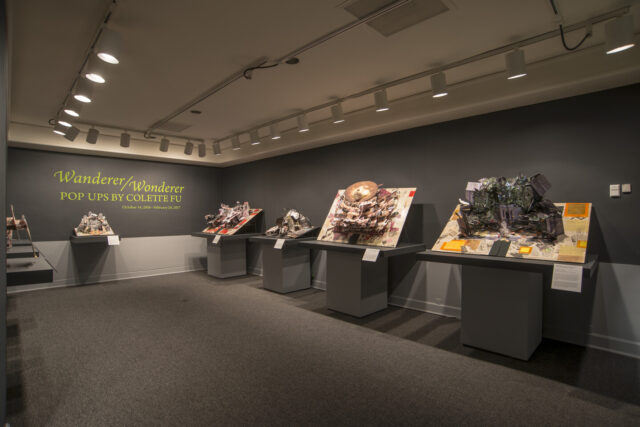 The series "We are Tiger Dragon People," Fu's visual interpretation of minority cultures in China's Yunnan Province, represents the artist's personal exploration of her ancestry and impassioned study of cultural expression in this land known as "the other side of the clouds."
Fu made many trips to southwestern China, traveling with just a backpack and her camera through fifty remote Yunnan villages. She attended and photographed religious ceremonies, festivals, and family rituals and assembled her images into sculptural books.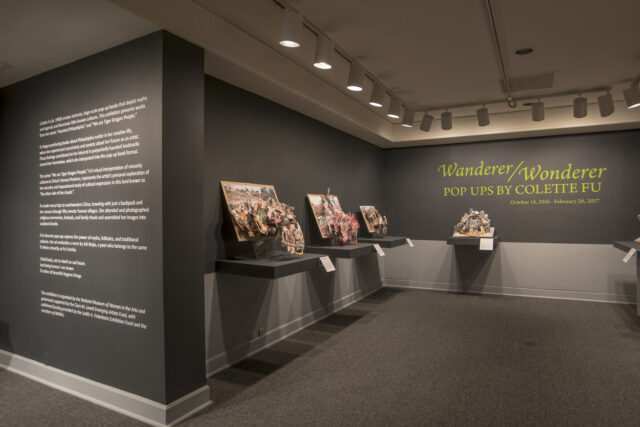 Fu's dynamic pop-ups express the power of myths, folktales, and traditional cultures. Her art embodies a verse by Jidi Majia, a poet who belongs to the same Yi ethnic minority as Fu's family:
I think back, not to dwell on sad losses
Just being human I am drawn
To relive all beautiful bygone things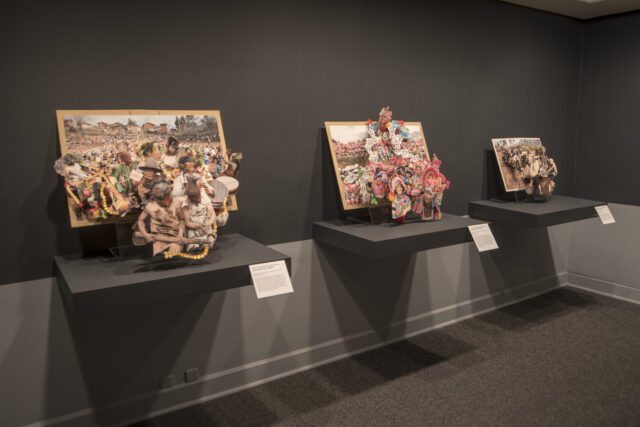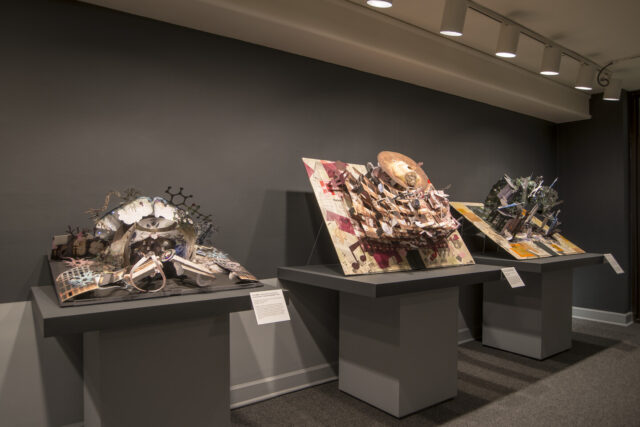 Fu found inspiration for this book in the tragic story of young lovers who met secretly in the garden of Philadelphia's Rodin Museum. After the young woman's family sent her away to try to break up the romance, she returned home to discover that her beau had been killed in the Vietnam War. Devastated, she went alone to the museum, found it locked, and was killed by a car as she dashed across the busy Benjamin Franklin Parkway.
Fu associated this story with the unhappy love affair between French sculptor Camille Claudel (1864–1943) and Auguste Rodin (1840–1917), her mentor. She created pop-up versions of Rodin's and Claudel's sculptures in the museum's garden. An atmosphere of dark foreboding permeates this book—a stage on which human dramas unfold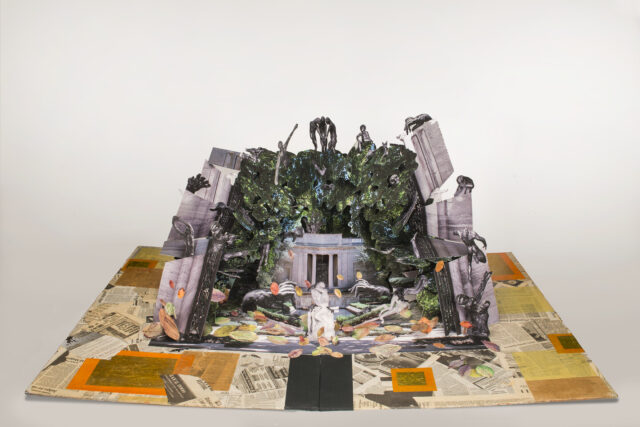 In this book, Fu introduces viewers to the cooking of the Dai people of southwestern China. She suggests the cuisine's sour, spicy, salty, and sweet flavors by densely interweaving her photographs, which emphasize varying colors, textures, and shapes. A young Dai woman with flowers in her hair appears to prepare a feast of regional specialty dishes, including grilled chicken and fish, various kebabs, pig's tail, fermented eggs, beef with red pepper, snails, pork liver, and spicy noodle salad.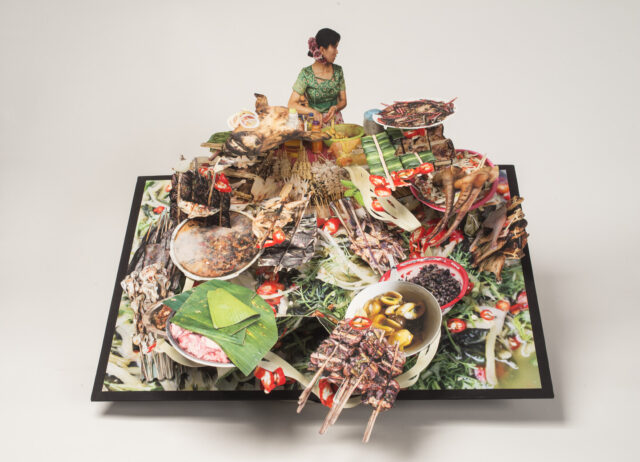 Here, Fu depicts the Stone Forest in eastern Yunnan Province; these distinctive limestone formations resemble weathered tree trunks. Calligraphy by Fu's great grandfather, Lung Yun, who was governor of the Yunnan Province until 1945, is carved in red characters above the entrance to the forest.
This work also references the legend of Ashima, a young woman engaged to be married to her cousin. In a jealous rage, another suitor drowns her, and Ashima turns to stone and is immortalized in the Stone Forest landscape. Fu hand-embroidered the base of this book to pay tribute to the Sani people who inhabit the area and are renowned for their exquisite needlework.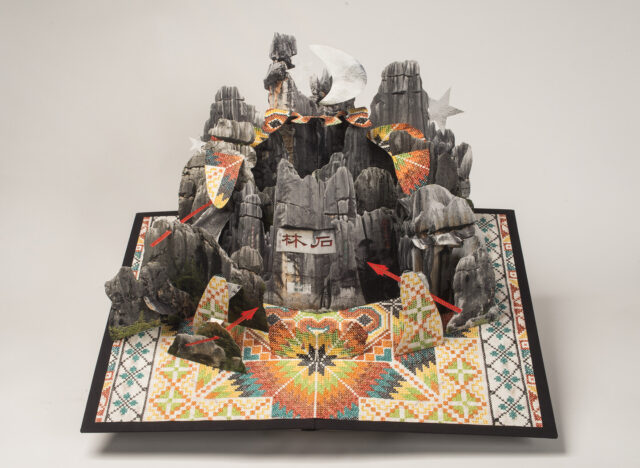 Wanderer/Wonderer: Pop-Ups by Colette Fu was presented October 14, 2016–February 26, 2017 in the Teresa Lozano Long Gallery at the National Museum of Women in the Arts, Washington, DC.
This exhibition was organized by the National Museum of Women in the Arts and generously supported by the Clara M. Lovett Emerging Artists Fund, with additional funding provided by the Judith A. Finkelstein Exhibition Fund and the members of NMWA.
Artworks © Colette Fu
Photographs by Lee Stalsworth
Selected Works courtesy National Museum of Women in the Arts.
Rodin Museum purchased with funds provided by Lynn Johnston and Julie Garcia.
Dai Food purchased with the annual contributions of NMWA Book Arts Fellows.
Ashima, Stone Mountain purchased with funds provided by Margaret Johnston, Krystyna Wasserman, and Elizabeth Welles.