The Book as Art: Accordion Adaptations
Inspired by the 1,000+ collection of artists' books at the National Museum of Women in the Arts, this series of online exhibitions, organized by book format, introduces the boundless range of mediums, techniques, and topics artists explore to transform and reinvent books as we know them.
One of the most basic folding mechanisms, the stretchy, zig-zag accordion lends itself to myriad adaptations. Carousel, tunnel, and flag books all incorporate accordion folds to add complexity and movement.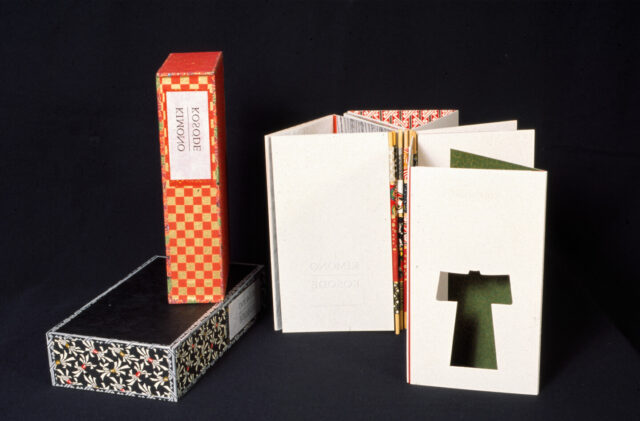 Carousel books like Kimono/Kosode by Carol Schwartzott (b. 1945) unfold like an accordion and form a circle when fully open, resembling their amusement park namesake. Here the overlap of die-cut windows and decorative-paper panels evokes the layers of traditional Japanese dress.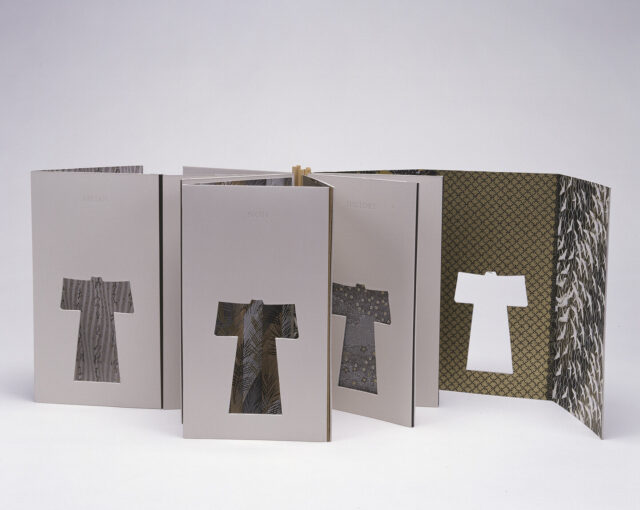 When closed, tunnel books such as Tunnel Map by Carol June Barton (b. 1954) lie flat. We "read" them by stretching the book into three dimensions, motion made possible by the accordion-folded side panels. Extending Barton's book reveals the tunnel, which offers a glimpse of a landscape by framing fragments of geographic forms that recede into space.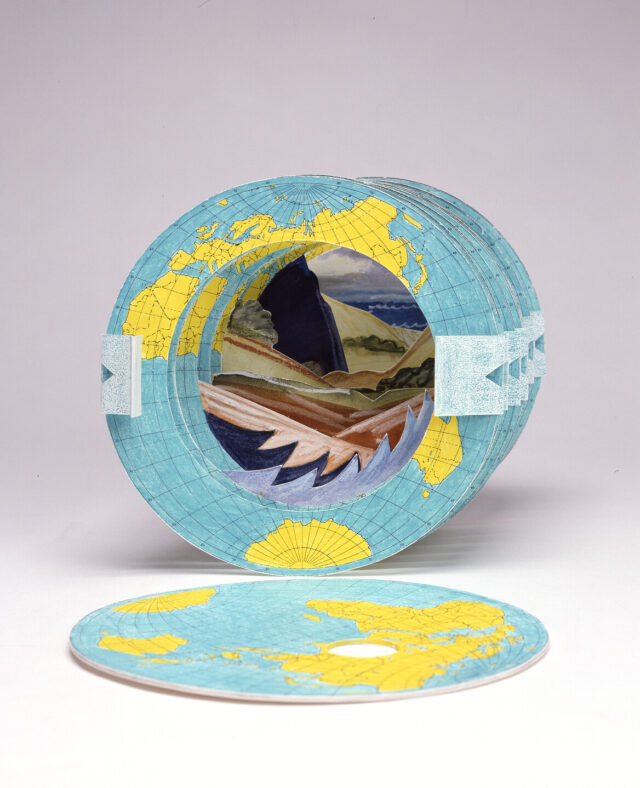 In Octopus, Julie Chen (b. 1963) creates imagery to complement text from a poem by Elizabeth McDevitt, which explores loss and the ways that language can divide rather than connect. The book's tunnel structure features irregular, wave-like openings. Its increasingly shadowy, three-dimensional space evokes the undersea realm of the eponymous creature.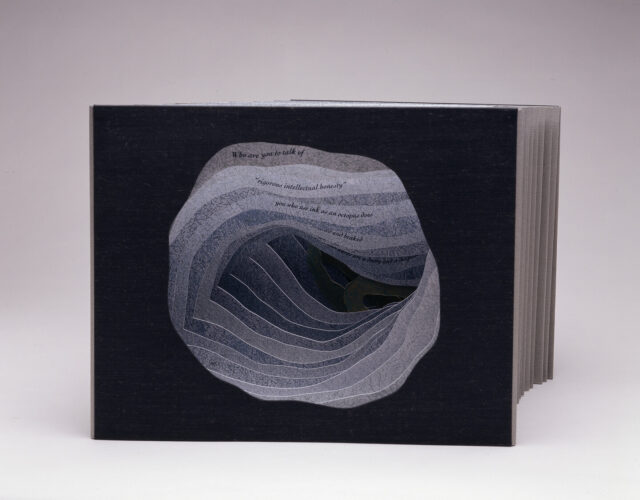 A flag book's structure depends on the orientation of the "flag" pages to the accordion folds of the spine. Opening the book pulls the flags in opposite directions. Women and Cars by Susan Elizabeth King (b. 1947) reveals essays about her mother's and aunt's cars and a photograph of her mother—by her father—in which his car is the actual focus.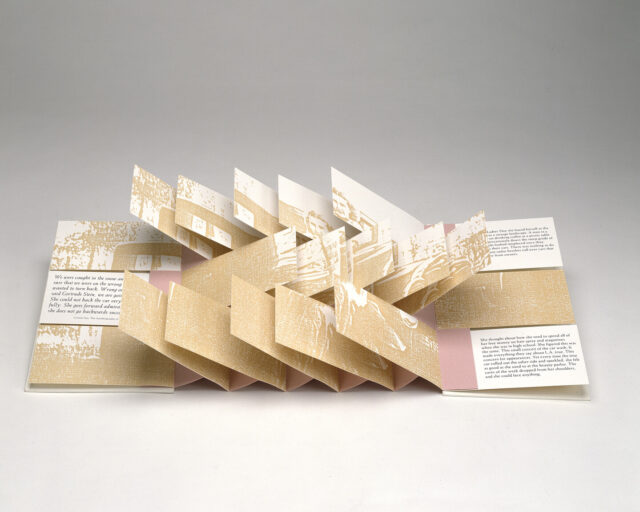 Sande Wascher-James (b. 1946) often employs techniques and materials associated with so-called "women's work"—embroidery, quilting, and beading. How Long? honors the suffrage movement by combining postage stamps of famous American women with quilt blocks. The gold-and-purple palette nods to colors associated with the movement.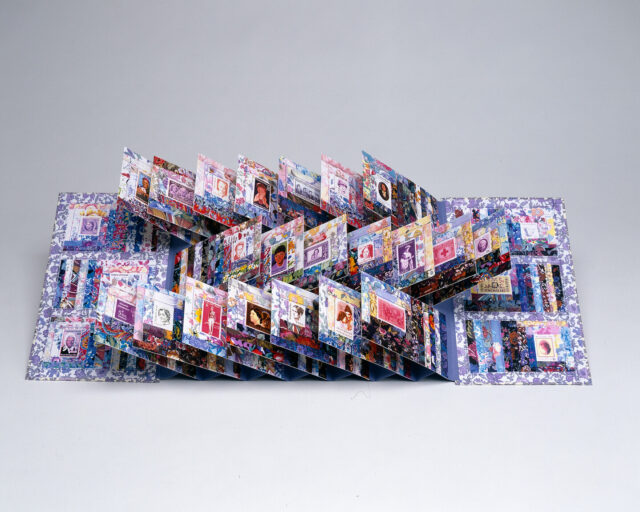 Women in Black by Annie Alexander (b. 1943) honors the bravery of women she witnessed protesting the imminent Iraq War. The flag book reveals a line of standing figures when opened. The leading figure—Christ, riddled with bullet holes—evokes the violence of war, and the black-and-white palette conveys political extremes.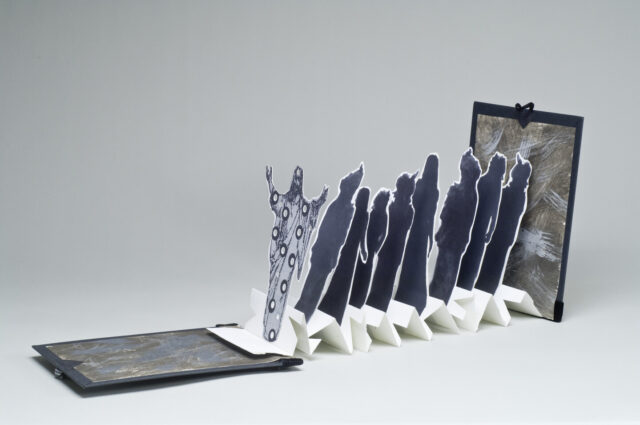 This online exhibition series is created with gratitude to Curator Emerita Krystyna Wasserman, who assembled the museum's rich collection of artists' books during her 30-year career.
Text is adapted from object labels from the special exhibition The Book as Art: Artists' Books from the National Museum of Women in the Arts (October 27, 2006–February 4, 2007).
Inspired to teach someone how to create an artist's book or to make one yourself? Check out NMWA's Art, Books, and Creativity Curriculum.
Online exhibition team: Traci Christensen, Deborah L. Gaston, Adrienne L. Gayoso, Alicia Gregory, Ashley W. Harris, Mara Kurlandsky, Elizabeth Lynch, Adrienne Poon, and Emily Shaw.
Photos by Lee Stalsworth unless otherwise noted.