The Book as Art: Books in Disguise
Inspired by the 1,000+ collection of artists' books at the National Museum of Women in the Arts, this series of online exhibitions, organized by book format, introduces the boundless range of mediums, techniques, and topics artists explore to transform and reinvent books as we know them.
These artists' books defy easy categorization, but they resemble, and transform into, easily recognizable objects. From everyday items to interactive scenes, these creative forms and their accompanying text work together to tell stories or reveal information.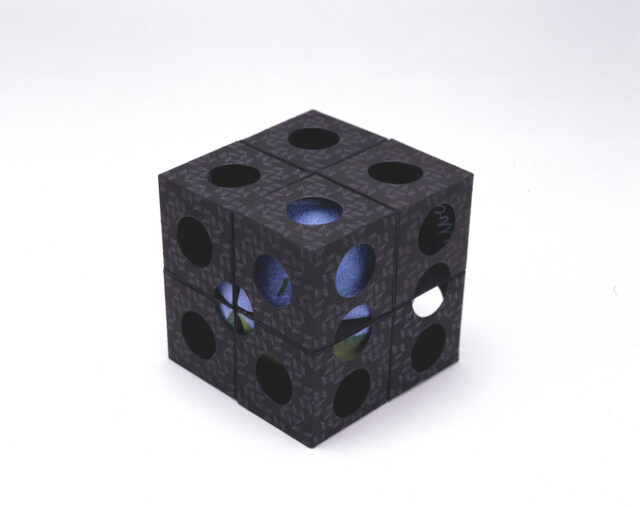 The venetian-blind bound Looking Glass is one of a number of books Carol Todaro (b. 1956) has made using her own poetry. Inspired by an afternoon walk with her husband, and using one of his photographs in the background, Todaro imagines Alice and the White Rabbit as a couple, years after their great adventure.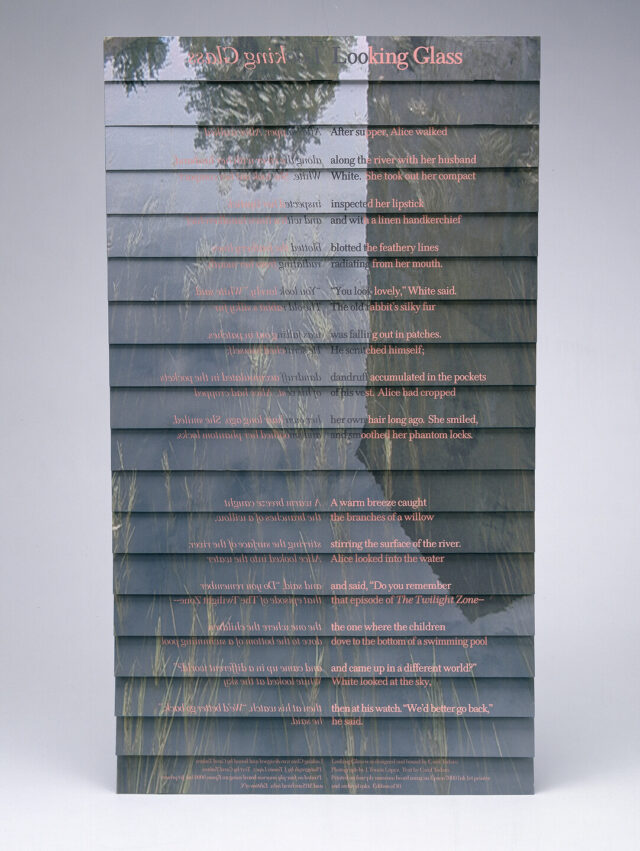 Based on the magic cube, Inside Chance by Linda Smith (b. 1948) first appears as a die that houses a paper globe. To view the poem by Alberto Ríos, the reader must open the cube. Surfaces connect and break away in unexpected ways, rearranging the text into various configurations conveying different meanings. After moving through 26 possible shapes, it returns to the die form.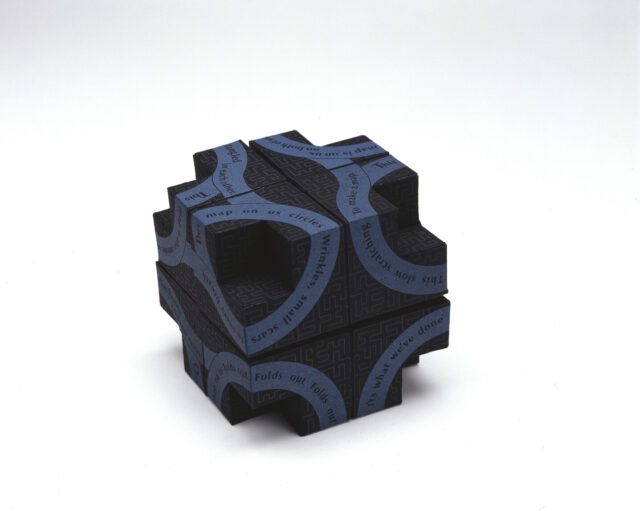 In Mirella Cinderella, Mirella Bentivoglio (1922–2017) demonstrated her sense of humor by imagining herself as the famed fairy tale princess. Here, however, it is a book, rather than a prince, that guides her to the imaginary palace. The tiny slipper described in the legend also would not fit Bentivoglio, who was proud of her size-10 shoe.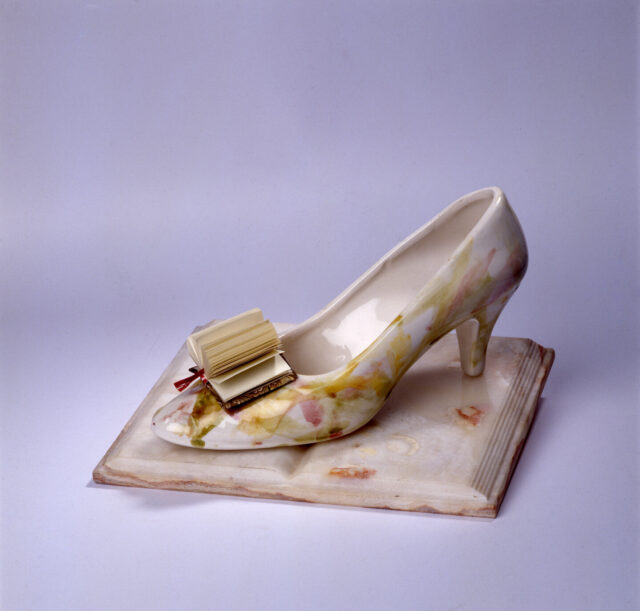 Reading the diary of Anne Frank affected Yani Pecanins (b. 1957) profoundly and inspired a series of book objects, including Los dos lados. The artist created this book from one of her childhood dresses, which she altered with photographs, calligraphy, thread, and the words of Frank. Pecanins said that the dress connected her with Frank's writing about feeling both fragile and strong.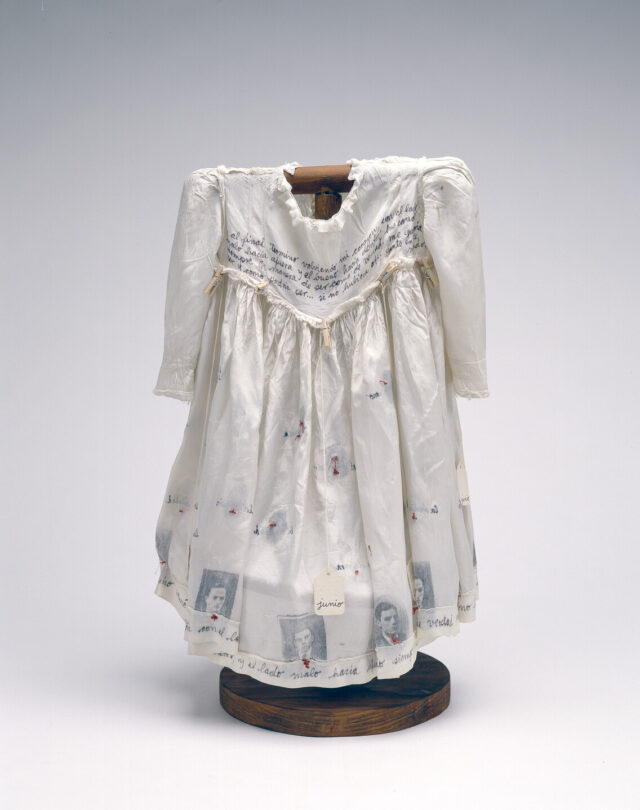 Bicicletta della luna is a remembrance of summers spent on the Italian island of Ischia, where Elisabetta Gut (b. 1934) collects her art material—leaves, stones, and seashells—and rides a bike. "In a dream I went on my bicycle to the moon carrying with me my little book of poetry," said the artist. "It was very quiet there. I scattered pages of my book on the moon-landscape and left."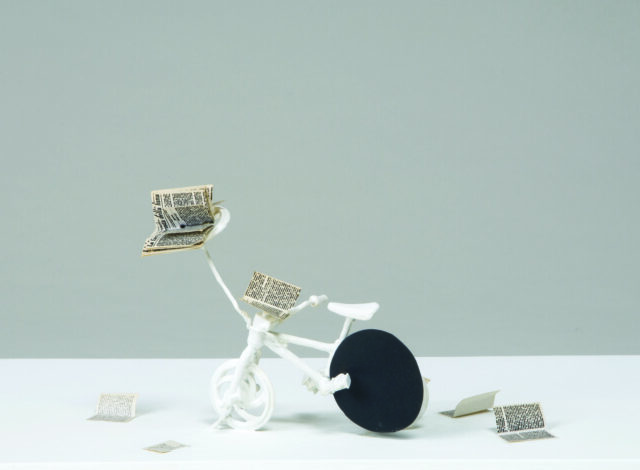 Carrots Anyone? reflects on the mixed messages from the food industry as it simultaneously attempts to entice us and pander to society's obsession with body weight. Susan Joy Share (b. 1954) created this wearable component of a performance piece in which the carrot books, featuring phrases like "think thin," are sold the way sensual "cigarette girls" once offered their wares in dance halls.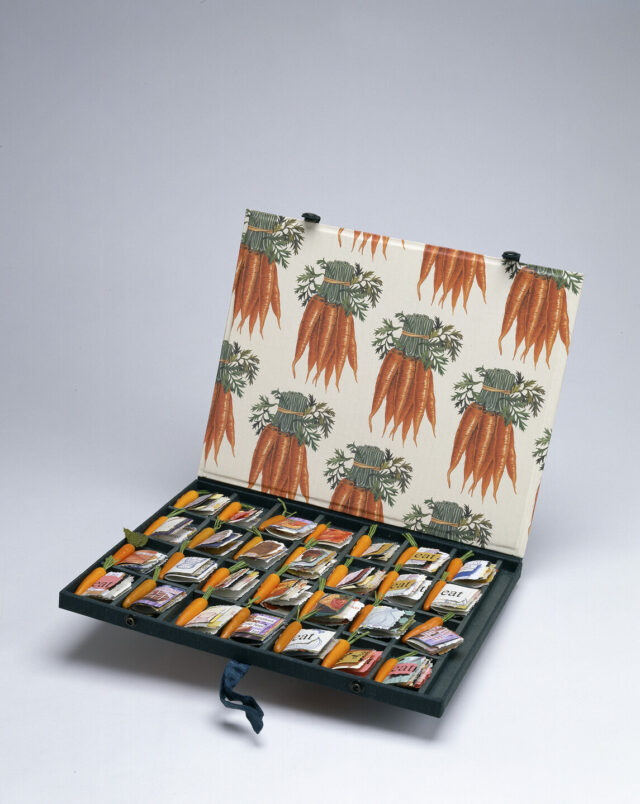 Julie Chen (b. 1963) got the idea for Bon Bon Mots about two years before making it. She envisioned a collection of intimate, confection-like book-objects so appealing that readers could not resist holding and reading them. Among the "sweets" are a phrasebook of social graces and a calendar recording each day's guilt and worries. The texts mix sadness and sweetness in equal proportions.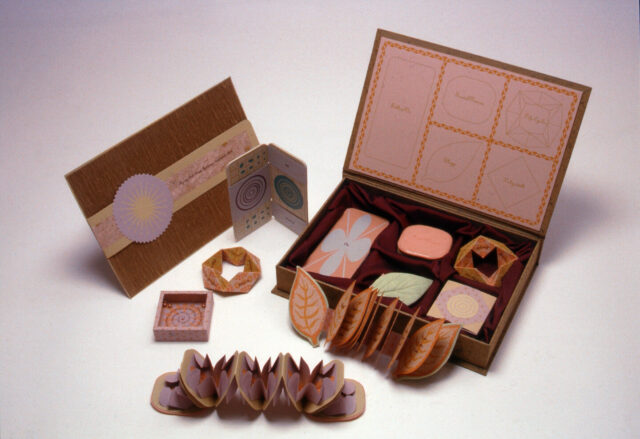 Inspired by the Swiss Army knife, Swiss Army Book is a volume both of knowledge and of the tools necessary to modify that knowledge. We call the conclusions of science fact, but in a world without boundaries, nothing is final. M. L. Van Nice (b. 1945) offers a simple trope: Here is the written word; burn the written word; rewrite the written word; leave matches for the next person.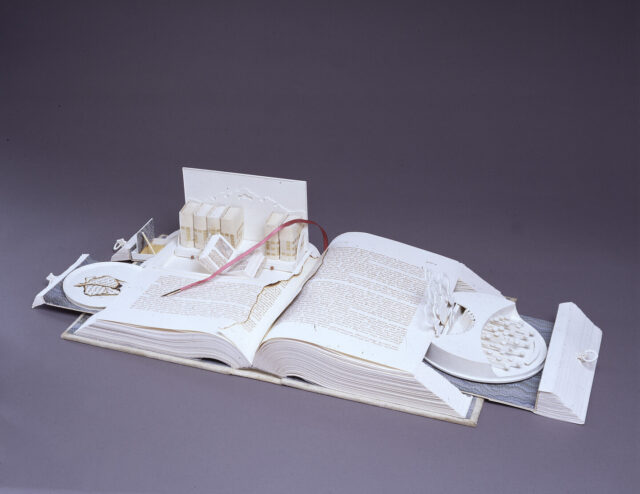 While at the pool, Lois Morrison (b. 1934) watched participants in water aerobics classes. She was amused and inspired to see them carrying weights and floats and talking about how beneficial the class was for them. An old toy-making diagram gave her a mechanism for raising and lowering words and figures in After Water Aerobics, and she had the boxes made by a workshop group in Vermont.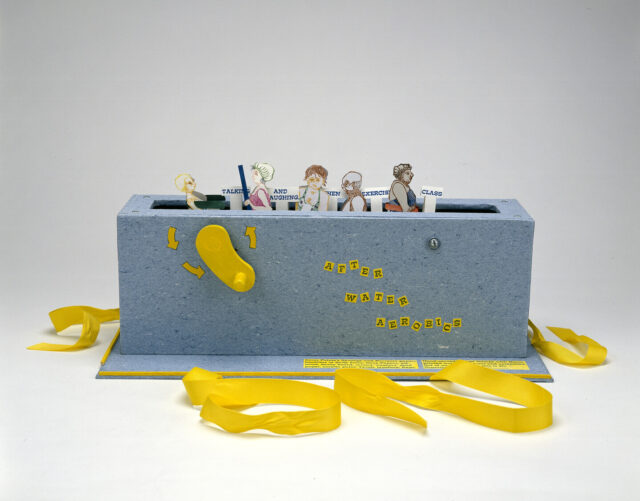 Inspired by shadow-puppet theater, Shadow Play invites adults to play. Viewers can read about the traits of each movable puppet character and create their own narratives on an unfolding stage. Ann M. Kresge (b. 1957) loved the idea that an artist's book could unfold like a book, be investigated, inspire viewers' own stories, and be disassembled and reassembled.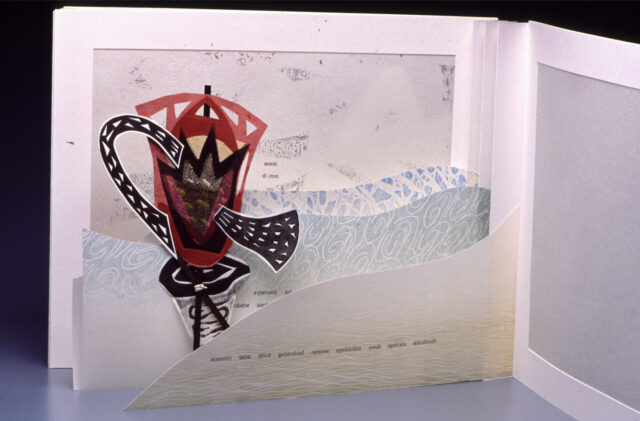 This online exhibition series is created with gratitude to Curator Emerita Krystyna Wasserman, who assembled the museum's rich collection of artists' books during her 30-year career.
Text is adapted from object labels from the special exhibition The Book as Art: Artists' Books from the National Museum of Women in the Arts (October 27, 2006–February 4, 2007).
Inspired to teach someone how to create an artist's book or to make one yourself? Check out NMWA's Art, Books, and Creativity Curriculum.
Online exhibition team: Traci Christensen, Deborah L. Gaston, Adrienne L. Gayoso, Alicia Gregory, Ashley W. Harris, Mara Kurlandsky, Elizabeth Lynch, Adrienne Poon, and Emily Shaw.
Photos by Lee Stalsworth unless otherwise noted.