The Book as Art: Codex Curiosities
Inspired by the 1,000+ collection of artists' books at the National Museum of Women in the Arts, this series of online exhibitions, organized by book format, introduces the boundless range of mediums, techniques, and topics artists explore to transform and reinvent books as we know them.
The most common book format—pages bound to a spine—is known as a codex. Codices date to at least the 1st century CE and became prevalent due to their convenience, especially in comparison to long, cumbersome scrolls. Today, artists reimagine this familiar format to connect with or surprise viewers.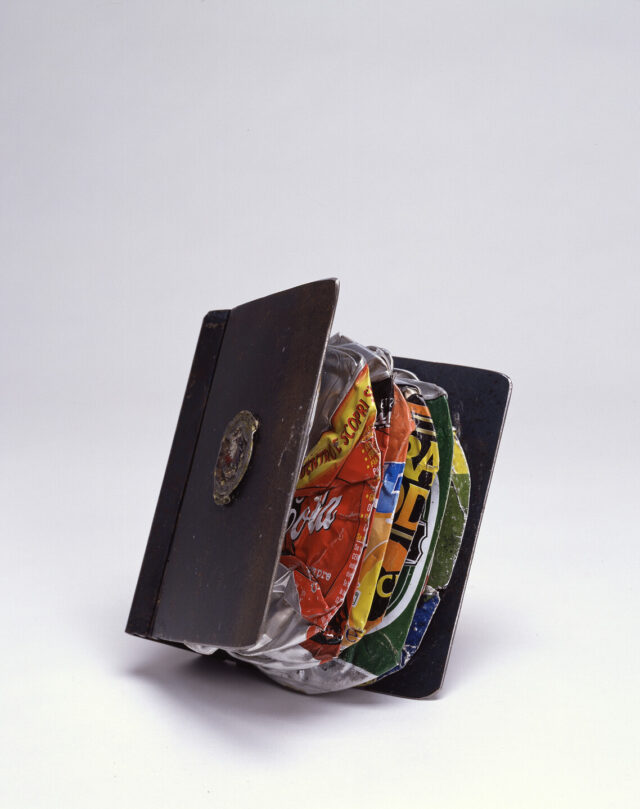 Ámbar Past (b. 1949) lives among the Tzotzil Maya in Chiapas, Mexico. The ancient Maya had a sophisticated written language and amassed rich libraries. Women were key contributors to this culture. Incantations by Mayan Women may be the first book written, illustrated, printed, and bound—on handmade paper—by the Maya in more than 500 years, and is the first volume of Mayan women's poetry.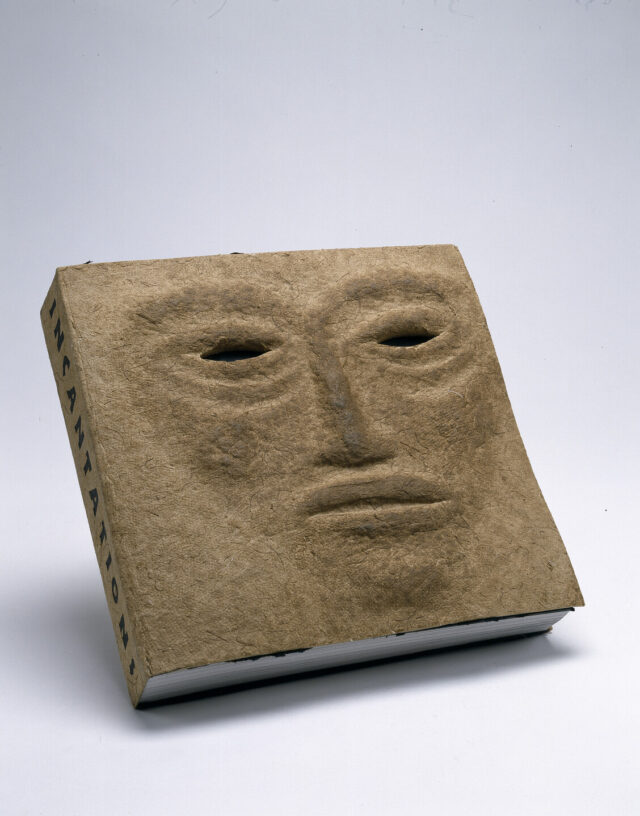 "Calling the Dead to Supper"
Dead Father:
Dead Mother:
Open your graves,
open your eyes.
Come rest your hearts.
Come rest your blood.
Your celebration is ready.
We are burning pitch pines.
to light your way
to our house.
Come eat with us.
Come drink with us.
Have a little atole,
a few tortillas.
Here's a shot of the rum you like
to keep your eyes open.
We don't see each other anymore,
nor can we talk,
nor eat together every day as we used to
on the surface of the Earth.
—María Álveres Jiménes, "Me' Avrila"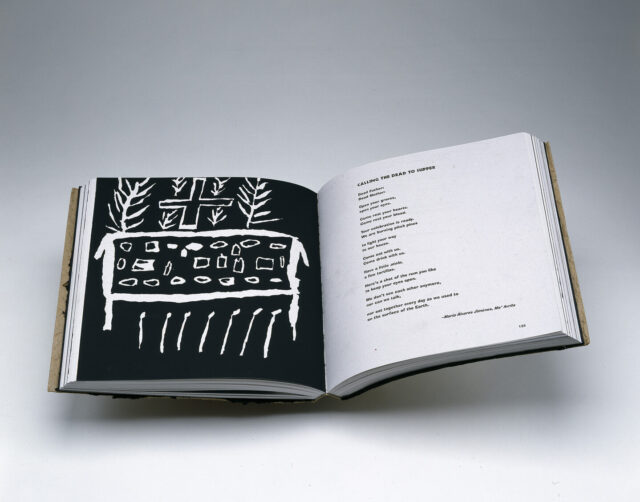 Spring is the result of a collaboration between Audrey Niffenegger (b. 1963) and Marilyn Sward (1941–2008), who created handmade paper for the pages. Niffenegger weaves a tale of a discontented young woman during a particularly rainy spring. In spite of her best efforts—including buying shoes, befriending a kitten, and writing stories of her own—nothing seems to brighten her mood.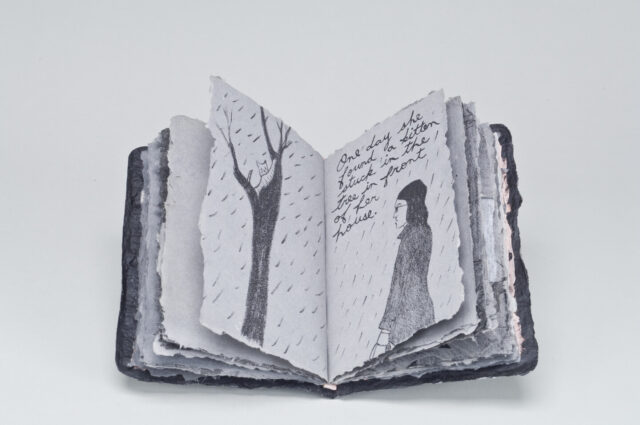 Inspired by the biblical tale of Noah's ark, After the Deluge by Susan Goethel Campbell (b. 1956) tells the comic and tragic stories of animals in the early 21st century. Text and images are based on journalists' accounts of human encroachment into animal habitats. A faux-leather folder, closure resembling the constellation Columba ("the dove"), and list of animal species reinforce the book's message.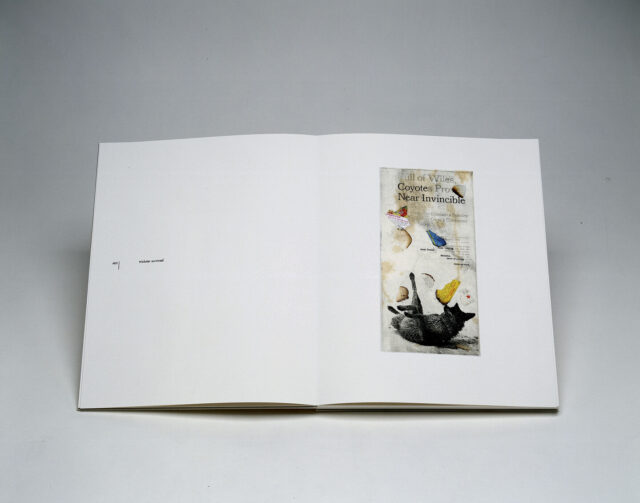 Comment attirer les oiseaux? (How to attract birds?) addresses humans' desire to tame the natural world and explores flight as a metaphor for freedom. The birds that Brenda Watson (b. 1964) depicted are common to the small community where she grew up. The book's shape speaks to birds' ability to travel between urban and rural landscapes, echoing her own experiences of migration.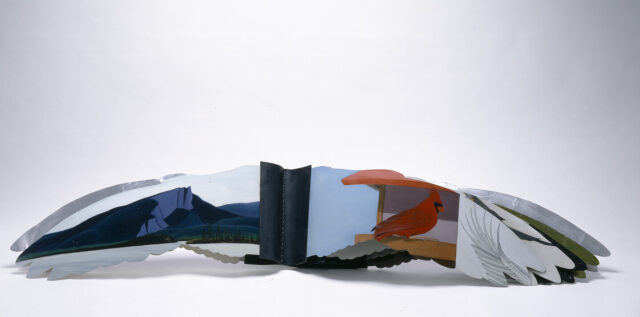 For Ghada Jamal (b. 1955), Back Ground is a return visit to her native Lebanon, set in a time before violence ended her youthful expectations. The layered landscape, arabesque design, patina, and patterns build a sense of serenity and continuity. Back Ground grieves the loss of innocence, mourns a dashed dream, and yearns for the beautiful, the mystical, and the permanent.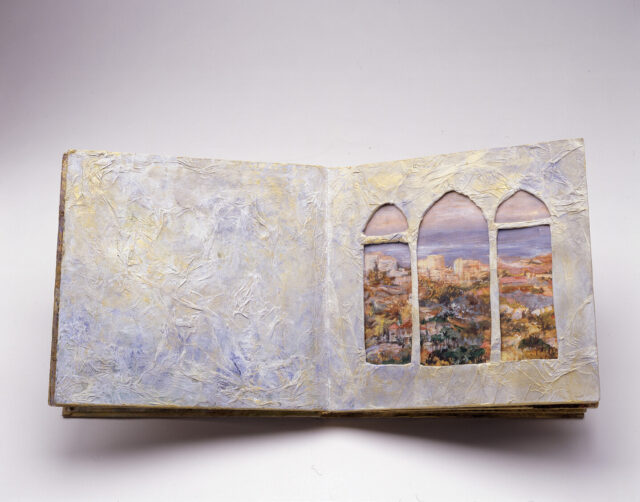 When the Gulf War escalated in 1991, Nelleke Nix (b. 1939) heard radio and television interviews with civilians, especially those with loved ones in the target zones of Iraqi SCUD missiles. These reports reawakened war memories from the artist's early childhood and compelled her to make 1940–45 Remembered, a first-person account of her family's experiences in Holland during World War II.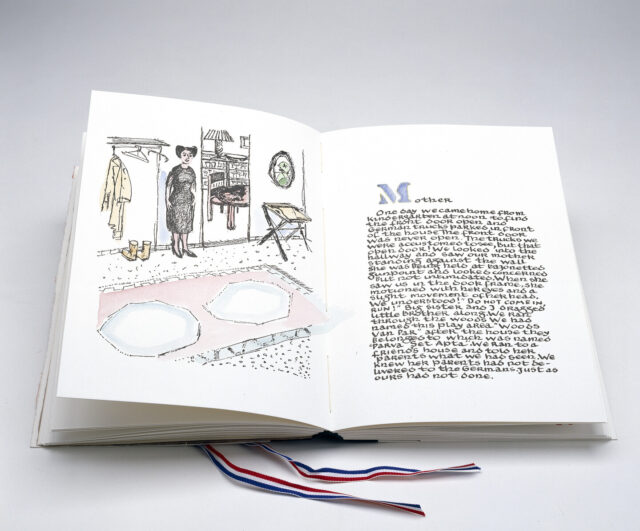 Tatana Kellner (b. 1950) shares her parents' recollections of the Holocaust in B-11226: Fifty Years of Silence. The book juxtaposes their handwritten Czech text with the artist's English translations; historical family photographs with contemporary images of concentration camp sites. A cast of Kellner's father's arm with its ineradicable number ensures his presence through each page.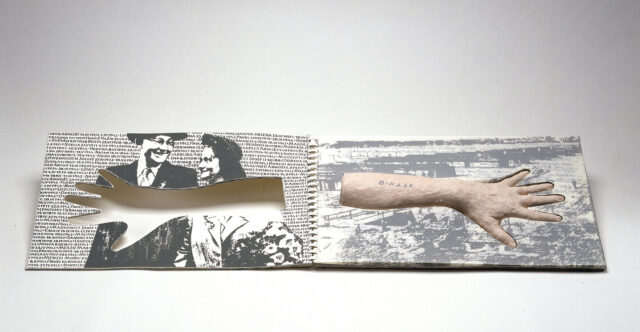 Mirella Bentivoglio (1922–2017) responded to the tragic September 11 attacks on the U.S. by making The World after September 11, 2001: A Reinforced Book. Its wire mesh cover protects "fragile" contents—paper labels meant to be torn off and pasted onto shipping crates bound for all parts of the world. The artist built layers of meaning by using found objects and visual poetry.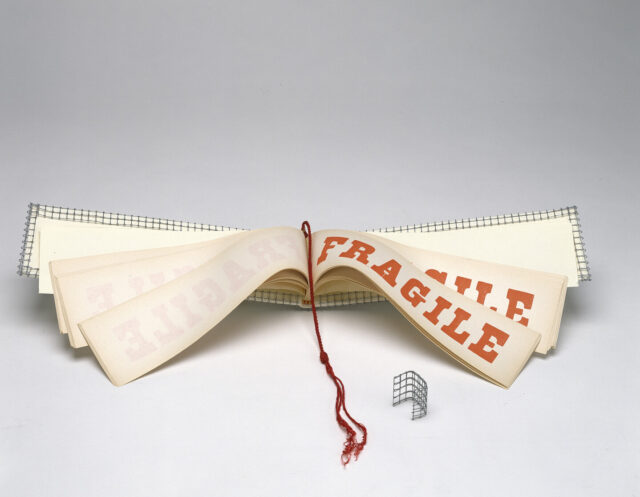 Litolattine recalls the first books in art history made with unorthodox materials—Futurist books from the 1930s, which were constructed of cigar and sardine tins produced by the Litolatta company. Bentivoglio made this book with tin cans crushed in the street by vehicle tires: poetry written by city traffic. These found objects are charged with former lives and experiences.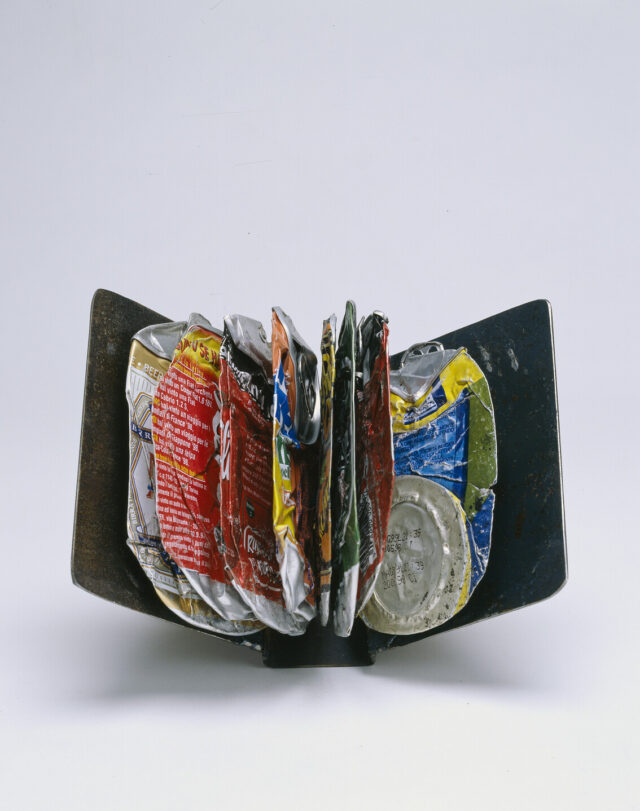 In Wheeling, Ruth Laxson (1924–2019) confronts the car-centric culture in which we live. Organized into episodic chapters, this book describes the history of the automobile, especially in the U.S.; shares imagined dialogues; and discusses issues critical to human survival. Concrete poetry, text laid out to form visual images, and illustrations drive the artist's point home.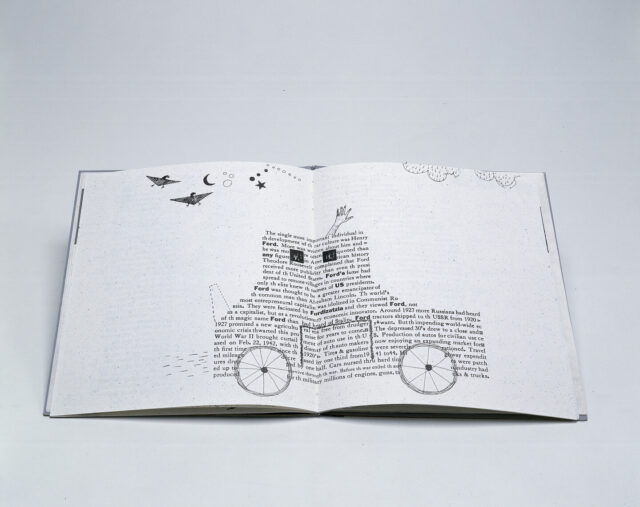 This online exhibition series is created with gratitude to Curator Emerita Krystyna Wasserman, who assembled the museum's rich collection of artists' books during her 30-year career.
Text is adapted from object labels from the special exhibition The Book as Art: Artists' Books from the National Museum of Women in the Arts (October 27, 2006–February 4, 2007).
Inspired to teach someone how to create an artist's book or to make one yourself? Check out NMWA's Art, Books, and Creativity Curriculum.
Online exhibition team: Traci Christensen, Deborah L. Gaston, Adrienne L. Gayoso, Alicia Gregory, Ashley W. Harris, Mara Kurlandsky, Elizabeth Lynch, Adrienne Poon, and Emily Shaw.
Photos by Lee Stalsworth unless otherwise noted.