The Book as Art: Movable Marvels
Inspired by the 1,000+ collection of artists' books at the National Museum of Women in the Arts, this series of online exhibitions, organized by book format, introduces the boundless range of mediums, techniques, and topics artists explore to transform and reinvent books as we know them.
Movable books are carefully engineered to transform into three-dimensional marvels when readers turn pages or accept invitations to interact. Rotating parts, flaps, pull-tabs, pop-up elements, complex folds, and sliding slats engage curiosity and activate the reading experience.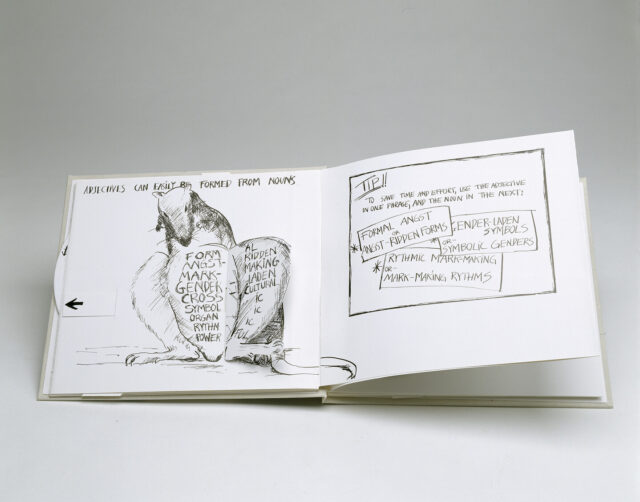 Joan Lyons (b. 1937) created her take on a volvelle, or paper construction with rotating parts. Lyons stacked sheets made of cut copies of a historical photograph of the Matterhorn, a mountain in the Alps on the border between Switzerland and Italy, to suggest the perspective of that landscape. Readers can move mountains by fanning out the peaked pages of the Matterhorn.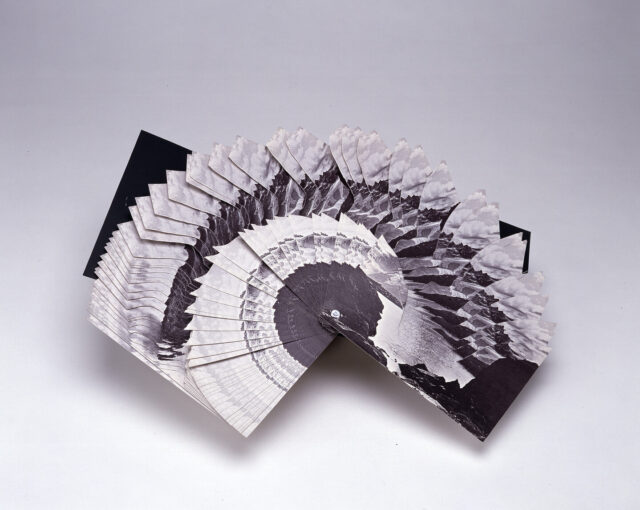 How to Talk about Art was sparked by a conversation about "artspeak," the language used to describe art. Miriam Shenitzer (b. 1962) modeled this guide to gallery visits—with flaps, rotating disks, and tabs—after a "how to" children's pop-up book featuring a mouse as the teacher. She selected a rat instructor instead, to appeal to adults and because "rat" is an anagram for "art."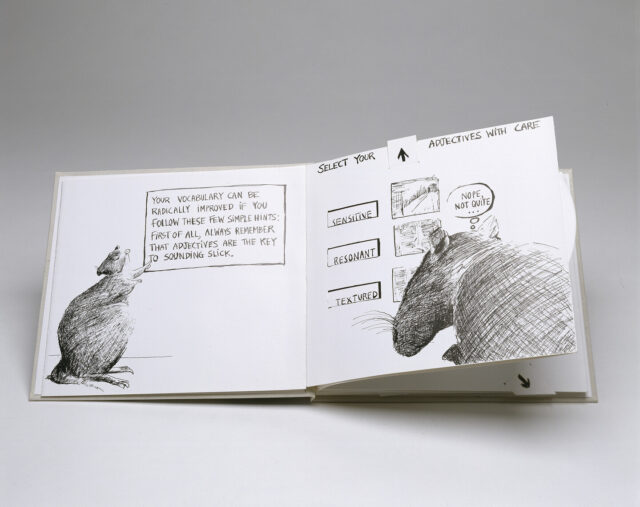 For centuries and across cultures, the snake has been a powerful symbol often associated with women. Whether representing good or evil, creation or destruction, the source of life or the advent of death, this slithering serpent has a hypnotic hold on our collective imagination. Spiral pop-ups and paper pulp painting by Betty R. Sweren (b. 1931) create motion, charming readers of The Snake.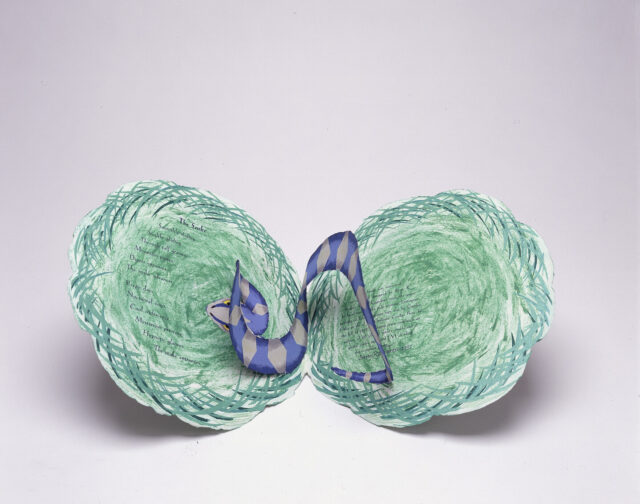 In Shadow of Descent, Maddy Rosenberg (b. 1956) incorporates text from H. P. Lovecraft's "Pickman's Model," the tale of an artist who dares to paint a world beyond this realm. This pop-up transports viewers into a fantastical setting with shifts in space and time. Strange figures, eerie landscapes, and dark architectural details create the illusion of descent into a lower plane.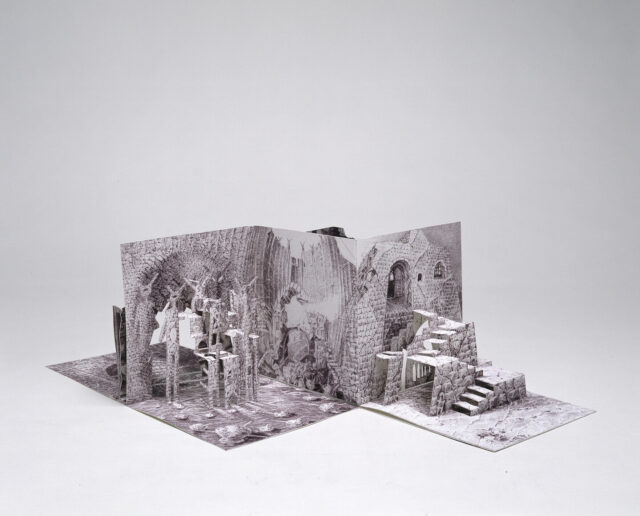 Kara Walker (b. 1969) uses the traditional medium of silhouettes to share stories of slavery and its legacy in America. Freedom, A Fable: A Curious Interpretation of the Wit of a Negress in Troubled Times tells of recently emancipated slaves heading to an uncertain destination. This pop-up book, like Walker's other work, addresses the enduring violence associated with U.S. race relations.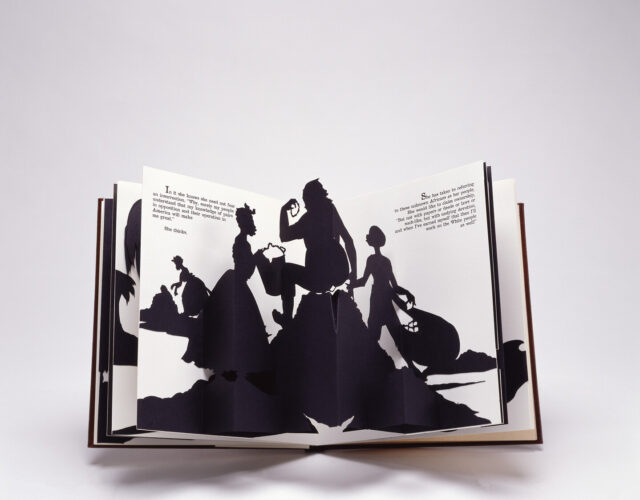 Carol Barton (b. 1954) created Five Luminous Towers: A Book to be Read in the Dark after visiting and researching towers in northern Italy. This book references functions that towers have served throughout history through architectural structures, original poetry, background illustrations, and a mini internal bulb that illuminates the pop-ups, casting light and shadows across each page.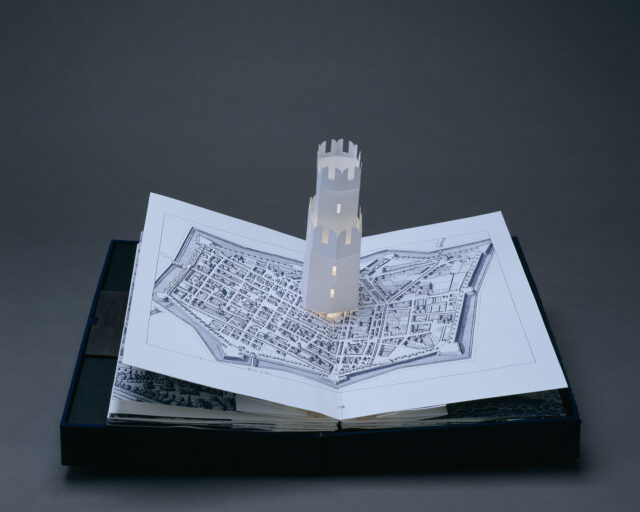 Colette Fu (b. 1965) spent three years in the Yunnan Province of China, photographing the land and its people. The complex pop-up Dai Food, from the series "We are Tiger Dragon People," reflects the Dai people, an ethnic minority of that region. Here, a Dai woman is shown with local street-food specialties such as kebabs, pig tail, fermented eggs, snails, and spicy noodle salad.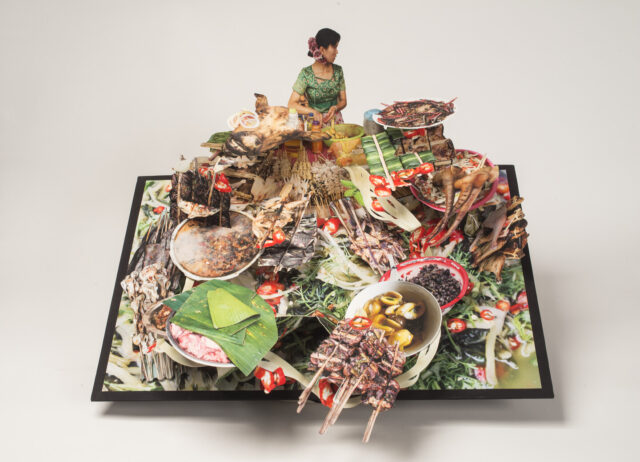 Green Salad is a story of maternal and romantic love. It recalls Katherine Glover (b. 1947) eating a salad with her son that had been made by her partner, and the resulting feelings of love that consumed her. A poem is concealed and revealed by Turkish map folds. Painted Tyvek and translucent vellum "leaves" withstand manipulation and evoke the rustling sound of tossed lettuce.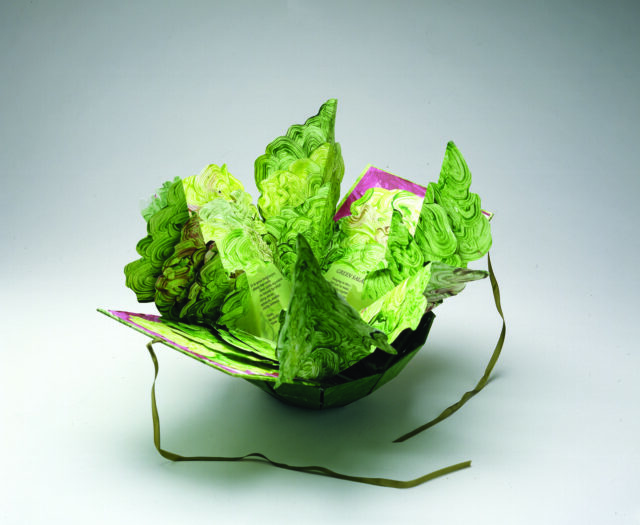 Julie Chen (b. 1963) created this slatted structure to mimic the shifting nature of memory, noting that our personal recollections often seem solid and factual, yet they shift and change over time. This interactive format enables readers to transform True to Life by pushing the tabs up or down, thereby creating different combinations of text and image.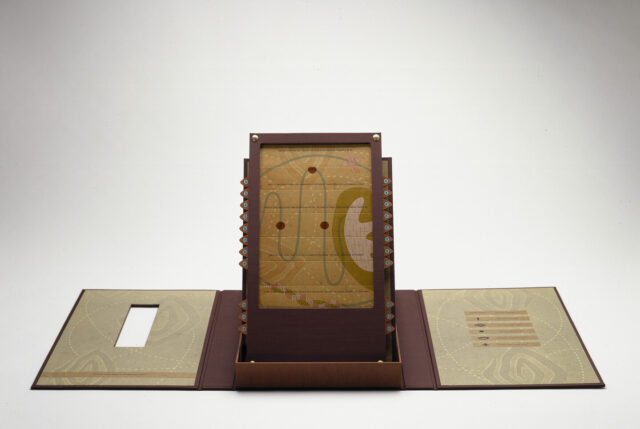 This online exhibition series is created with gratitude to Curator Emerita Krystyna Wasserman, who assembled the museum's rich collection of artists' books during her 30-year career.
Text is adapted from object labels from the special exhibition The Book as Art: Artists' Books from the National Museum of Women in the Arts (October 27, 2006–February 4, 2007).
Inspired to teach someone how to create an artist's book or to make one yourself? Check out NMWA's Art, Books, and Creativity Curriculum.
Online exhibition team: Traci Christensen, Deborah L. Gaston, Adrienne L. Gayoso, Alicia Gregory, Ashley W. Harris, Mara Kurlandsky, Elizabeth Lynch, Adrienne Poon, and Emily Shaw.
Photos by Lee Stalsworth unless otherwise noted.