Dressed to Impress: Fashion in the Collection
Explore a selection of key artworks from the museum's collection with a focus on fashion, looking at how representations of dress and costume through the ages express ideas about both the subject and the artist.
The worlds of fashion and art continually enjoy a rich dialogue and exchange of ideas. Fashion designers think critically about form and color, requiring a mastery of skills, techniques, and innovations. Similarly, painters, sculptors, and photographers use the clothing and accessories of their subjects to reflect on appearance, identity, and environment. In their use of cultural and historical references, these two creative fields have become vehicles for both social commentary and personal expression. Accompanying "Rodarte," NMWA's Fall 2018 exhibition featuring the eponymous American luxury fashion label, this online exhibition explores a selection of key artworks from the museum's collection with a focus on fashion, looking at how representations of dress and costume through the ages express ideas about both the subject and the artist.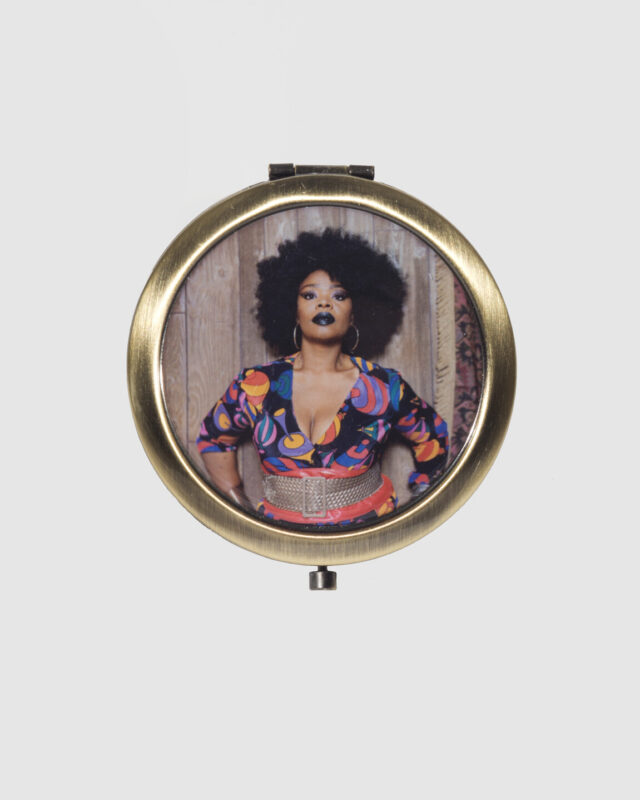 Fashions of the 1910s revived the Directoire style. This early 19th-century silhouette was a reaction against stiff-boned corsets and heavy, layered fabrics, instead trending toward simpler, cylindrical chemises reminiscent of classical Greece. Styles in the early decades of the 20th century also took inspiration from the soft contours, raised waistlines, and lowered busts of Eastern, particularly Japanese, dress.
Lilla Cabot Perry's graceful and fashionable woman is seen wearing a dress with the faint S-curve, raised Empire waist with a monobosom and columnar shape, and more natural silhouette than previous decades. Her gown of silvery lilacs and blush pinks features a generous train that gathers at her feet. Sheer fabric ties drape from her arms in delicate wisps. In an Impressionist-inspired painting style, Perry renders fabric with gauzy textures, beaded surfaces, and simple floral patterns.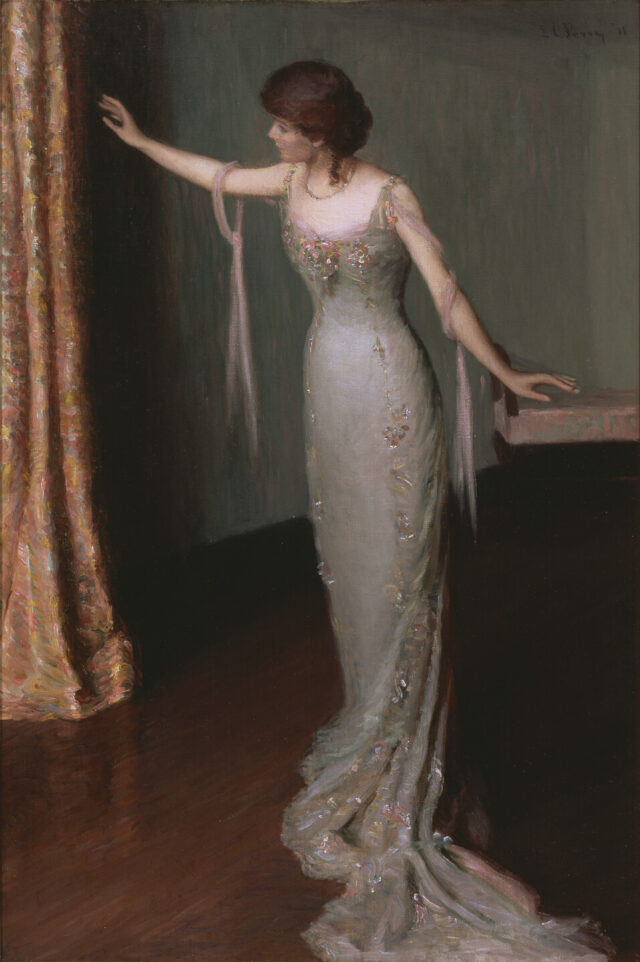 In the summer of 1926 at Paris's famed Folies Bergère music hall, the American entertainer Josephine Baker (1906–1975) emerged onstage wearing a string of pearls, wrist cuffs, slicked-back hair, and what would become a legendary fashion statement—a skirt made of 16 rubber bananas. Baker performed the danse sauvage, which played on the long history of Western prejudices and preconceptions of African cultures. With her bold appearance, Baker reclaimed her image as a black woman, earning fame, fortune, and iconic status.
Faith Ringgold narrates stories of the African American experience through her painted quilts, honoring Baker, who went on to leverage her celebrity status in support of the Civil Rights movement in the United States. Ringgold depicts Baker's costumed figure five times across the top of the quilt, evoking the frenetic movement synonymous with the banana dance. Baker's legacy persists in contemporary popular culture—Beyoncé paid homage to the entertainer at the 2006 Fashion Rocks event, and Prada created a Baker-inspired 2011 Spring/Summer line.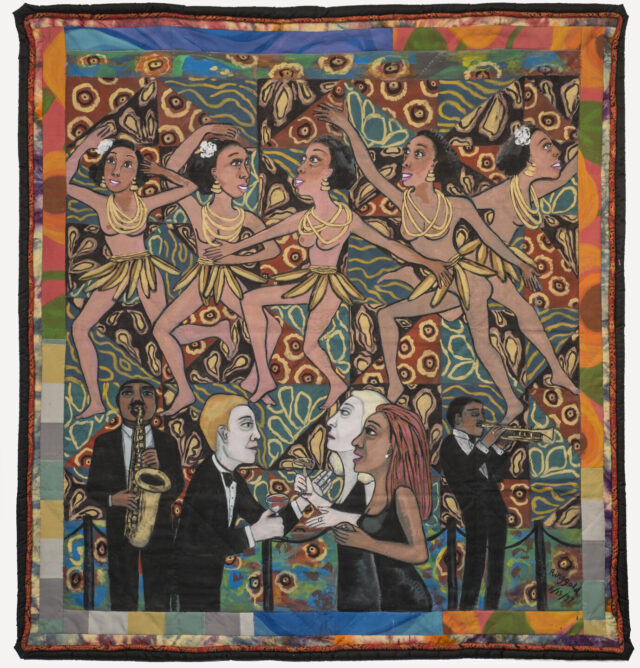 Lalla Essaydi's complex and visually exquisite photographs recall 19th-century paintings of Orientalist harem fantasies, while also disrupting stereotypical representations of passive, sexualized, colonized women. Delicate henna designs, commonly practiced by women, inscribe the bodies and flowing fabrics of Essaydi's female figures in the form of Arabic calligraphy, traditionally a male art form.
In Bullets Revisited #3, Essaydi reflects on her experiences as a woman, Muslim, Arab, and African. Thousands of silver and gold bullet casings permeate the composition—the decorative backdrop, the divan and throw, and the reclining woman's diaphanous robe. Weighed down by the .22-caliber shells, the metallic dress suggests a protective armor. What initially appears as a seductive atmosphere, titillating the viewer with glittering gold textures, suddenly holds an aura of peril and violence.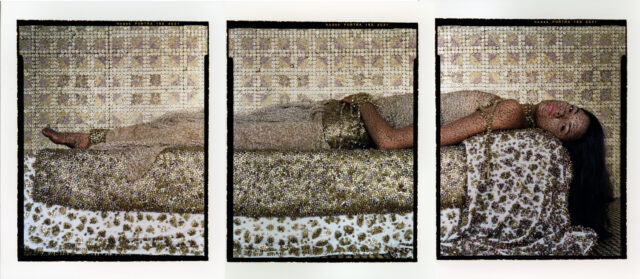 The artist uses bullet imagery to critique the use of violence against women following the Arab Spring uprisings in 2010, as well as to symbolize a shield against Western male voyeurism and domination. Essaydi says, "Everything about my work is metaphorical and symbolic. Working with materials associated with violence and blood, and trying to make it look beautiful and show that beauty can be made from anything. Women are strong, solid and beautiful."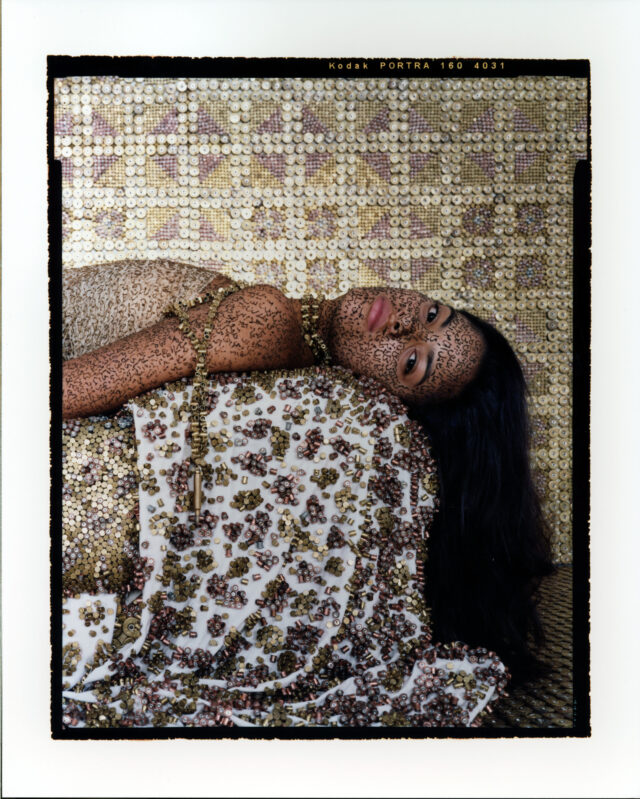 Best known for her highly expressive portrayals of Chinese women, Hung Liu bases a number of her figures on antique photographs of 19th- and 20th-century courtesans. These women appear to be wearing the fashionable qipao, also known as the cheongsam, the long shirt/dress worn by women in the early 20th century and popularized in the 1920s and 1930s in Shanghai.
The style is characterized by stiff high collars, fitted bodices, and side slits. Liu depicts the clothing and accessories from the black-and-white photographs, including the piping on the collar and the elaborate headdress, but conceives the color combinations from her imagination.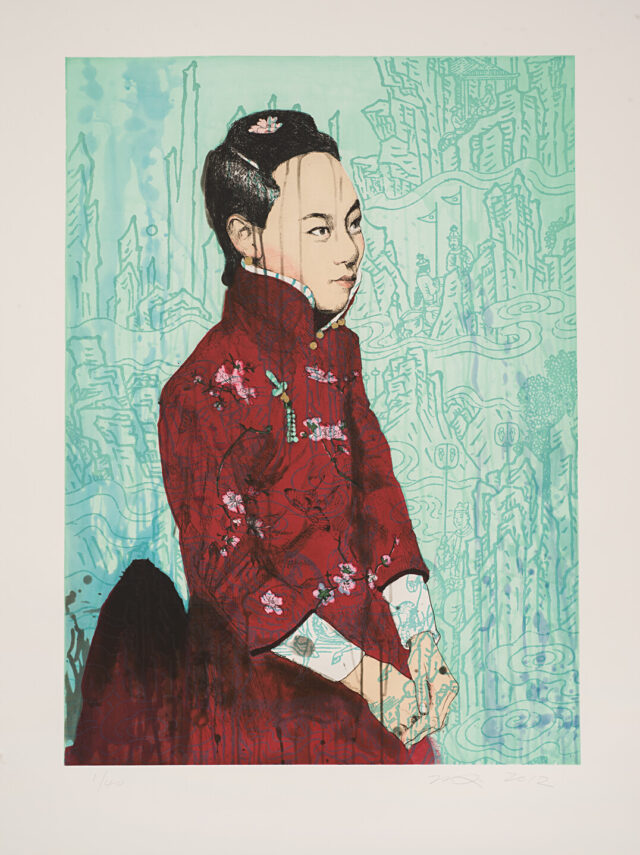 The turquoise accents on the crimson-red garb in Shan-Mountain, as well as orange and fuchsia carnations on the seafoam-colored qipao in this work, Shui-Water, offer a sense of liveliness and character to these anonymous women, whom Liu wishes to recover from the forgotten annals of history. The striking details include subtle touches of gold leaf to suggest the shimmer and sparkle of a brooch, earrings, wrist cuff, and buttons.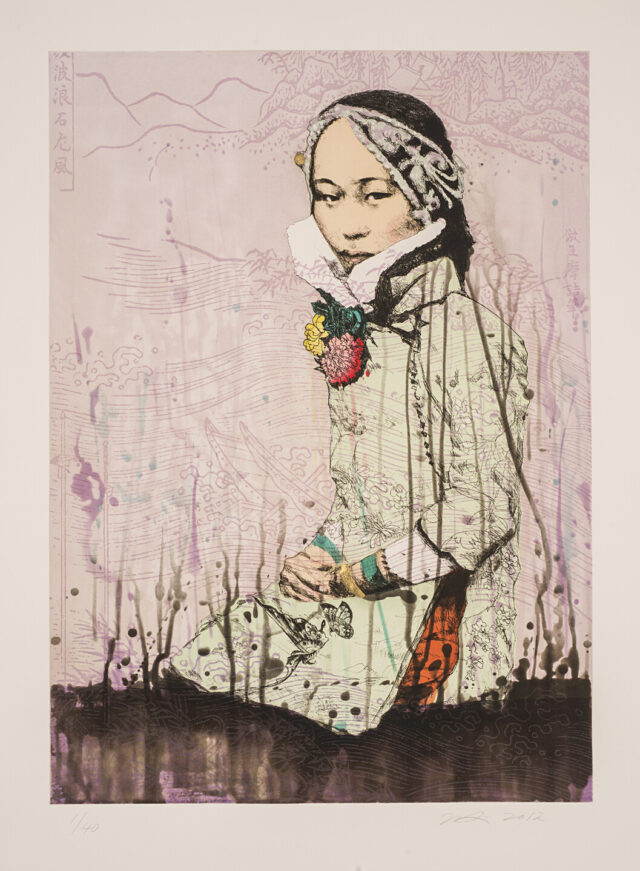 Using raised brushstrokes to emulate textured fabrics, Andrea Higgins portrays well-known women abstractly by simulating textile swatches from their wardrobes. Jackie (India) and Hillary both come from the artist's series "The President's Wives," in which Higgins creates a link between the first ladies and the clothes they wear. The compositions are based on actual garments worn by each figure.
The pink-and-orange jacquard pattern of Jackie (India) mimics a pale orange dress, designed by Oleg Cassini, which was worn by Jacqueline Kennedy when she accompanied her husband on a state visit to India in 1962. Known as a fashion icon, Jackie Kennedy presented herself to the American public and foreign dignitaries through her chic style. By depicting her through this fabric, Higgins reinterprets traditional portraiture and underscores the idea that women—especially public figures—are often defined by what they wear.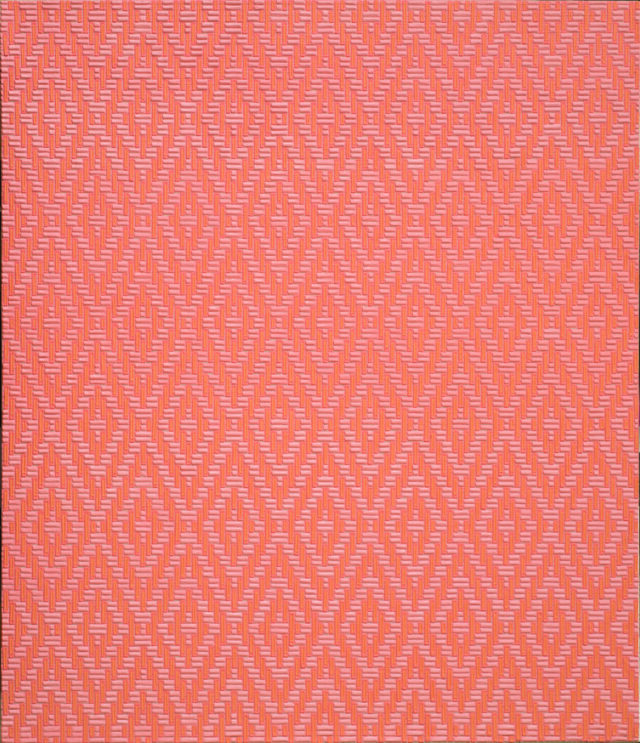 In Hillary, Andrea Higgins layers oil paint in thick, textured brush strokes to create a black-on-fuchsia pattern, a reference to Hillary Clinton's fondness for pantsuits and penchant for "power dressing" while her husband was in office.
Employing highly precise, detailed brushwork to emulate stitching, the artist imitates iconic articles of clothing worn by her subjects to highlight how expectations of the look and role of first lady are often conflated. While presidents typically receive recognition for their politics, their spouses have been more commonly defined by their fashion choices, regardless of their other contributions. Higgins explores clothing not only as a means of self-presentation, but also as a way to communicate political, social, and historical messages.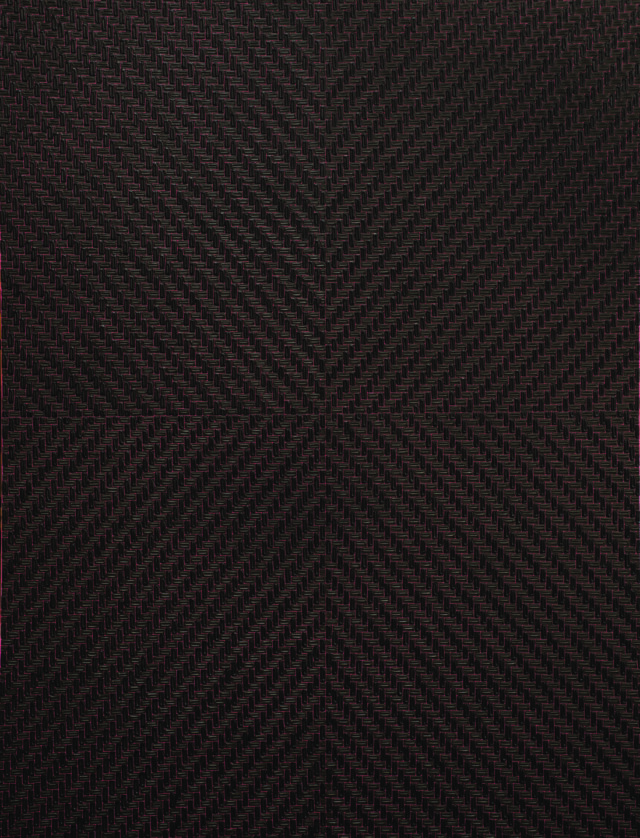 In her self-portraits, as in her life, Frida Kahlo adorned herself in the traditional clothing of the Tehuantepec people of Southwest Mexico, her mother's native region. This matriarchal culture stood in contrast—socially and stylistically—to European and American societies and fashions of the early 20th century. Through her clothing, the artist communicated her alignment with Mexicanidad, a Mexican nationalist movement that rejected European influence in favor of a return to the country's native roots and folk traditions.
Kahlo depicts herself in this self-portrait in traditional Mexican clothing and accessories. She paints herself wearing a long, embroidered skirt and a fringed rebozo, a woven shawl traditionally made by, and for, women in Mexico. Though her blouse is mostly covered by her shawl in this portrait, Kahlo often wore huipils, woven, square-cut tops that feature patterns unique to the wearer or their culture.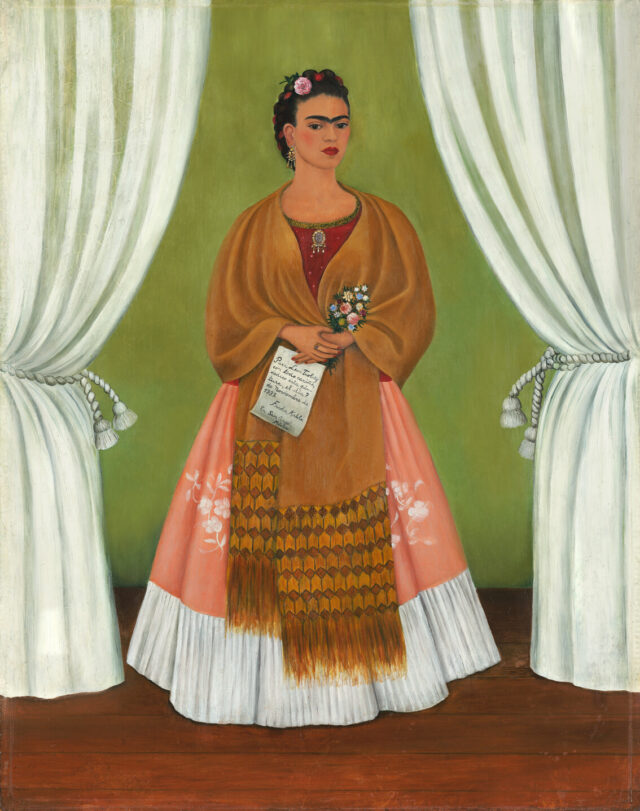 For Kahlo, clothing reflected not only her personal style, but also her political beliefs, cultural identity, and feminism. Her style was so distinctive that she was occasionally featured in fashion magazines such as Vogue and Vanity Fair. An image of Self-Portrait Dedicated to Leon Trotsky was printed in the October 1937 issue of American Vogue alongside photographs of the artist.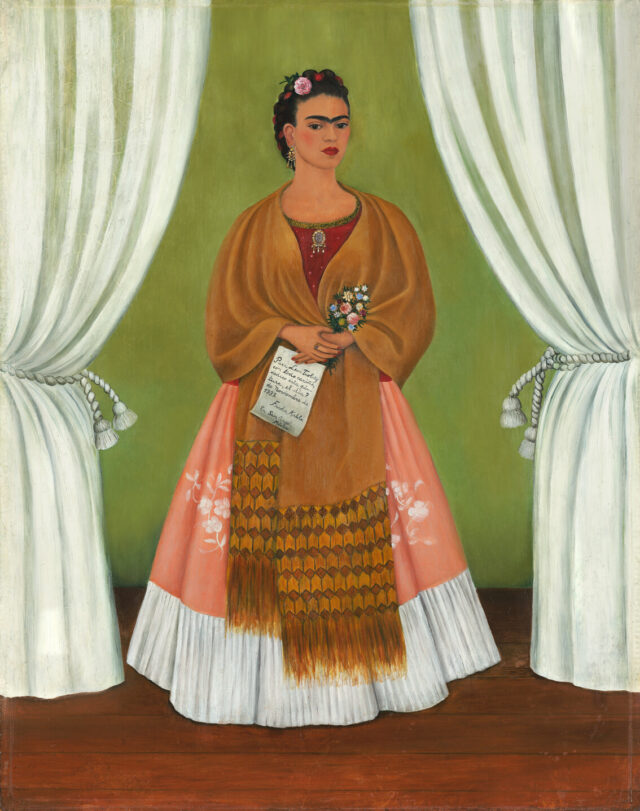 America by Venice-born artist Rosalba Carriera, personifies America as a female figure adorned with accessories symbolizing stereotypical characteristics of the continent and its inhabitants. The painting is likely part of a series depicting Africa, Asia, Europe, and America (the four continents recognized by Europeans in the 18th century) as women. Images like this were often featured in atlases, identifying geographical regions of the world through the clothing and accessories each woman wears.
Carriera, whose mother was a lace-maker in Venice, pays special attention to detail in the accessories that she gives America's personification: the colorful headband, feather hair accessory, and quiver of arrows all reflect 18th-century stereotypes of the continent and its native peoples.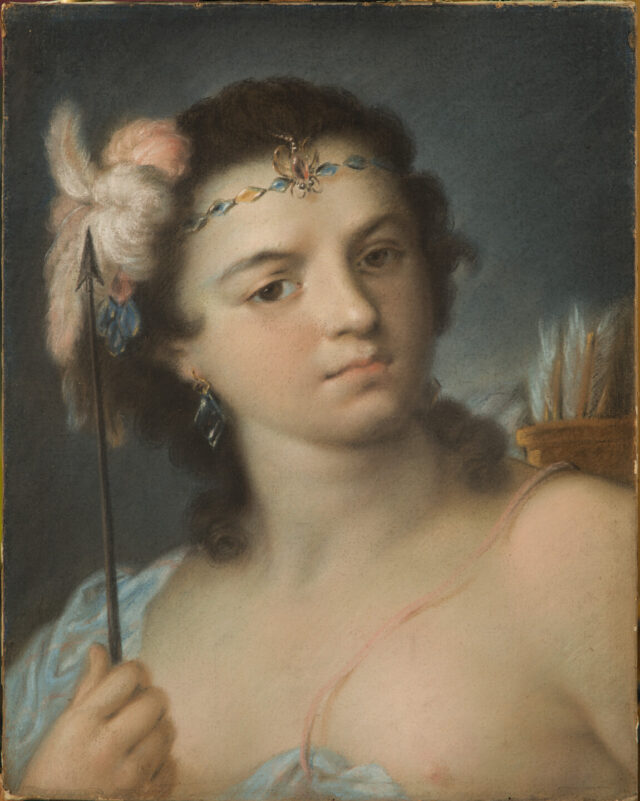 Created as part of a 2007 exhibition titled "Elegy for Isabella Blow," the work Black Roses honors the late British fashion icon and editor Isabella Blow (1958–2007). Audrey Niffenegger depicts Blow as a skeleton adorned in a lavish, three-dimensional skirt made of tissue, thread, and Japanese paper, mimicking the silky texture and volume of expensive designer fabric.
Blow's life often paired fashion with art. She is said to have discovered now-famous talents such as designer Alexander McQueen and model Sophie Dahl. She also acted as Anna Wintour's assistant, and she was rumored to be one of Andy Warhol's Factory denizens as well as an acquaintance of painter Jean-Michel Basquiat. Blow believed in clothing as an art form, a means of self-expression, and a way to communicate emotion.

Known for her extreme and eccentric style of dress, Blow was particularly recognizable for wearing elaborate headpieces. Niffenegger alludes to this with the floral fascinator adorning the skeletal head—a nod to the icon's friend and hat designer Philip Treacy, whose creation she was dressed in for her funeral. The portrait reflects Blow's iconic style, portraying her in an over-the-top outfit even in death.

Mickalene Thomas's work critiques the fetishistic treatment of black female bodies in contemporary culture by appropriating the aesthetics of Blaxploitation films of the 1970s, the decade in which she was born. Thomas uses clothing to create a sense of nostalgia for that era and to celebrate the power of her subjects. Thomas's mother, one of her earliest subjects, was a fashion model in the 1970s and '80s, and the artist learned early on that fashion is used for both personal and cultural expression.
Thomas says, "I look at fashion photography specifically through the lens of 1970s Black is Beautiful-era photography. The afro became an important signifier, as an expression of beauty, not conforming to a construct of having to straighten your hair. It was, for Black women, a very needed expression of redefining their own beauty."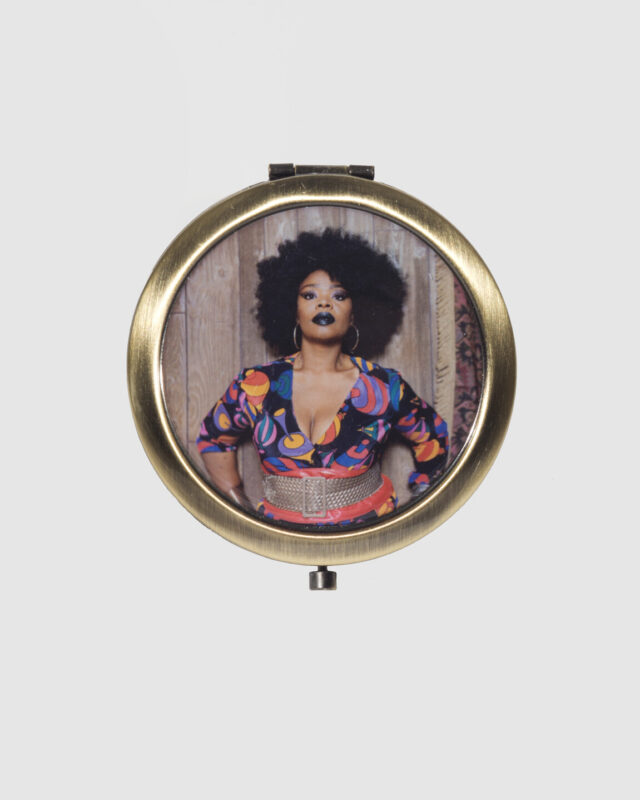 Clothing in Renaissance Bologna, Italy, signified status and wealth. Judging by the sumptuousness of the dress of this portrait subject, there is no doubt that she came from a very wealthy family. It is possible that Lavinia Fontana was commissioned to paint this portrait to commemorate the woman's engagement. Her belt, or girdle, as it was more commonly known, is encrusted with pearls and rubies and may have been a gift from her fiancé.
Attached to the girdle is a golden chain, from which hangs an animal pelt. The head and front paws of the animal—most likely a marten—have been replaced with expensive jewels set into gold to mimic the missing limbs. Beyond signifying its owner's wealth, these pelts were believed to aid women in conceiving and delivering children. They appear frequently in Renaissance-era portraits of engaged, married, and pregnant women.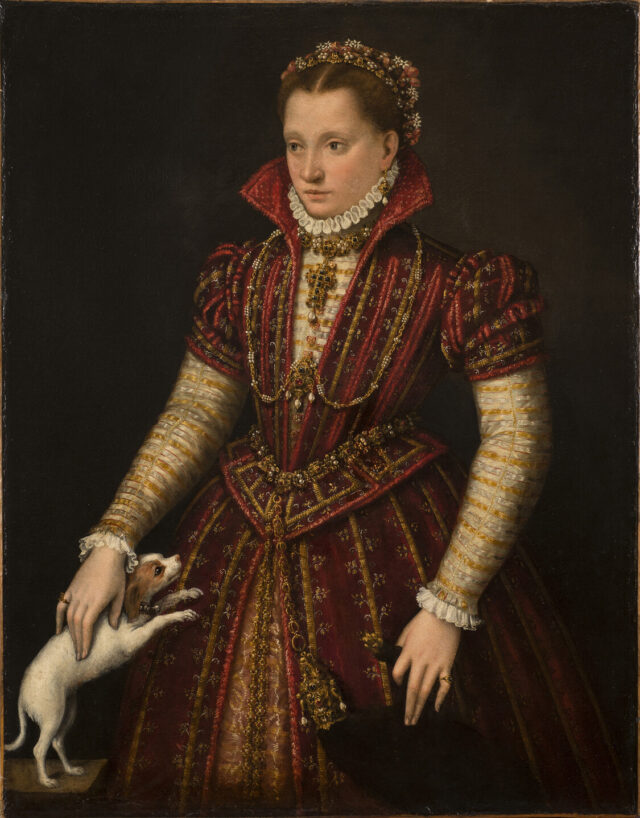 Shoes, particularly women's shoes, are synonymous with fashion. In the Western tradition, however, high heels were initially worn by men. This fashion was brought to Europe in the 17th century by emissaries of Shāh Abbās I of Persia, whose calvary wore them to keep their feet in their stirrups.
While not made out of glass, Mirella Bentivoglio's rendition of Cinderella's slipper is made out of an equally unexpected material—china. Intended as a self-portrait, this work depicts Bentivoglio as the heroine in a story where her savior is not Prince Charming, but books. Not only is the shoe displayed on top of an open book (made of marble), but the bow at the toe is a miniature book with individual paper pages.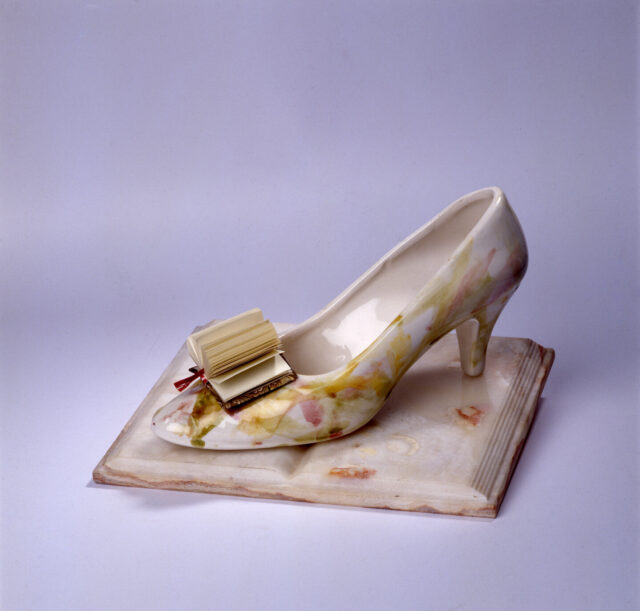 Susan Avery, like any other wealthy woman in Philadelphia in the early 19th century, would have looked to Europe, particularly France, for the latest fashion trends. At the time this portrait was painted by Sarah Miriam Peale, high-waisted dresses were still à la mode, as they had been since the beginning of the 19th century.
Susan Avery's outfit is conservative and tasteful, but it is richly embellished by the embroidery at the shoulders and cuffs, as well as the fine lace collar. Her shawl, most likely a costly import made of cashmere, is another indicator of wealth.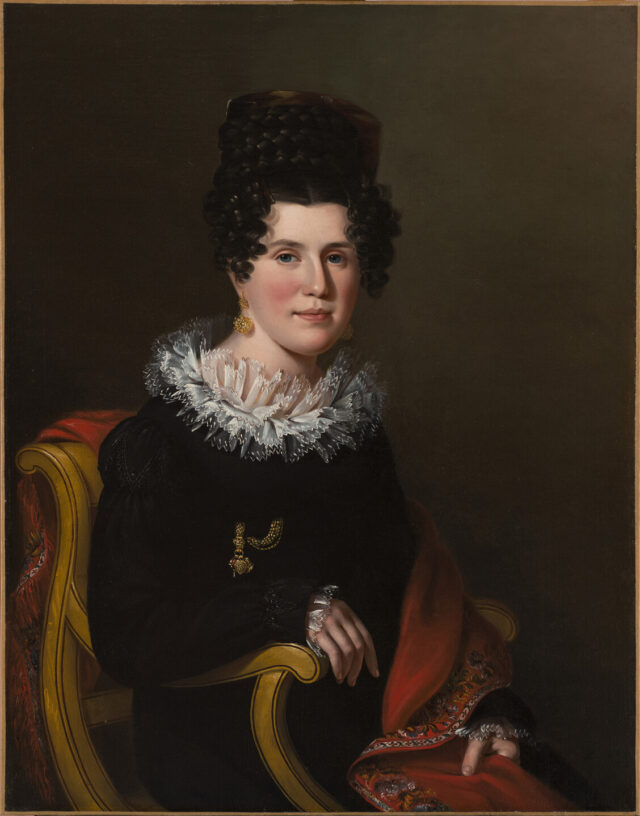 Her husband, Isaac Avery, is equally well attired in a high-collared shirt tied with a cravat, over which he wears a pleated jabot, secured with a jeweled straight pin. His cropped, double-breasted coat is worn over a cream-colored waistcoat (vest).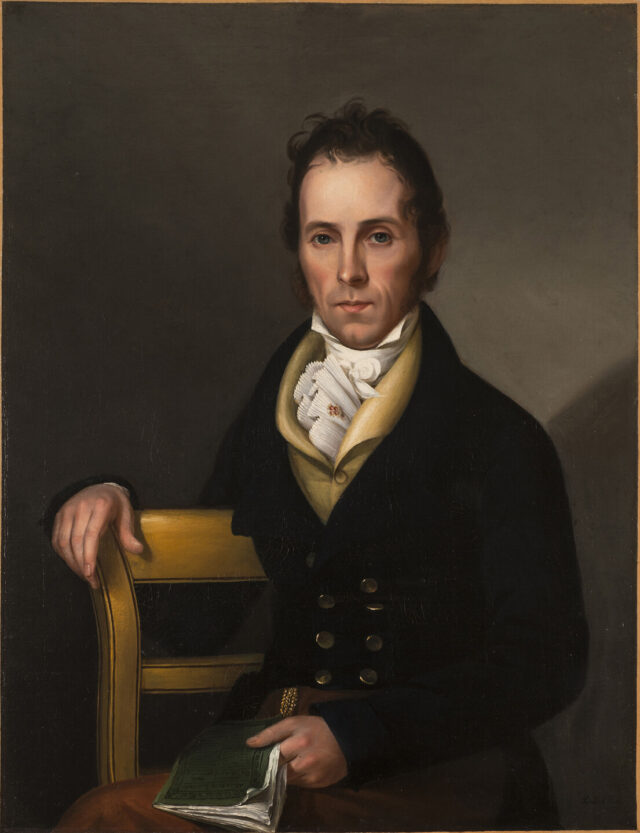 This exhibition features works part of the collection of the National Museum of Women in the Arts.
Project Team:
Virginia Treanor, Associate Curator
Orin Zahra, Assistant Curator
Hannah Shambroom, Curatorial Assistant
Elizabeth Lynch, Editor
Mara Kurlandsky, Digital Projects Manager
To see more works from the museum, visit Our Collection.