February 15, 2021
2/15/21
District of Clothing is a Washington, D.C.-based apparel company encouraging progress, inspiring action, and supporting self-love through motivating messaging. We spoke with founder Dionna Dorsey about her work.
1. How do art and fashion play a role in politics?
In every way possible. Art and fashion transcend–they serve as a lens, a mirror, a billboard, and a community builder, and they're made by people–so essentially, they're both inherently political. I believe artists have a critical and fundamental role to reflect culture, the times we're in, and truth. James Baldwin said it best: "The role of the artist is exactly the same as the role of the lover. If I love you, I have to make you conscious of the things you don't see." As a Black woman creative, this is part of my passion and purpose: to reflect society's culture and truth via simple, innovative, and timeless works that help make others more aware of things they may or may not see.
2. How did you stay energized and produce such charged and inspired apparel during 2020?
2020 seemed like a decade—or perhaps two! There was so much going on at once that I needed to reprioritize my self-care in a way that I hadn't in years past. In an attempt to remain creative, and to find some peace in the midst of the chaos, I pivoted toward productivity with District of Clothing. It's rather wild—and a blessing—to be alive during these changing times. Since I'm here, fully capable and with a small platform, I want to do my part—to leave a small mark noting I did what I could to be part of the change.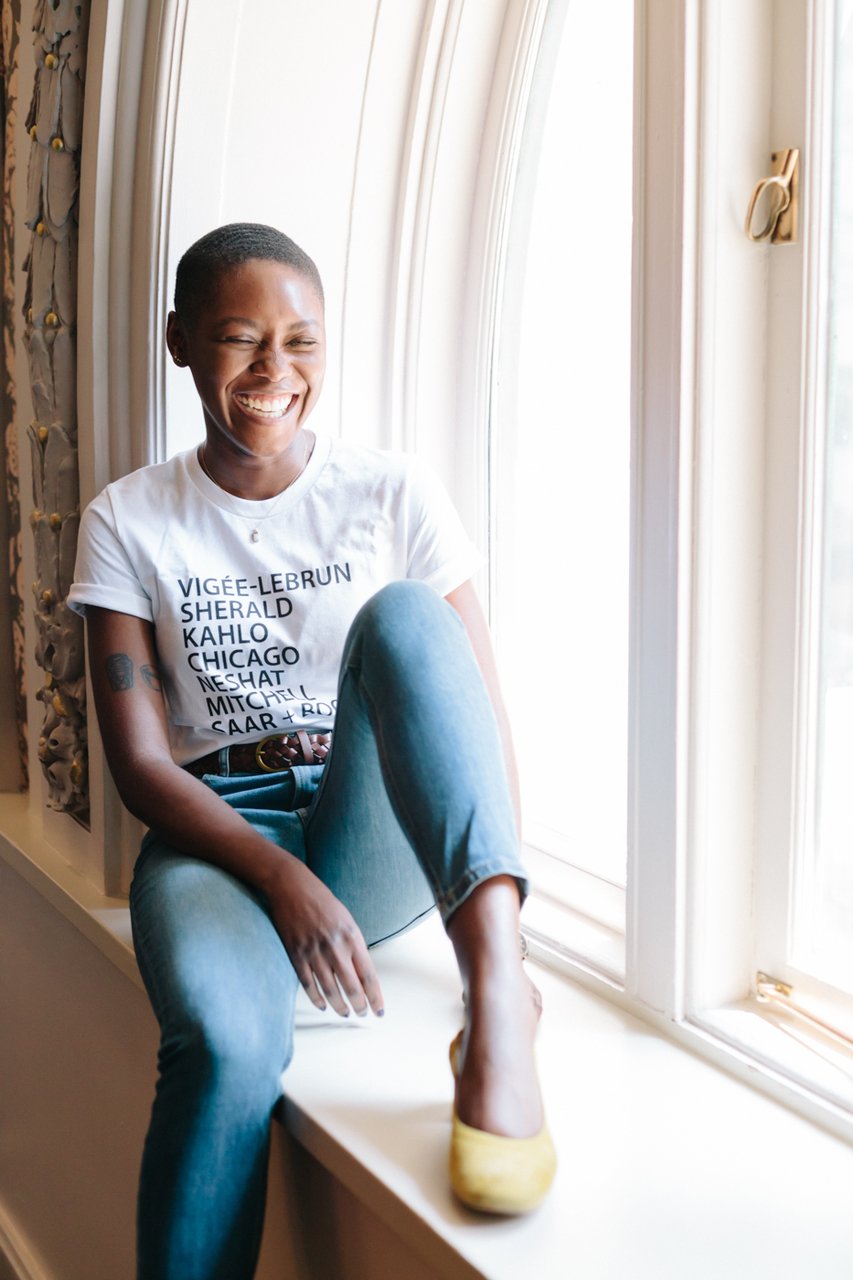 3. You collaborated with NMWA on our "Women Artists" t-shirt. What women artists are you currently inspired by?
I'm still seriously obsessed with that t-shirt! And yes, Alexis Franklin. She's the 24-year-old self-taught artist who painted the cover image of Breonna Taylor for O magazine.
4. What do you enjoy most about the Washington, D.C. community?
The D.C. community is comprised of dreamers, doers, good trouble- and change-makers. I have a theory that the proximity to power helps one understand their own. In D.C., I'm constantly surrounded by folks who dream and take the initiative to make those dreams happen.
5. Do you have a favorite slogan/message from your apparel?
Oh, this is too hard! But I'll have to say it's "Victorious."
---
Shop District of Clothing in the Museum Shop!