Review our helpful guidelines and tips prior to your visit.
To help make sure your visit to the museum is a positive experience, we've compiled a list of helpful information.
If you have questions or concerns, please feel free to talk to one of our knowledgeable visitor services staff or use the online Contact Us form.
Before Your Visit
NMWA welcomes all visitors and strives to be accessible to everyone. All public areas of the museum are wheelchair accessible. A limited number of wheelchairs are available at the information desk for use within the museum; please ask a visitor services staff for assistance. For more information, please visit our accessibility page.
Conrad Washington, DC is the official hotel of the National Museum of Women in the Arts. Just three blocks away, this downtown hotel is a quick walk to the museum.
During Your Visit
Check in at the Ticketing Desk when you arrive to purchase tickets and memberships. If you purchased tickets online, pick up your tickets at the Ticketing Desk.
Visit the Information Desk to pick up a museum guide and See for Yourself card pack. Our helpful visitor services staff will notify you about programs on the day of your visit.
Free Wi-Fi is available in the galleries. The password is womenartists. Share your visit by tagging @WomenInTheArts on social media!
Restrooms are available on all floors. Changing tables are available in the restrooms located in the Great Hall.

The

Nursing Lounge is located on the fourth floor adjacent to the elevato

r lobby.

The space is

equipped

with a

comfortable

chair, electrical outlets, and a sink and counter.

The average temperature in the museum is 68 to 72 degrees Fahrenheit, which some visitors find chilly; you may wish to bring a sweater or light jacket.

 

Please do not leave personal items unattended.
As a courtesy to other visitors, please set your phone to vibrate and take calls outside of the galleries.
Help us protect the legacy of women artists by not touching the art, leaning on walls or pedestals, or running through galleries.
Food and drink are not permitted in the galleries or Performance Hall. Drinking fountains are located by the restrooms.
Sketching is permitted and encouraged. Please use pencils and notebooks that are 11 x 14 in. or smaller. Colored pencils, ink pens, and markers are not allowed in the galleries.
Photography of special exhibitions or works of art on loan to the museum is generally permitted unless otherwise noted.
Works in the museum's collection may be photographed with available light for personal, non-commercial use.
Flash photography, tripods, selfie sticks, extension cords, and other special equipment are not permitted.
For press inquiries or information about commercial photography, please contact media@nmwa.org.
There is an inherent risk of exposure to COVID-19 in any public place where people are present. By visiting the museum, you voluntarily assume all risks related COVID-19 exposure

.

Visitors should reschedule their visit if showing signs of illness; our Visitor Services team will be glad to

assist

you in rebooking your tickets

.

First aid and an automated external defibrillator (AED) are available at the Security Desk. Security staff is CPR/AED trained and certified. Please inform a security officer in case of a health emergency.

 

The museum does not stock any medications, including epinephrine auto-injectors or allergy medication.
Limited space is available for coats and bags behind the Ticketing Desk. Please see a visitor services staff member for assistance.
The museum is not liable for any lost, missing, stolen, or damaged items left in the coat closet. All articles must be claimed before the museum closes; NMWA is not responsible for articles left overnight.
Backpacks and bags larger than 16 x 16 in. are not permitted in the galleries and must be checked at the security desk in the lobby.
Bags in excess of 16 x 16 in. that contain medical equipment or diaper bags are permitted but must be carried at your side.
Possession of dangerous materials, including firearms, is not permitted.
The museum reserves the right to inspect any parcel brought into the premises; security guards may conduct bag checks when you arrive.
The following items cannot be checked: laptops, tablets, cameras, and other valuables.
If you believe you've lost an item at the museum, please call us at 202-783-5000, email tickets@nmwa.org, or visit the security desk located adjacent to the Information Desk in the Great Hall. Museum security logs all items found in the galleries and/or turned in to Security staff. Items will be kept for three calendar months.
People may breastfeed their children anywhere in the museum. If you prefer a private space to nurse or pump, there is a dedicated Nursing Lounge on the fourth floor. The Nursing Lounge is located on the fourth floor adjacent to the elevator lobby. The space is equipped with a comfortable chair, electrical outlets, and a sink and counter. Please ask a security officer for assistance if the room is locked.
Changing tables are available in all restrooms.
Strollers are permitted in all galleries, unless otherwise noted.

All public areas of the museum are stroller accessible, and there is elevator access to all floors. T

he museum does not provide strollers.

 

All children under the age of 12 must be accompanied by an individual 16 years of age or older.
We welcome both guided and self-guided student groups at the museum. School and youth group tours with students 21 years old and younger are free for students and chaperones. Groups must stay with their chaperones at all times. Check in at the Ticket Desk for tickets. 
Chaperone Guidelines:
For groups led by a museum tour guide and self-guided groups that will remain together throughout their museum visit:
Pre-Kindergarten and Kindergarten: One adult chaperone per three students
Grades 1 to 12: One adult chaperone per 10 students
For self-guided groups when students are assigned independent or small-group activities:
Grades 1 to 12: One adult chaperone per five students
The museum's collection and special exhibitions include artwork expressing a range of subject matter, including the nude or partially nude human form. Please prepare students for the possibility of viewing these images before arriving at the museum. Our Education staff will be happy to answer questions you may have about the works on view prior to your visit.
Visitor Policies
The National Museum of Women in the Arts (NMWA) is a national museum open to everyone. Respectful sharing of spaces and resources ensures an enriching experience for all visitors. Appropriate personal behaviors, decorum and conduct are required from visitors at all times. This ensures that the entire visiting public is treated with respect, and that every visitor has an equal opportunity to enjoy a meaningful experience. Activities and/or actions inconsistent with museum values and policies will not be tolerated.
By reserving tickets and visiting NMWA, you are agreeing to comply with the following requirements for visitor conduct. Any actions listed within this webpage may result in the removal of person(s) from the museum.
Visitors are not permitted in the museum without clothing. Shirts and shoes must be worn at all times.
Visitors are to refrain from shouting, running, and other disruptive behavior. Individuals exhibiting any offensive, abusive or threatening language or behavior, and individuals suspected of being intoxicated or under the influence of drugs, will be asked to leave the museum.
Visitors are not permitted to engage in the following activities: leafleting, protests, rallies, third-party sales, or any activity that has the effect, intent, or propensity to draw attention.
The use of all smoke-related products including e-cigarettes, cigars, vaporizers, tobacco and its derivatives, and cannabis and its derivatives are prohibited.
Visitors are prohibited from:
Destroying, vandalizing, damaging, or removing museum property.
Climbing on any part of the building or exhibitions.
Use of loud or abusive language or perform obscene or indecent acts.
Loitering, sleeping, or participating in unauthorized assemblies.
Engaging in disorderly conduct.
The following items are not permitted in the museum at any time:
Food containers (except for medical necessity)
Paint
Masks that cover the whole face
Signage
Bicycles, scooters, tricycles, skateboards, roller/in-line skates
Drugs or alcohol
Firearms, other dangerous or deadly weapons, or explosives, either openly or concealed. The prohibition on firearms applies to all visitors, including those with firearm permits; only active law enforcement personnel authorized to carry firearms while on official duty are exempt from this requirement.
Coolers of any size (except for medical necessity)
Flags on poles or sticks that do not fit into a backpack

Dogs or other animals (except service animals)

Selfie sticks
Additional Visitor Information
Plan Your Visit
Find detailed information about hours, admission, how to get to the museum, and things to do.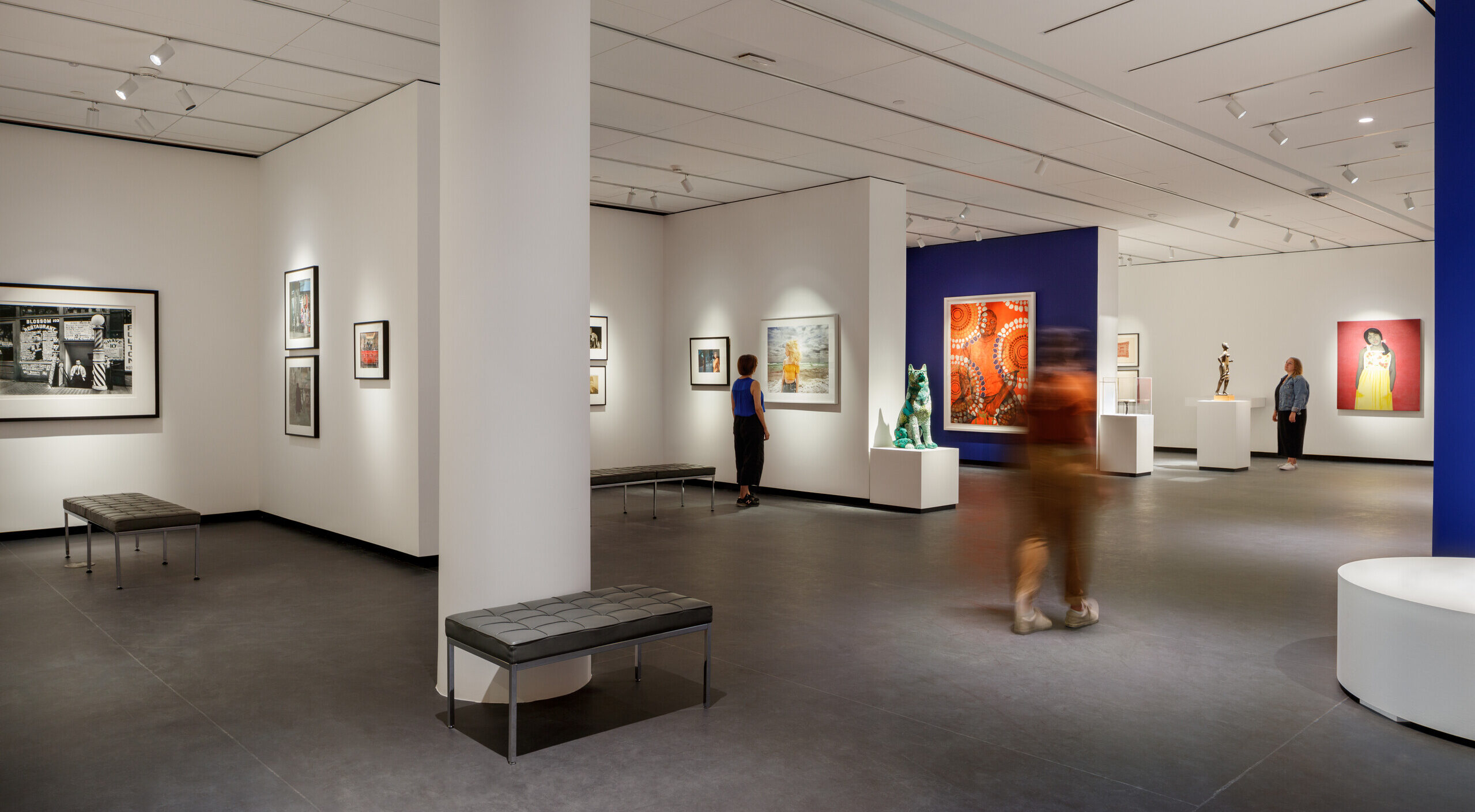 Accessibility
As you plan your visit to NMWA, check out our on-site accessibility offerings.