We are open today from 10 am to 5 pm
Museum Hours
Monday to Saturday
10 am to 5 pm
Sunday
12 to 5 pm
The Museum Shop is closed for renovation.
Library Hours
The LRC is closed for renovation.
Café Hours
The Mezzanine Café is closed for renovation.
Tickets
Adult

$10

Adult 65+

$8

Students

$8

Youth 18 and Under

Free

Members

Free

Military

Free
We are open today from 10 am to 5 pm
Visitor Safety
The museum is now open, and the well-being of our visitors, staff, and volunteers is our highest priority. We have adapted our visitor experience for your safety and enjoyment while meeting new health guidelines and safety standards. Make sure to review our Visitor Safety page for information about what to expect, including timed ticketing, special hours, and enhanced cleaning protocols.
Blue Star Museums
The museum will offer free admission to military personnel and their families this summer through the Blue Star Museums program starting on Armed Services Day May 15, 2021. Advanced reservation of free tickets is highly encouraged.
The free admission program is available for those currently serving in the United States Military—Army, Navy, Air Force, Marine Corps and Coast Guard as well as members of the Reserves, National Guard, U.S. Public Health Commissioned Corps, NOAA Commissioned Corps and up to five family members. Qualified members must show a Geneva Convention common access card (CAC), DD Form 1173 ID card (dependent ID), or a DD Form 1173-1 ID card for entrance into a participating Blue Star Museum.
Directions to the Museum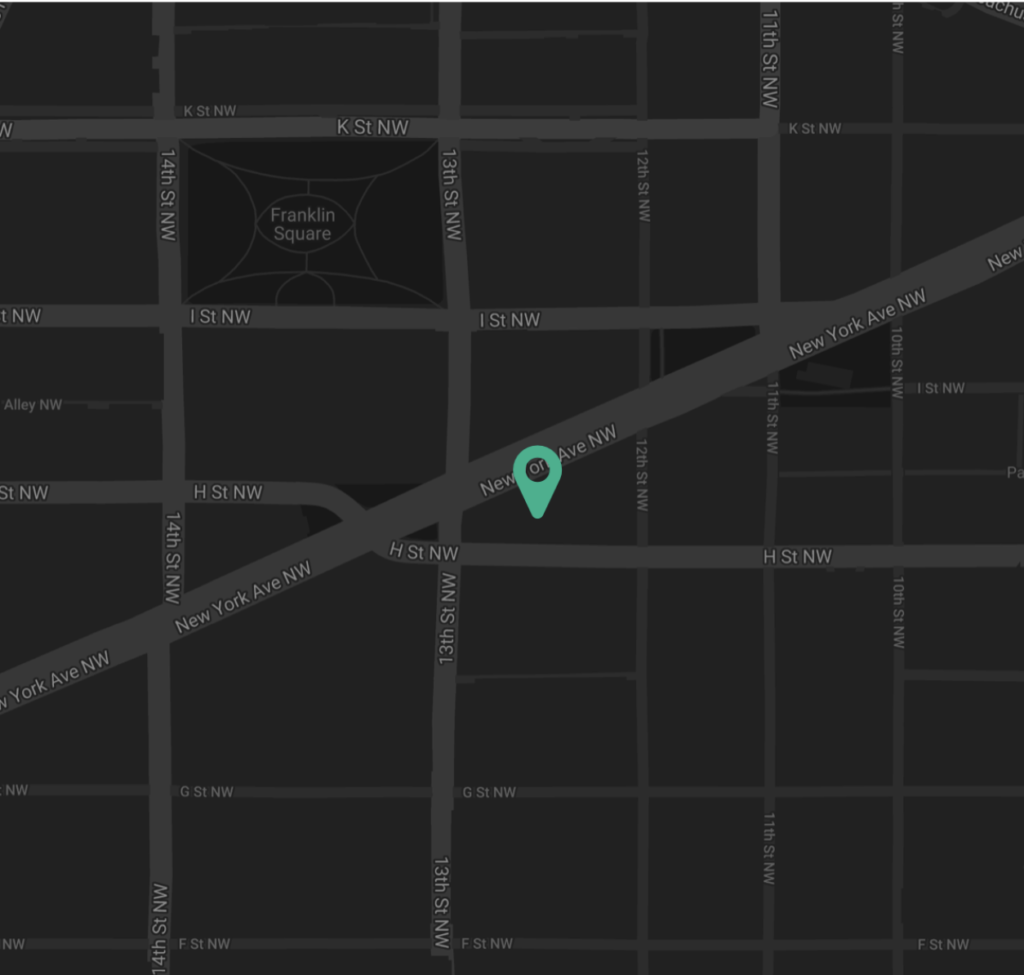 Getting Here
Use the goDCgo interactive map to plan your trip via bus, metro, bicycle rental, and more.
Museum Address
1250 New York Ave., NW
Washington, DC 20005
Transportation Options
The closest Metro stations to the museum are Metro Center (Red, Blue, Orange, and Silver lines) or Gallery Place-Chinatown (Red, Green, and Yellow lines). Visit the WMATA website for detailed maps and schedules.
Travel by bus routes 80, G8, S2, S4, X2, D6, D3, 68, D1, and 42 to the corner of H and 13th Streets, NW. Visit the WMATA website for detailed maps and schedules.
Since metered street parking is minimal, we have partnered with SpotHero, the nation's leading parking reservation app. Visitors can purchase guaranteed parking at nearby parking garages with rates up to 50% off drive-up. Once purchased, present your purchase confirmation at the selected location (this serves as your payment). Parking is guaranteed even if the location is otherwise filled.
Tips for Your Visit
To help make sure your visit to the museum is a positive experience, we've compiled a list of helpful information. If you have questions or concerns, please feel free to talk to one of our knowledgeable volunteers or use the online Contact Us form.
Check in at the Museum Shop to purchase admission tickets and memberships. If you purchased tickets online, pick up your tickets at the Museum Shop.
Visit the Information Desk to pick up a gallery guide and See for Yourself card pack. Our helpful volunteers will notify you about programs on the day of your visit.
Free Wi-Fi is available in the galleries. Please ask the volunteers or refer to signs for the password. Share your visit by tagging @WomenInTheArts on Facebook, Twitter, and Instagram!
Restrooms are available on all floors. Changing tables are available in the restrooms located in the Great Hall. Please see our Accessibility page for further information for nursing mothers and those that prefer a gender-neutral restroom.
Please do not leave personal items unattended.
As a courtesy to other visitors, please set your phone to vibrate and take calls outside of the galleries.
Please don't touch the art! Help us protect the legacy of women artists by not touching the art, leaning on walls or pedestals, or running through galleries.
Food and drink are not permitted in the galleries or Performance Hall. Drinking fountains are located by the restrooms.
Sketching is permitted and encouraged! Please use pencils and notebooks that are 11 x 14 in. or smaller. Colored pencils, ink pens, and markers are not allowed in the galleries.
Photography of special exhibitions or works of art on loan to the museum is generally permitted unless otherwise noted.
Works in the museum's collection may be photographed with available light for personal, noncommercial use.
Flash photography, tripods, selfie sticks, extension cords, and other special equipment are not permitted.
For press inquiries or information about commercial photography, please contact media@nmwa.org.
NMWA welcomes all visitors and strives to be accessible to everyone. All public areas of the museum are wheelchair accessible. Please ask security for assistance. A limited number of wheelchairs are available at the security desk for use within the museum. For more information, please visit our accessibility page.
First aid and an automated external defibrillator (AED) are available if needed. Please inform security if you require access.
A self-service coat closet is located adjacent to the Museum Shop, directly inside the museum's main entrance on New York Avenue.
The museum is not liable for any lost, missing, stolen, or damaged items left in the coat closet. All articles must be claimed before the museum closes; NMWA is not responsible for articles left overnight.
Backpacks and bags larger than 16 x 16 in. are not permitted in the galleries and must be checked at the security desk in the lobby.
Bags in excess of 16 x 16 in. that contain medical equipment or diaper bags are permitted but must be carried at your side.
Possession of dangerous materials, including firearms, is not permitted.
The museum reserves the right to inspect any parcel brought into the premises; security guards may conduct bag checks when you arrive.
The following items cannot be checked: laptops, tablets, cameras, and other valuables.
If you believe you've lost an item at the museum, please call us at 202-783-5000, email webmaster@nmwa.org, or visit the security desk located adjacent to the Information Desk in the Great Hall. Museum security logs all items found in the galleries and/or turned in to security staff. Items will be kept for three calendar months.
We welcome both guided and self-guided student groups at the museum. School and youth group tours with students 18 years old and younger are free for students and chaperones.
Chaperone Guidelines:
For groups led by a museum tour guide and self-guided groups that will remain together throughout their museum visit:
Pre-kindergarten and kindergarten: One adult chaperone per three students
Grades 1–12: One adult chaperone per 10 students
For self-guided groups when students are assigned independent or small-group activities:
Grades 1–12: One adult chaperone per 5 students
The museum's collection and special exhibitions include artwork expressing a range of subject matter, including the nude or partially nude human form. Please prepare students for the possibility of viewing these images before arriving at the museum. Our Education staff will be happy to answer questions you may have about the works on view prior to your visit.
Conrad Washington, DC is the official hotel of the National Museum of Women in the Arts. Just three blocks away, this downtown hotel is a quick walk to the museum.
See For Yourself Cards
See for Yourself cards highlight selected works from our collection and special exhibitions. Use them in the museum, at home, or in the classroom to engage with artworks, discover fascinating facts, and reflect on your experience.