Join the National Museum of Women in the Arts on Tuesday, March 8, 2022 for a day-long virtual festival to celebrate International Women's Day. With thanks to J. Crew for sponsoring this event.
Throughout the day, museum staff, artists, and makers will host online classes and programs highlighting and honoring women in the arts. All times are listed in EST.
Festival Events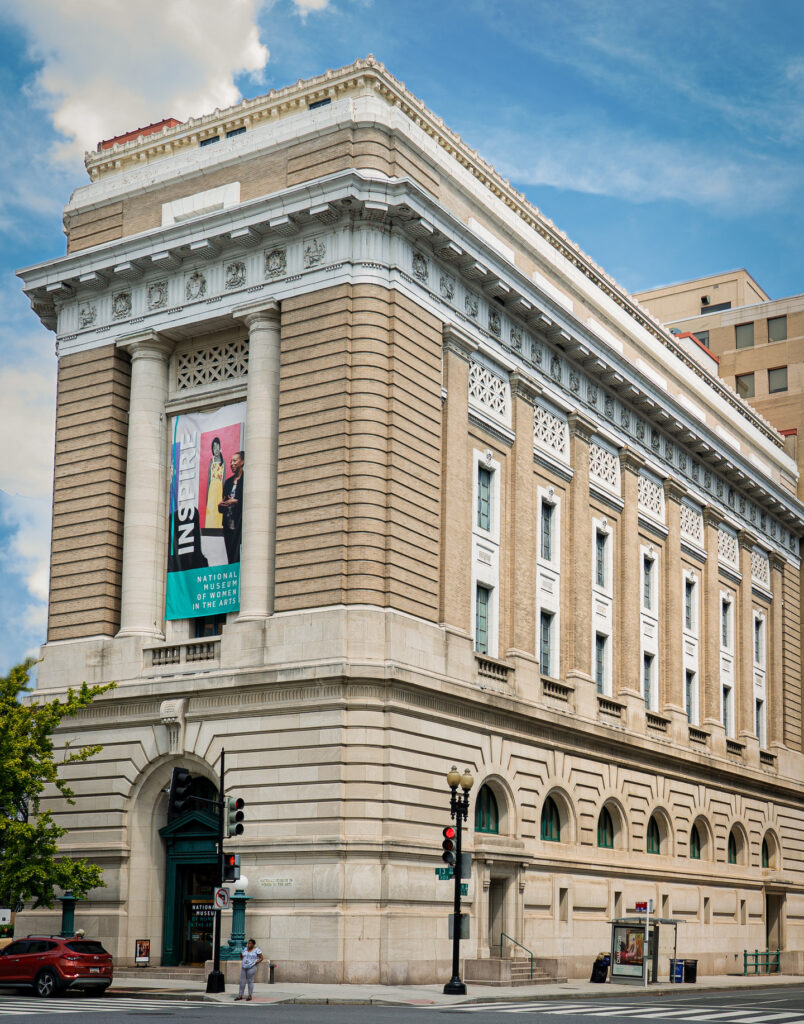 Welcome to International Women's Day
Join Susan Fisher Sterling, NMWA's Alice West Director, to kick off the museum's virtual International Women's Day celebration! Get an insider's look at our ongoing building renovation project as well as plans for the years ahead. Hear from Carolyn Higgins, senior membership manager, about the day's exciting programming.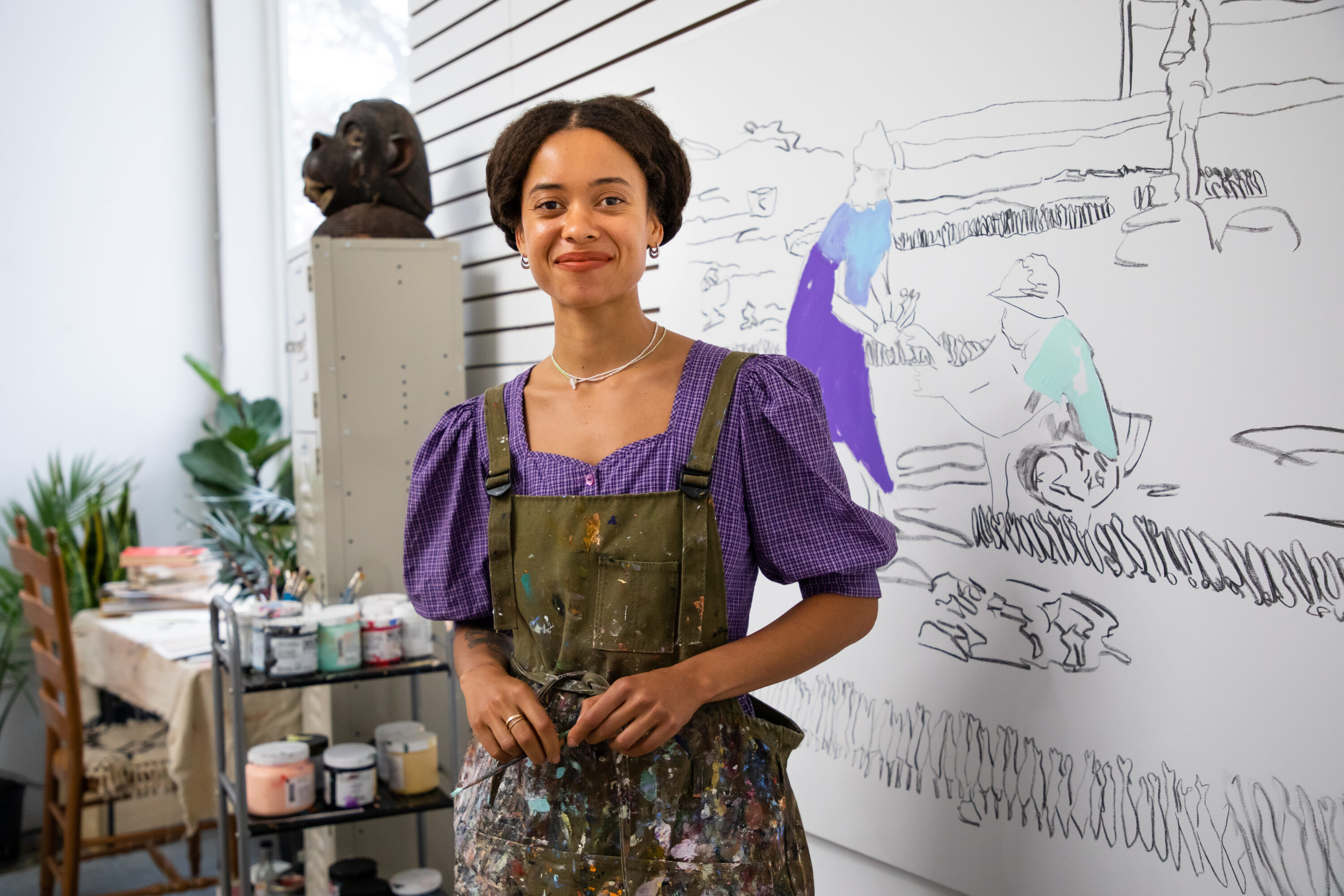 NMWA xChange: The Life and Times of Cassi Namoda
On this episode of NMWA xChange, the museum's monthly talk show, Adrienne L. Gayoso, senior educator, and Ashley Harris, associate educator, welcome painter and performance artist Cassi Namoda. Born in Mozambique, Namoda explores the intricacies of social dynamics and mixed cultural and racial identity. Capturing scenes of everyday life, from mundane moments to life-changing events, Namoda paints a vibrant and nuanced portrait of post-colonial Mozambique within an increasingly globalized world.
Namoda was named one of Elephant magazine's "Rising Art Stars of 2020" and was commissioned to paint a cover for the January 2020 issue of Vogue Italia. Her work is held in the collections of the Pérez Art Museum, Miami; Studio Museum, Harlem; and the Baltimore Museum of Art. She works in Los Angeles and New York.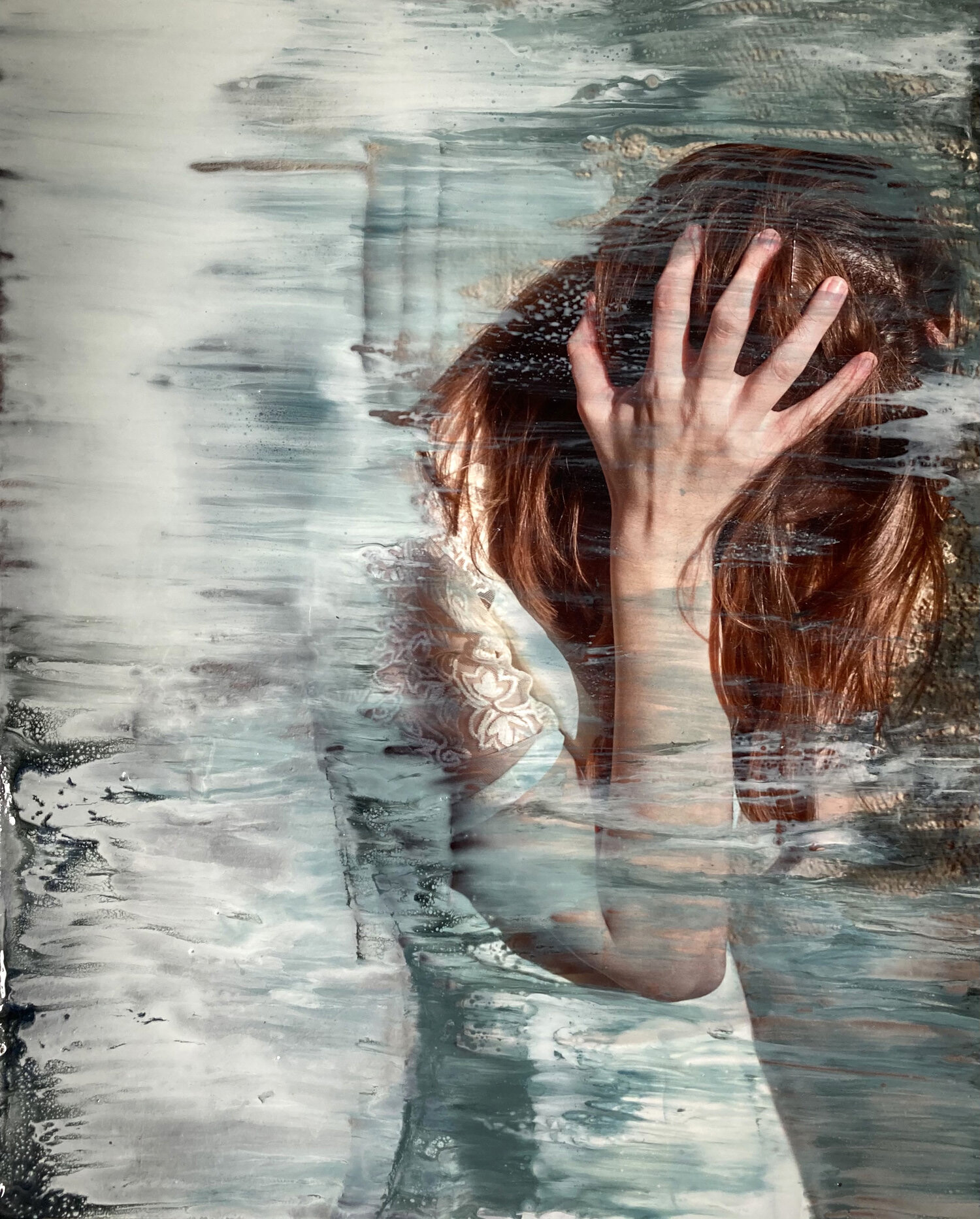 In Conversation: Rehab Eldalil and Tabitha Soren 
NMWA Assistant Curator Orin Zahra speaks with photographers Rehab Eldalil and Tabitha Soren,  whose creative practices blur the lines between photojournalism and fine art. The conversation will explore the ways in which the two artists turn an acute eye toward society to reveal complexities of the human condition and psyche. Through their visual storytelling, which often includes the layering of other mediums with photography, they examine personal and collective loss, issues of social justice and ways to connect across divides.
Eldalil is a documentary photographer and visual storyteller based in Cairo. Her work focuses on the broad theme of identity explored through participatory creative practices. She was awarded a 2020 Arab Documentary Photography Program grant by the Arab Fund for Arts and Culture and Magnum Foundation, a 2020 Emergency Grant for Journalists by the National Geographic Society  and a 2021 Creative Activism Award.
A visual artist for more than 25 years, Soren unpacks the intersection of psychology, politics and the body. Her work has been featured in exhibitions at museums including the Mills College Art Museum, the Davis Museum at Wellesley College, Berkeley Art Museum and the New Orleans Museum of Art. Soren's books include Surface Tension (RVB Books, Paris, 2021), nominated for the Prix Nadar; Fantasy Life (Aperture, 2017); and Trace (Yoffy, 2018). Soren's work is held in private and public collections including the Los Angeles County Museum of Art, the New Orleans Museum of Art, Harvard Art Museums and the Getty Museum.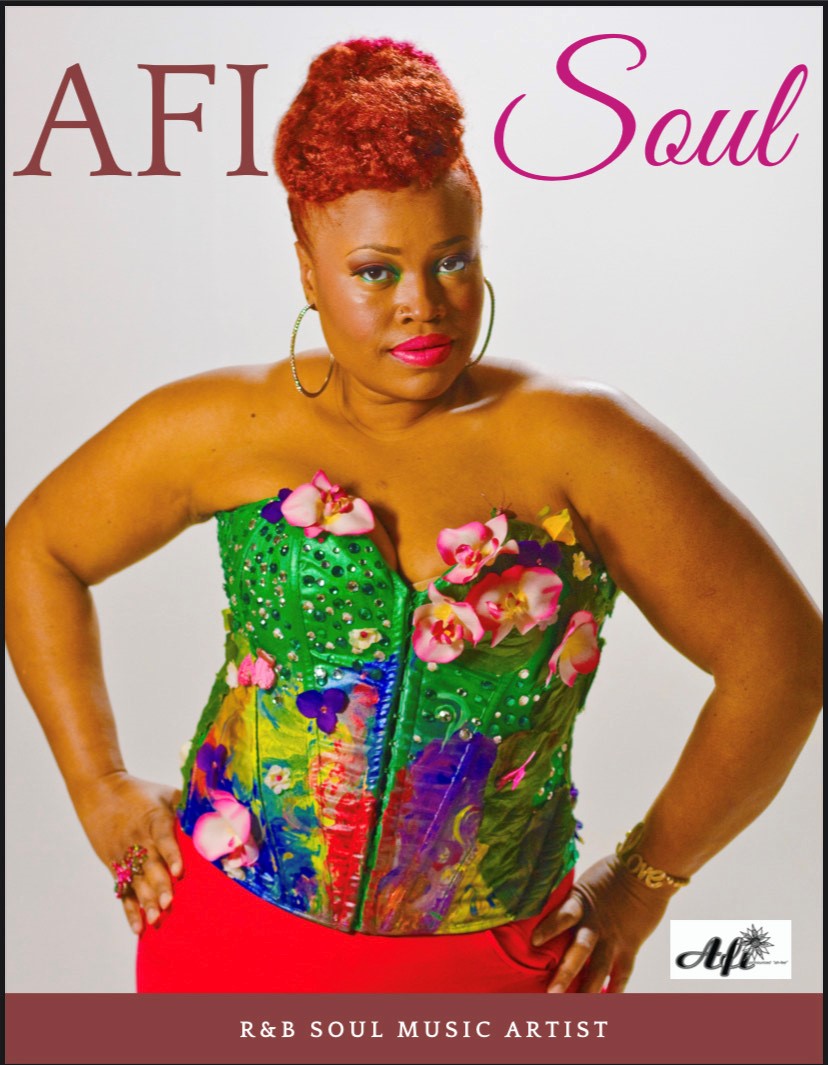 The Tea: SPIKED with Afi Soul
In this special presentation of The Tea, Afi Soul will perform original work via livestream and Chocolate City's Best bartenders Kapri Johnson and Denaya Jones will demonstrate a signature, tea-themed cocktail to accompany the performance. Over this special cup of spiked tea, Afi Soul will also discuss her creative process with Melani N. Douglass, director of public programs. Livestreaming on NMWA's Facebook page and at nmwa.org/livestream.
Afi Soul is a critically acclaimed R&B/soul singer whose 2007 self-distributed album Lovely landed on the Soultracks Top 10 Albums list, putting her in a class with Erykah Badu, Angela Johnson, Algebra and Raheem DeVaughn. The music video stayed in rotation on BETJ and VH1 Soul for months and was also featured on VH1Soul.com. Her latest album, Rising, was released in 2014 and is independently distributed in stores and online.
Kapri Robinson is Washington, D.C.'s 2017 Cocktail Queen and has been a part of the beverage community in the city for almost a decade. While spending her time as a bartender, educator and event organizer, she is also the president and founder of Chocolate City's Best. In 2020, Robinson organized Back to Black, an organization bringing together Black food and beverage creators to rally continued support of Black activism. Robinson is also the co-founder of Empowering The Diner, a Black women-led food and beverage experience. In 2021, Robinson was chosen as one of Eater's New Guard.
Over the course of D.C. native Denaya Jones's 10-year career, an administrative position with the Black-owned catering and event company Charlene's Kitchen evolved into a true passion for hospitality, cocktails and spirits. She established Deestilled, a mobile, boutique-style company specializing in bespoke bar and spirits experiences. Jones is also director of operations for craft spirits retailer Seelbach's, content curator for Chocolate City's Best and a member of Fred Minnick's American Spirits Counsel of Tasters. Jones has competed in and won multiple cocktail competitions, including Chocolate City's Best (2018) and the Grey Goose Express Your Cocktail Challenge.
Featured Cocktail: Chai Toddy
2 oz rye whiskey
0.5 oz mulled spice syrup

1:1 simple syrup steeped with cinnamon, clove, and allspice

0.5 oz lemon juice
2-3 oz brewed Chai tea (hot)
lemon slice and cinnamon stick for garnish
Featured Cocktail: Green Thumb
1.5 oz green tea
0.5 oz lime juice
0.5 oz green apple syrup
3 dashes Eucalyptus bitters
2 oz of Barr Hill gin
green apple rose for garnish
Mocktail Recipe: Kuumba
2 oz chilled Earl Grey tea
5 oz honey dill syrup
2 oz Spiritless Kentucky 74 Non-Alcoholic Bourbon
lemon wheel and dill for garnish
ice
Equipment Needed
collins glass
shaker
cocktail strainer
spoon
mug
Event Sponsor
International Women's Day Festival sponsored by J.Crew.