Lucy M. Lewis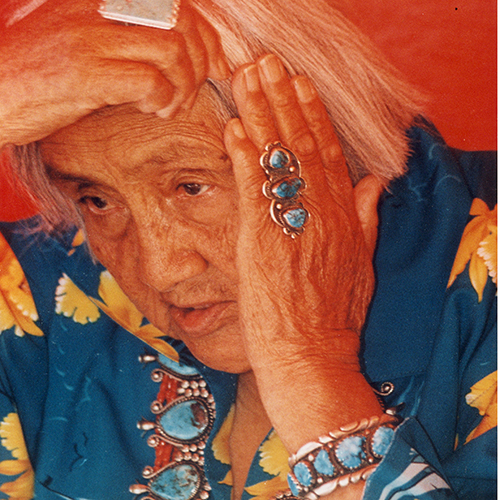 Since there were no schools on the mesa, Lewis received no formal education or art classes. She learned pottery as a young child from her great-aunt and other Acoma Pueblo women. Lewis was instrumental in reviving eleventh-century, Mimbres-style pottery, characterized by black lines on white slip.
Lewis married and had nine children. She handled the household chores, helped her husband with the farming, and still found time for her pottery. Because of Acoma Pueblo's remote location, Lewis was never helped, or interfered with, by archaeologists, museum curators, collectors, or tourists. She also did not travel to powwows or fairs, though she occasionally sold her pottery in the closest town, 20 miles away.
Lewis's pottery first became known outside the pueblo in 1950, when she received a blue ribbon at the annual Gallup Inter-Tribal Indian Ceremonial in New Mexico. During the 1980s and 1990s Lewis received awards from the American Crafts Council, the College Art Association, the state of New Mexico, and the Honolulu Academy of Fine Arts. Lewis continued to pot well into her 80s. Some of her daughters and grandchildren also create pottery.