Evgenya, Induction-Centre Tel Hashomer, Israel, March 6, 2002; (2) Evgenya, North Court Base Pikud Tzafon, Israel, December 9, 2002
Close up of Evgenya, Induction-Centre Tel Hashomer, Israel, March 6, 2002; (2) Evgenya, North Court Base Pikud Tzafon, Israel, December 9, 2002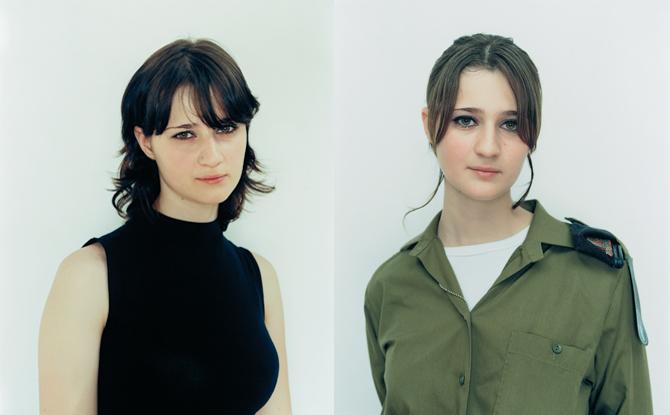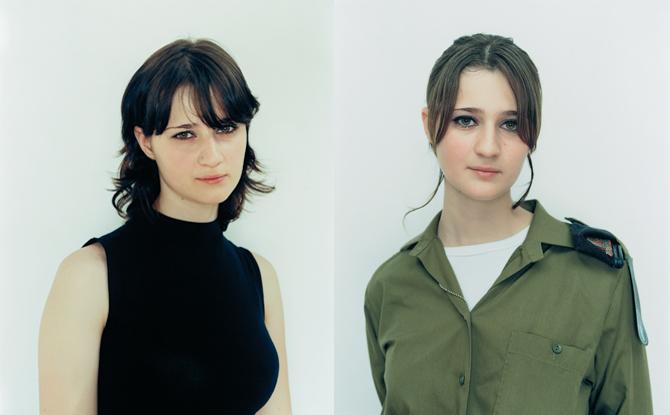 These two images of Evgenya are part of Rineke Dijkstra's photographic series featuring members of the Israeli army. Since all men and women are required to serve for two years beginning at age 18, the military plays a prominent role in Israel's culture.
As with other soldiers portrayed in the series, Evgenya appears at the time of her induction into the army and then again several months later. The differences in hairstyle, pose, facial expression, and clothing, together with Dijkstra's detailed titles, provide a specific context for the images. Such details encourage viewers to imagine narratives for the portraits. Yet the overall neutrality of Dijkstra's compositions deflect any effort to assign meaning to the works.
Dijkstra creates photographic series of people in related settings (or the same person over time) to highlight physical and emotional similarities, as well as marked differences. Unlike many post-modern photographers who adopt a directorial approach to photography, she attempts to make her subjects less conscious of the camera. Each shot made with her large-format camera takes a long time to set up, which discourages her subjects from holding a pose or particular facial expression.
Although formal in composition, with figures positioned frontally against neutral backgrounds, Dijkstra's portraits communicate an emotional intensity as the artist and subject have focused upon each other intently for long periods of time during the shoot.