Siesta
Close up of Siesta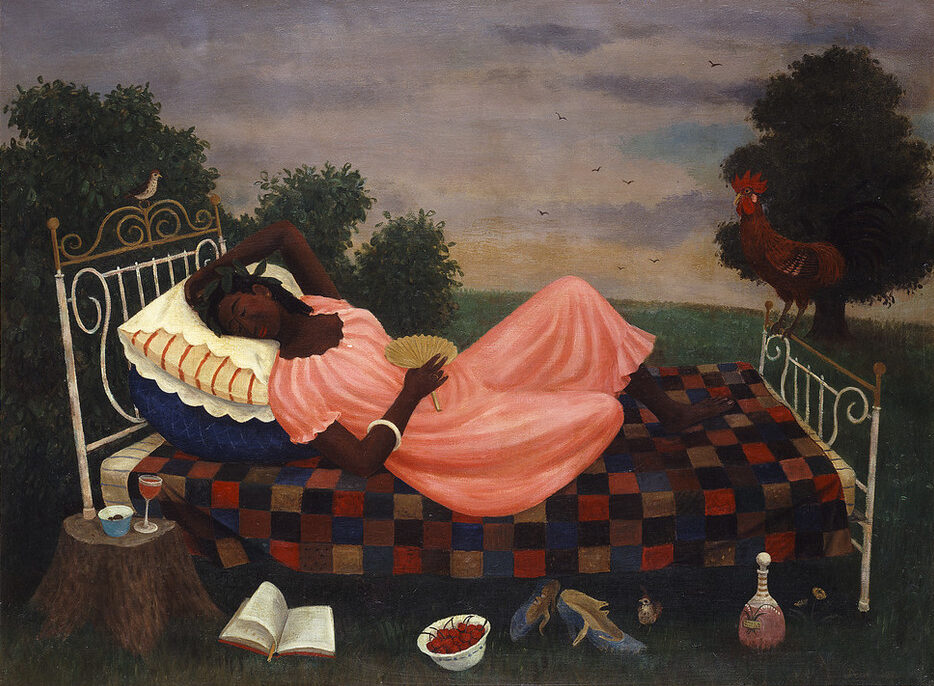 Painter, illustrator, and designer Doris Lee became famous for her Depression-era murals and depictions of everyday life. Siesta, with its folk-art style, is typical of Lee's work.
A woman crowned with a wreath of leaves reclines on a bed that is located outdoors. Eyes closed and fan at rest across her torso, the woman appears to sleep. An open book, bowl of cherries, elegant shoes, and a stoppered bottle are arrayed in the grass alongside the bed. A handy tree stump serves as a side table and an alert rooster perches as the foot of the bed—a sort of living alarm clock.
The outdoor setting for a bed and interesting assortment of domestic objects reinforce the curious, whimsical quality of this bucolic setting. Yet, viewers are left wondering whether Siesta represents reality, a dream, or something else entirely.
Throughout her career, Lee's popular and appealing work appeared on greeting cards, calendars, menus, pottery, and fabric design. Simplified and fanciful depictions of people, animals, and places can be found throughout the materials in The Doris Lee Collection, which is housed in NMWA's archives. Clippings and photographs that she gathered served as inspiration for her imagery.