Susan Avery and Isaac Avery
Close up of Susan Avery and Isaac Avery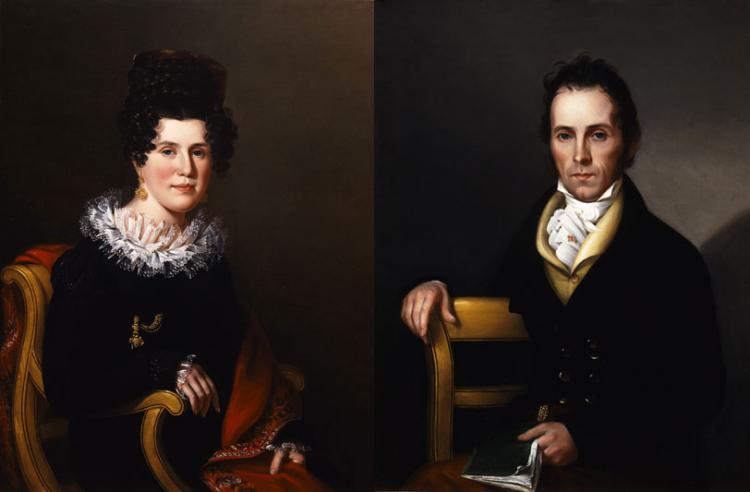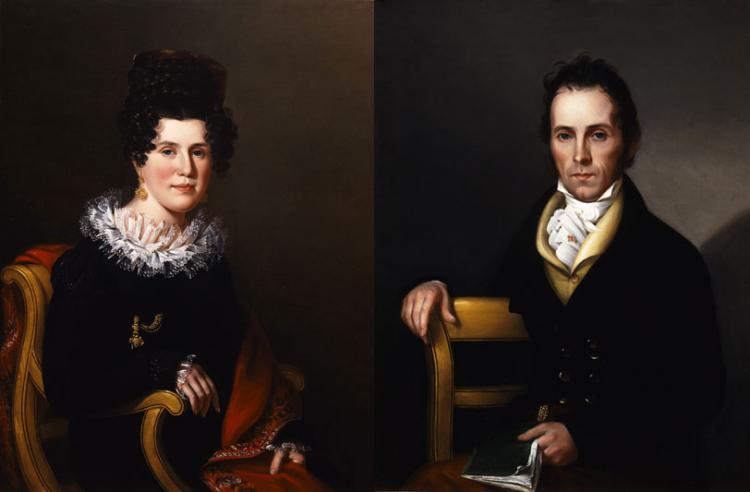 This pair of pendant portraits—portraits painted as a set, typically of husband and wife—illustrate Sarah Miriam Peale's meticulous attention to detail. The result is a visually and emotionally satisfying image of a proud and prosperous Philadelphia couple.
In what are likely their wedding portraits, Susan and Isaac Avery sit in slightly stiff, formal postures with their bodies angled and their gazes directed toward the viewer. Their stylish chairs and rich attire indicate their wealth and status.
Particularly noteworthy are Susan's earrings and heart-shaped pendant, as well as the tortoise-shell hair combs just visible at the back of her head and amid the curls near her face. Isaac probably manufactured such combs, which were expensive items at the time. Cashmere shawls of the kind draped around Susan's left arm were equally luxurious.
Peale's affinity for painstaking natualism is further evident in the highlights on Isaac's stick pin, watch chain, and the double row of gold buttons on his jacket. In fact, she painted the second button from the top, on the viewer's right, twisted at an angle to make it catch the light. In both portraits Peale balanced the specificity of such details with the plain background that focuses attention on the figures themselves.