June 22, 2020
6/22/20
Tenbeete Solomon, also known as Trap Bob, is a Washington, D.C.-based visual artist, illustrator, and animator. Recently, NMWA commissioned Trap Bob to paint a mural on the plywood covering the museum's façade on a day that saw thousands of peaceful protestors gathered in support of Black lives. We spoke to Trap Bob about her artistic practice in the time of COVID-19 and the Black Lives Matter movement.
How does your personal, family, and cultural history inform your practice?
I'm a first-generation Ethiopian in this country, and I grew up immersed in my culture. My illustration style is rooted in Ethiopian Orthodox art, and I draw a lot of inspiration from my identity. My work often humorously reflects the struggles and challenges I deal with as a Black woman, and also acts as representation in whatever space I work in.
How did you pivot your artistic practice in the face COVID-19?
Because I practice so many mediums, I was able to continue to work digitally with illustration and animation. I really took the time to explore and experiment with ideas and mediums that I didn't have time for before quarantine. It has really made me reflect on where the art scene will go next and how I see my work in the future.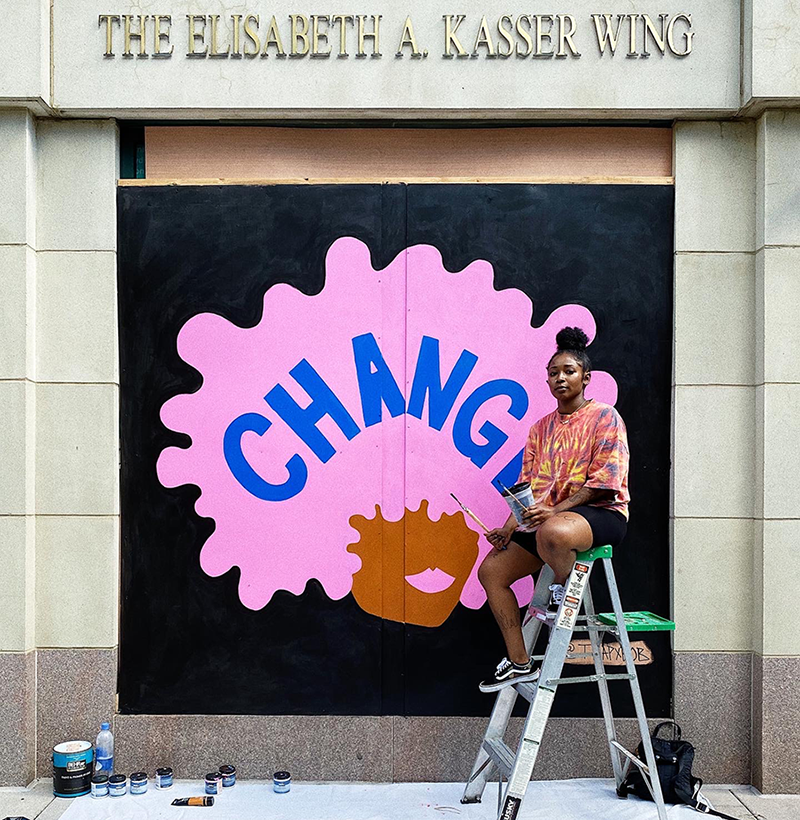 What is your dream for artists on the other side of this pandemic and uprising?
I just want our platform to grow stronger and stronger—I live by the concept that art will save the world. I want to be rid of these political barriers within the art community, especially here in D.C. We need to actually see the talent, not just search for and run into it. I want to see more murals, more art installations, and more funding for the arts.
What is the inspiration for the mural you painted for NMWA?
I was reflecting on everything happening between the pandemic and the protests, and I kept hearing people say they just want things to "go back to normal." It made me think, do I want things to go back to normal? "Normal" was a lack of emphasis on healthcare and communities, "normal" was living with systematic and violent racism and discrimination. That idea of "normal" is dead now, and I want to spread the message of change. My work is also always women-centric and provides representation for Black women in spaces where we are often overlooked.
How can art be a tool for change in this current moment?
Art is the language everyone understands and can interpret for themselves. It gives the viewer the opportunity to reflect, think about what they truly believe in, and how they want to see the world. I think art is the most powerful tool for expression, and it literally creates history. In the future, people will look back and see what life was like at this time through all of the art we create now.
---
Support for creation of the murals was provided by MaryRoss Taylor.