July 3, 2015
7/3/15
"The art world is screwed: systematically, historically," says Arabelle Sicardi in this Jezebel article. Artists Sicardi and Tayler Smith describe the experience of seeing an uncredited reappropriation of their artwork by a Yale MFA student.
Sicardi writes, "How many women artists have been erased from museums through pre-Instagram modes of re-appropriation: their works attributed to male colleagues in their studios, their mentors or their lovers or more visible friends. How many women only get into museums by being muses, and never the artist themselves?"
Front-Page Femmes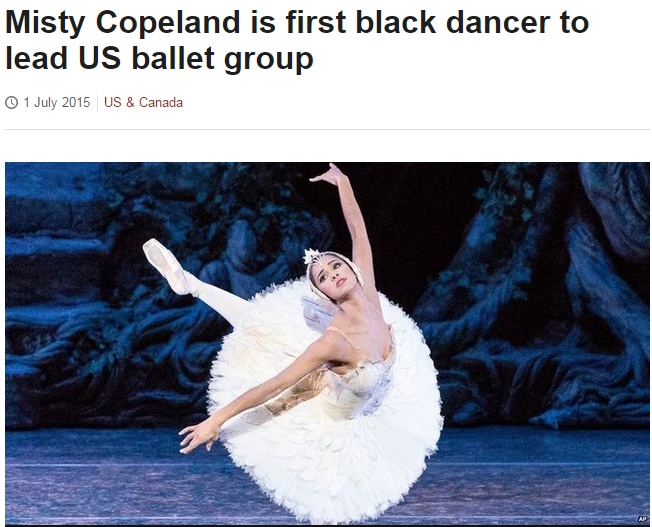 Misty Copeland made history this week as the first African-American principal ballerina in the American Ballet Theater's 75-year history. BBC, The New York Times, and The Wall Street Journal explore Copeland's successes. Copeland has graced the cover of Time, been in an Under Armour ad, and published a memoir. A mentor of Copeland, Raven Wilkinson, describes her own tumultuous history as a ballerina in the Jim Crow South in this article.
The performance artist Marina Abramović announced her funeral will be her last piece. Abramović wants three bodies buried in the cities she has lived in the longest.
Fashion designer Donna Karan steps down from her chief designer position. The Washington Post calls her "Seventh Avenue's greatest advocate for professional women."
Niki Johnson's Eggs Benedict causes major controversy at the Milwaukee Art Museum.
Commissioned graffiti in a tunnel in Mongolia raises awareness about violence against women.
Swedish artist Susanna Hesselberg's installation at Sculpture by the Sea looks like a library lining a mining shaft.
Only 24% of all plays produced in the U.S. in the 2014-2015 season were written by a woman. In an effort to increase visibility of female and transgender authors, a Los Angeles-based group of producers and playwrights compiled a list of 53 most recommended plays.
Author Helen Castor's new book puts Joan of Arc in context.
SheKnows media company launches an audience-driven video series featuring emerging female entrepreneurs hoping to launch their businesses.
Shows We Want to See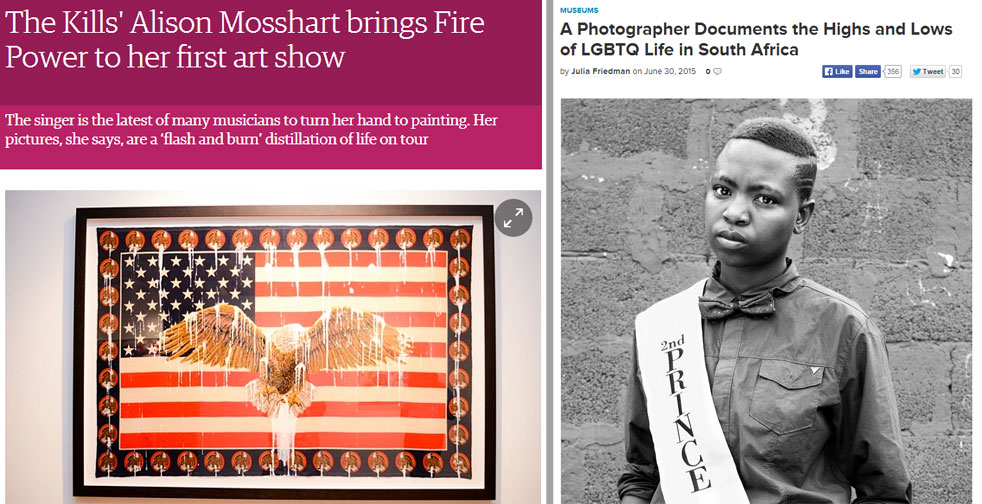 The first art show for The Kills singer Alison Mosshart contains 127 works—many of which were created while the artist was on tour.
Hyperallergic explores "social justice advocacy as art" in Zanele Muholi: Isibonelo/Evidence at the Brooklyn Museum.
Spaces of Mourning: Doris Salcedo brings a reviewer to tears. In this first comprehensive exhibition of the artist, "Salcedo focuses on the dirtied, repressed memories of society."
Post cereal heiress Marjorie Merriweather Post's wardrobe is on view. Ingenue to Icon presents an autobiography of the philanthropist and collector through her clothes.
Throckmorton Fine Art holds a show of Mexican women photographers.