September 4, 2015
9/4/15
The Huffington Post examines the last ten years of auction sales to determine the top ten most expensive works by women artists.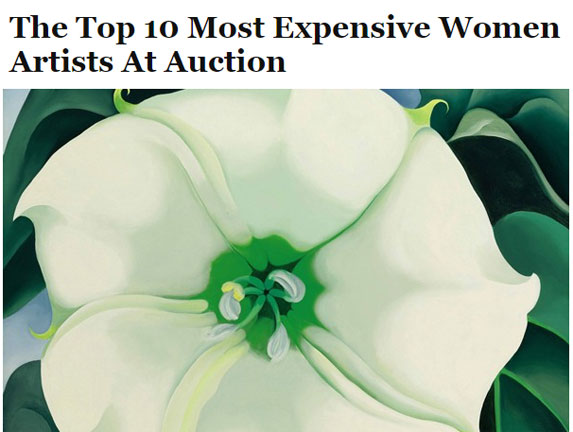 The 2014 sale of Georgia O'Keeffe's Jimson weed/White flower no. 1 (1932) for $44 million leads the list, followed by a painting by Joan Mitchell for $12 million. Mitchell, however, ranks first in value, with 407 lots sold at a total value of $286,117,725.
Front-Page Femmes
Lego designs a Yoko Ono figurine in honor of the artist's MoMA retrospective.
Natasha Kroupensky and Aline Herrera are two of the young artists behind the Mexico City art collective Tlatoa.
Bay area-based photographer Molly Matalon explores relationships and femininity in her work.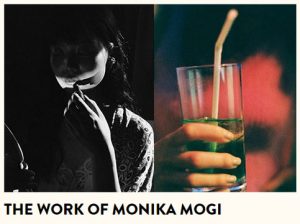 Juxtapoz praises the work of Tokyo-based photographer Monika Mogi.
ARTnews follows New York-based poet, artist, model, and DJ Juliana Huxtable. In her work, Huxtable explores identity, race, gender, and queerness as mediums to explore post-identity politics.
Ceramic sculptures by South Korean artist Haejin Lee appear to unravel.
Artist Nitzan Kish uses a 3D printer to create modular self-defense outfits for women.
NPR examines Linda Hirshman's joint biography of Sandra Day O'Connor and Ruth Bader Ginsburg.
Slate reviews the state of music's hot 100 list, "women not only don't dominate the pop charts, but occupy a smaller share than they have since the early '80s."
Danish musician Amalie Bruun is the woman behind the black metal project Myrkur.
While many music festivals fail to book enough woman-fronted bands, Burger A Go Go hosts an all-girl lineup.
The gender ratio in Bollywood is 6.2 men to every one woman—worse than the average of 3.9 men to every 1 woman in popular films across 11 countries.
Women discuss gender equality in animation following a popular Buzzfeed article on the subject.
Shows We Want to See
The Galerie Jaeger Bucher in Paris hosts Evi Keller: Matière-Lumière, featuring a projection room with the artist's audiovisual work, photographic prints, and installations.
The Denver Art Museum will have a major exhibition of women Abstract Expressionists in summer 2016.
Before moving to Milwaukee, Michelle Grabner's Oak Park garage gallery, The Temporary Suburban, is on view in Indianapolis.