July 2, 2013
7/2/13
One of the foremost French painters of the 17th century, Louise Moillon (1610–1696) was a leading proponent of still-life works. Her luscious, meticulously detailed renderings of fruits and vegetables elevated the popularity and credibility of still-life painting in France—a genre considered on the lower rungs of the artistic hierarchy as determined by the French Royal Academy, and which did not share the time-honored prestige in France that it did in the Netherlands.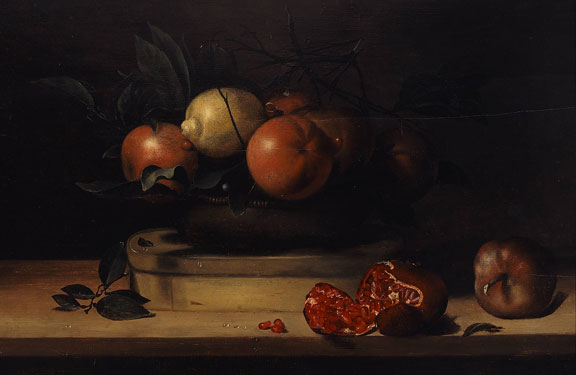 A Parisian-born Protestant in predominantly Catholic France, Moillon grew up in the bustling environment of Saint-Germain-des-Prés. This area, on the left bank of the Seine River in Paris, pulsed with ideas and energy that attracted a wide range of intellectuals and artists. Protected by the 1598 Edict of Nantes, which granted religious tolerance to Protestants in France (many of whom settled in the Saint-Germain-des-Prés area, along with Protestants fleeing persecution in the southern Netherlands), Moillon and her family enjoyed religious and economic security for much of her lifetime.
From an early age, Louise Moillon and her six siblings benefitted from artistic family members: her father, Nicholas Moillon (1555–1619), was a noted still-life, landscape, and portrait painter who owned a prestigious art gallery in Saint-Germain-des-Prés; her mother, Marie Gilbert (1560–1630), the daughter of a prominent Parisian goldsmith, was a strong supporter of Louise's career; and Isaac Moillon (1614–1673), Louise's brother, became a famous portrait painter and sculptor at the court of Louis XIV at Versailles. This background, along with the rich artistic atmosphere of Saint-Germain-des-Prés and the access it afforded Louise to observe the techniques of numerous artists, fostered Moillon's early artistic passion and talent.
At age nine, Moillon attended convent school—fashionable for young Parisian girls whose families wanted them to learn art, drawing, and other skills considered socially advantageous. It was here that Moillon's talent became immediately obvious. She continued her artistic training under her father until his death in 1619, and then under her stepfather, François Garnier (c. 1600–1672), also an artist and dealer. It has been speculated that Moillon may have also been a pupil of Jacques Linard (1597–1645), another noted Saint-Germain still-life artist with whom Louise shared close stylistic similarities and with whom she collaborated on a 1641 painting. Like her father and stepfather, Louise excelled in still-life painting—her works often feature close observations of lush produce being transported into Saint-Germain by farmers from outlying provinces.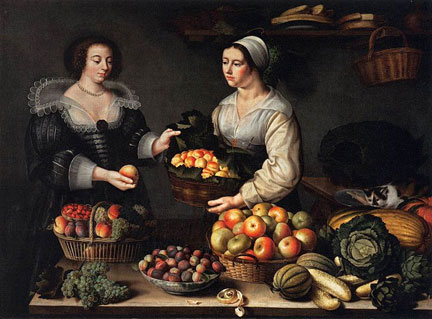 Moillon spent countless hours absorbed in painting: she always worked indoors, with her subjects carefully positioned near sunlight streaming through a window—facilitating her mastery of chiaroscuro, the use of light and shadow. Louise usually arranged her subjects—varied produce with vibrant colors, interesting surface textures, or unusual shapes—asymmetrically in one to three bowls on a table. She often placed a small object, such as a pea or leaf, near the edge of the table in her paintings, energizing the scene with the possibility of its falling; a good example of this technique is the Louvre's The Fruit and Vegetable Costermonger, 1631, in which a fruit rind precariously balances on the edge of the table laden with an impressive array of produce.
Louise also frequently incorporated miniscule trompe l'oeil elements into her paintings, such as the highly naturalistic water droplets seen on the bottom left edge of the table in Basket of Apricots, 1634, also in the Louvre. The vivacity and immediacy seen in her still lifes, and those of many fellow artists from Saint-Germain, directly contradicted the term nature morte, the less than flattering French terminology translating literally to "dead nature" used to reference still life painting.
Click here for Part 2 of 2!