September 1, 2022
9/1/22
Throughout 2022, NMWA's award-winning #5WomenArtists campaign champions emerging and underrepresented artists. With the help of partner arts organizations around the country, we're featuring the work and voices of selected artists each month. This week, get to know Sayaka Suzuki, nominated by The Visual Arts Center of Richmond.
Sayaka Suzuki's work investigates her identity as Japanese-born and married into an American family. She explores what it means to adopt a new country and new ideologies, mending heritages together in a new lexicon. Her work has been featured in solo and group exhibitions throughout the United States, and she is currently a full-time adjunct faculty member at VCU in the Department of Craft and Material Studies.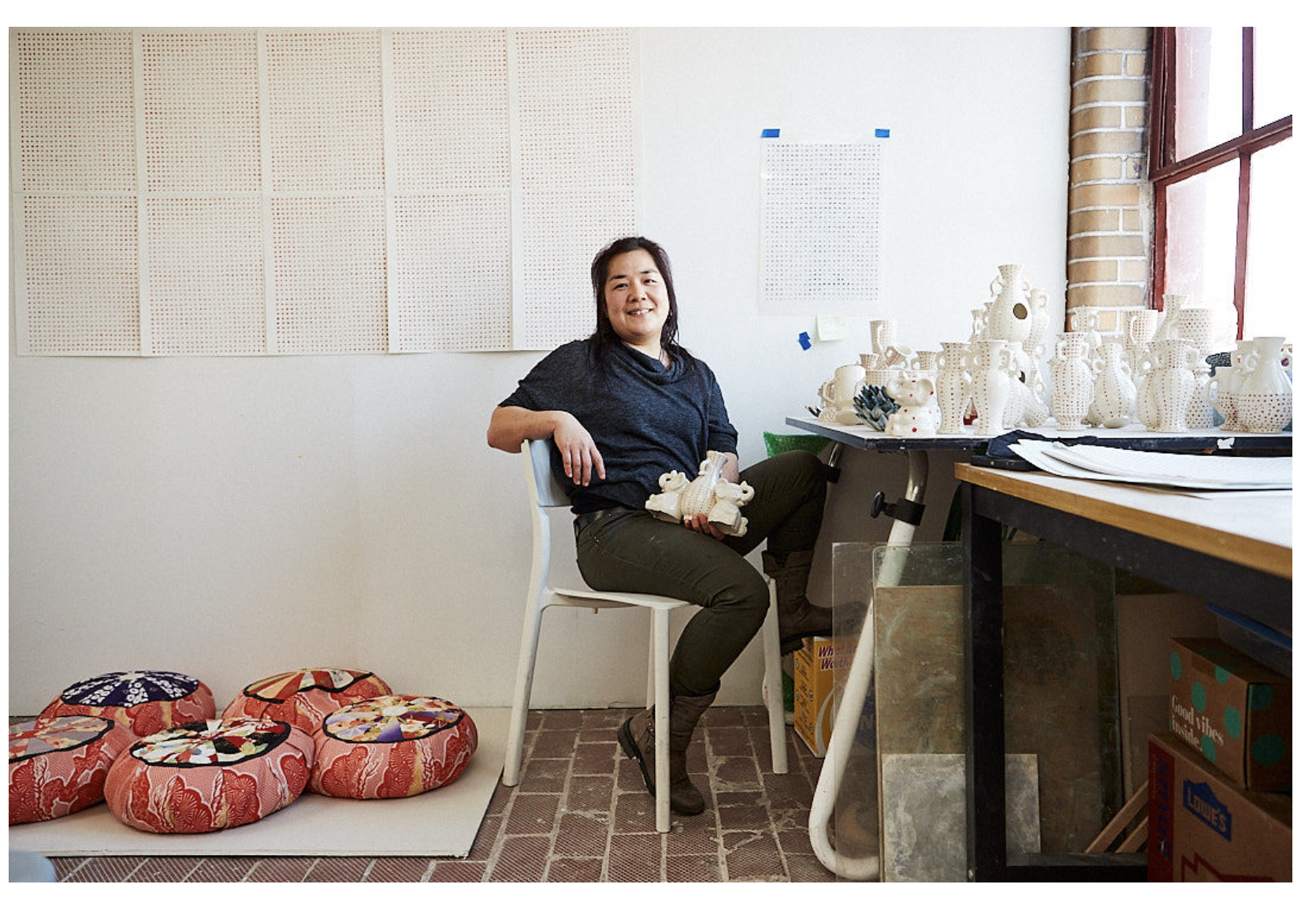 1. Tell us a bit about your work and practice.
I thought I was just a Japanese living in the United States—I never thought of myself as an immigrant…but I am, and my work is about this discovery. Discovery into my roots and heritage and this new identity that carries with it a complex psychological journey. I create works that weave stories of immigrants into digestible experiences for viewers. Stories of discovery, adaptation, and heartache. Stories of the lost and found as we search for a new definition of self in a new land. But my work is not just about immigrants—it's about all of us. Through my art, I imagine our capacity to function as philanthropists and create with the desire to ameliorate our humanity and its fragile and delicate existence.
2. Who or what are your sources of inspiration and influence?
I look at traditional Japanese culture and ritual with my deep desire to preserve them as an outsider. I am especially fond of the resilient culture of rural Japan that revolves around the phrase "mottainai," to not be wasteful. I find potential in the ideas of using, reusing, upcycling, and giving things a new unexpected purpose.
I am also inspired by the American people's history and experiences. Our resilience, potential, and sometimes our careless destructive ways hinder our own existence. We don't need to look far to put things into perspective. And we don't need to be remarkable—I want to capture and celebrate the mundane narratives that make us wonderfully human.
3. As an artist, what is your most essential tool (besides your hands!)? Why?
If empathy can be considered a tool, that is the most important tool in my studio practice, it's the driving force behind what I make. Without it, I am not sure what my studio practice would look like. Whether it's the treatment of factory-farmed animals, traditions of the Deep South, immigration issues, or the lived experiences of the people in my life, it's my deep desire to understand what motivates my creativity.
4. Where do you obtain your materials?
Heirloom kimono dug up from my parents' home, porcelain slip from a local ceramic supply store, drywall and wood from hardware stores, rice paper kept from my childhood calligraphy class, and sashiko thread sent by my parents in Japan. For better or worse, I am also a collector—I find inspirational materials walking into the woods, off beaten paths, and in the deep crevices of my childhood home.
5. Who are your favorite #5WomenArtists?
Nina Katchadourian, Judith Schaechter, Chiharu Shiota, Janine Antoni, Tanya Aguiñiga.
The Visual Arts Center of Richmond is a 58-year-old community arts center in Richmond, Virginia. Each year, the organization offers more than 1,000 visual and creative arts classes, hosts four major exhibitions by contemporary artists, and touches the lives of nearly 45,000 people through its classes, exhibitions, community programs, camps, workshops, and special events. Learn more at visarts.org.