October 14, 2015
10/14/15
Within fraught and mysterious settings, Remedios Varo's fantastical protagonists seem to undertake quests through time or space, as in two recent additions to NMWA's collection, La llamada (The Call) (1961) and Tejido espacio-tiempo (Weaving of Space and Time) (1954), gifts from a private collection.
Varo (1908–1963) was born María de los Remedios Varo y Uranga in Anglès, Spain, and her life was profoundly shaped by the political and artistic movements of her time. Varo lived an artistic, nontraditional life of creativity and romantic liaisons—during the years leading up to the Spanish Civil War, she spent time in Paris and Barcelona allying herself with Surrealists and creating experimental art. As World War II threatened Paris, Varo fled the city, making her way to Marseilles, and by late 1941 she had secured passage to Mexico.
In Mexico, Varo's group of friends comprised many refugees from her European Surrealist circle, including artist Leonora Carrington, who became her closest friend and creative collaborator.
In the late 1940s, as she supported herself through commercial illustration work, Varo began to develop the mature personal style for which she is best known.
Weaving of Space and Time shows a couple in a spare domestic setting. Beneath their robes, the figures' bodies appear to be constructed of turning wheels and gears. In The Call, a woman in flowing robes, who seems to derive energy from a celestial source, traverses a castle courtyard carrying alchemical tools, including a mortar and pestle at her collar.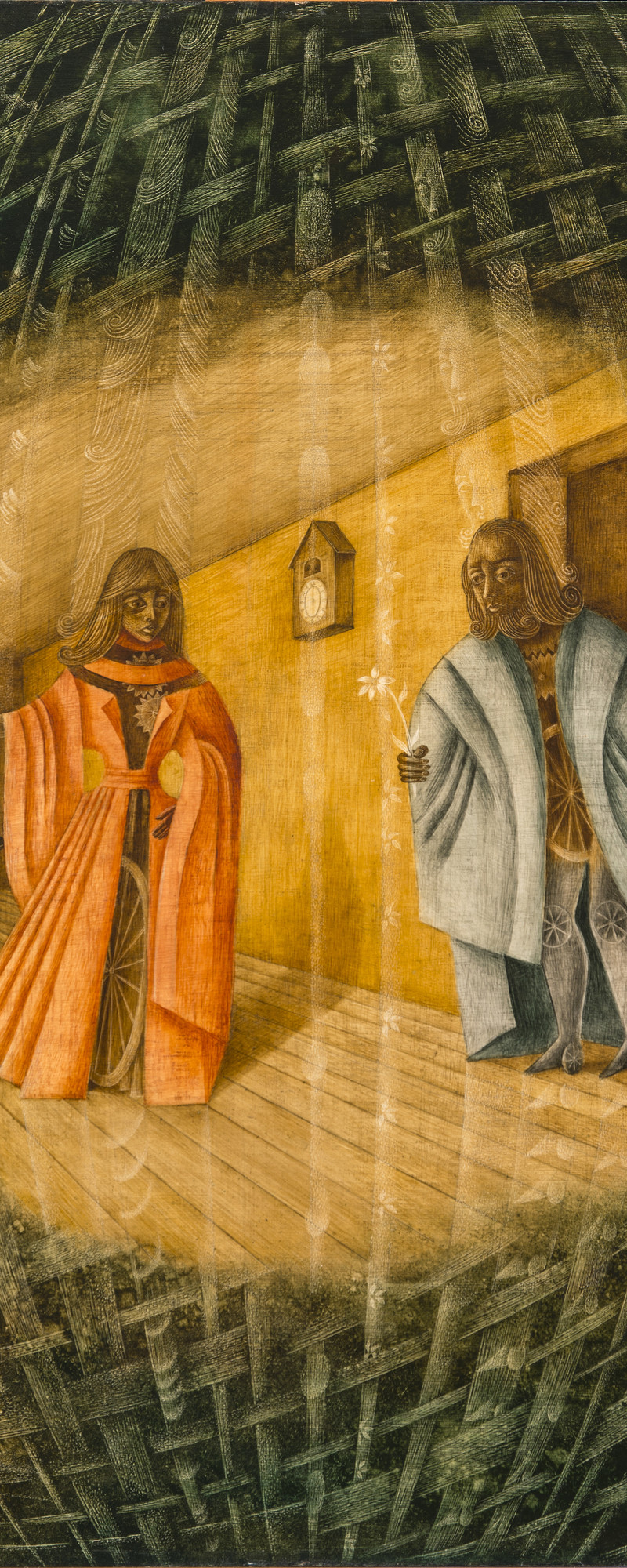 These paintings exemplify Varo's characteristic color palette—figures illuminated in fiery orange-gold tones are set against shadowy blue-green-brown surroundings. Precise lines reveal unexpected details, such as those of the castle walls in The Call, which seem to entomb figures in tree bark. The woven-reed surroundings of Weaving of Space and Time contain ghostly echoes of the central image, such as the flowers that appear along the strand intersecting the flower held by the man.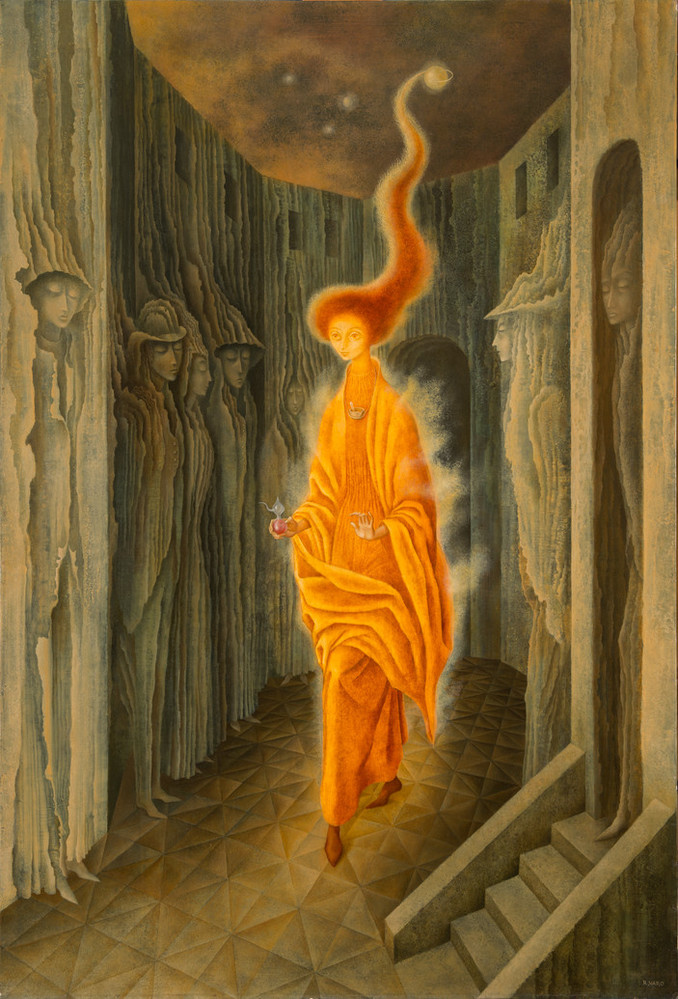 Scholars have noted that Varo's own features, particularly her large eyes and long, straight nose, reappear in the faces of her protagonists, emphasizing the importance she placed on her perspective as a woman. However, they are not direct self-portraits—they are frequently androgynous or not-quite-human alter egos, with witty and delicate features of fauna or otherworldly creatures.
Varo's characters share a sense of solemn preoccupation, as though in the midst of momentous adventures or visions. With a life philosophy of non-conformity and a personal story marked by dislocation and tumult, Varo continued her quest through her art. Her immediate and personal work reveals a universe where dreams reign and power is shared between science and magic.