June 30, 2014
6/30/14
From NMWA's founding in 1981 to the public opening of the museum in 1987, to the exhibitions and programs that have kept NMWA's audiences educated and entertained throughout the years, the success of the National Museum of Women in the Arts depends on the loyal support of members. With thousands of members around the U.S. and abroad, NWMA's membership is large, enthusiastic, and connected to the museum's mission.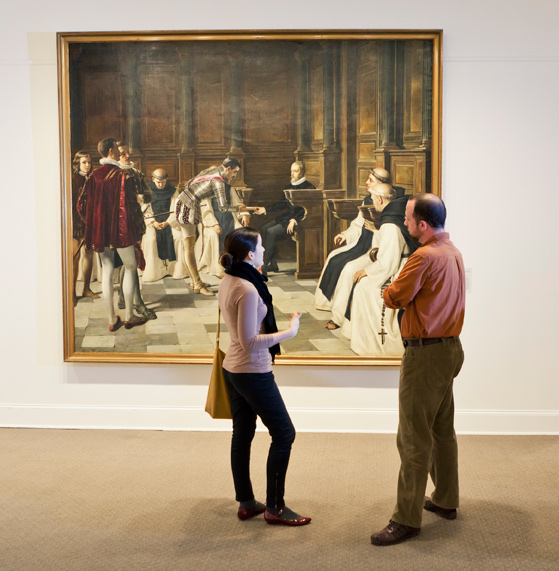 In addition to supporting the museum's special exhibitions, valued NMWA members have helped the museum to add numerous works to the collection—by distinguished artists such as Elena Brockmann, Chakaia Booker, Lesley Dill, and Judy Chicago. Works by these artists were acquired in part from the Members' Acquisition Fund—which is built a few dollars at a time, when members add to their annual donations—and represent a wide range of mediums, time periods, and genres.
While Brockmann's enormous work, Philip II Receiving the News of the Loss of the Invincible Armada, is an example of large-scale history painting from 19th-century Spain, Judy Chicago's preparatory drawing for Emily Dickinson's place setting in her iconic installation The Dinner Party is an emblem of the American feminist movement of the 1970s.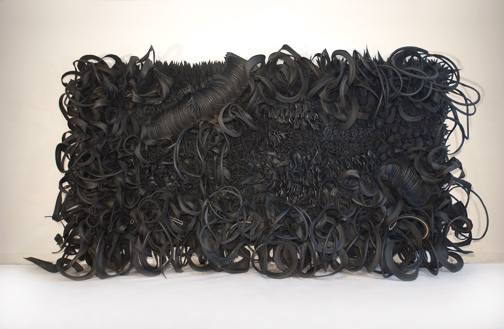 Members have also helped NMWA purchase contemporary installation pieces such as Booker's Acid Rain, which deals with themes including the intersection between domestic femininity and the traditionally masculine realms of construction and technology. Lesley Dill's I Heard a Voice, another contemporary work, provokes individual reflection through imagery related to nature, the body, literature, and the spirit.
These wonderful additions to the collection are just a few of the many works NMWA members have helped the museum to acquire.
In celebration of the summer season and the subsequent influx of visitors to NMWA, June has been designated as Membership Month. If you'd like to help NMWA celebrate the artistic accomplishments of women, please join today.
In honor of Membership Month, NMWA sends a special thanks to all of the members who have supported the museum over the years! Feel free to use the comments section to tell a story about the museum or let us know about your favorite accomplishment by members.