June 10, 2021
6/10/21
Bianca's Design Shop features rad pins, creative goods, and other cute accessories made with love by queer Latinx artist Bianca Negron. We spoke with Negron about the shop's genesis, her inspirations, and her hopes for a more inclusive future.
Check out Bianca's designs in NMWA's Museum Shop!
1. What made you decide to start Bianca's Design Shop?
As a full-time web designer at my last job, I designed for the company and its clients. There wasn't a lot of creative freedom and it would get stressful at times. After work and on the weekends, I would work on my own passion projects that brought me joy and felt more fulfilling. I wondered what it would be like to start my own business and sell my art. Artists that I admire and follow had storefronts or online shops, and it made me feel like it was possible! With support from family and friends, I decided to make my first product and build a shop.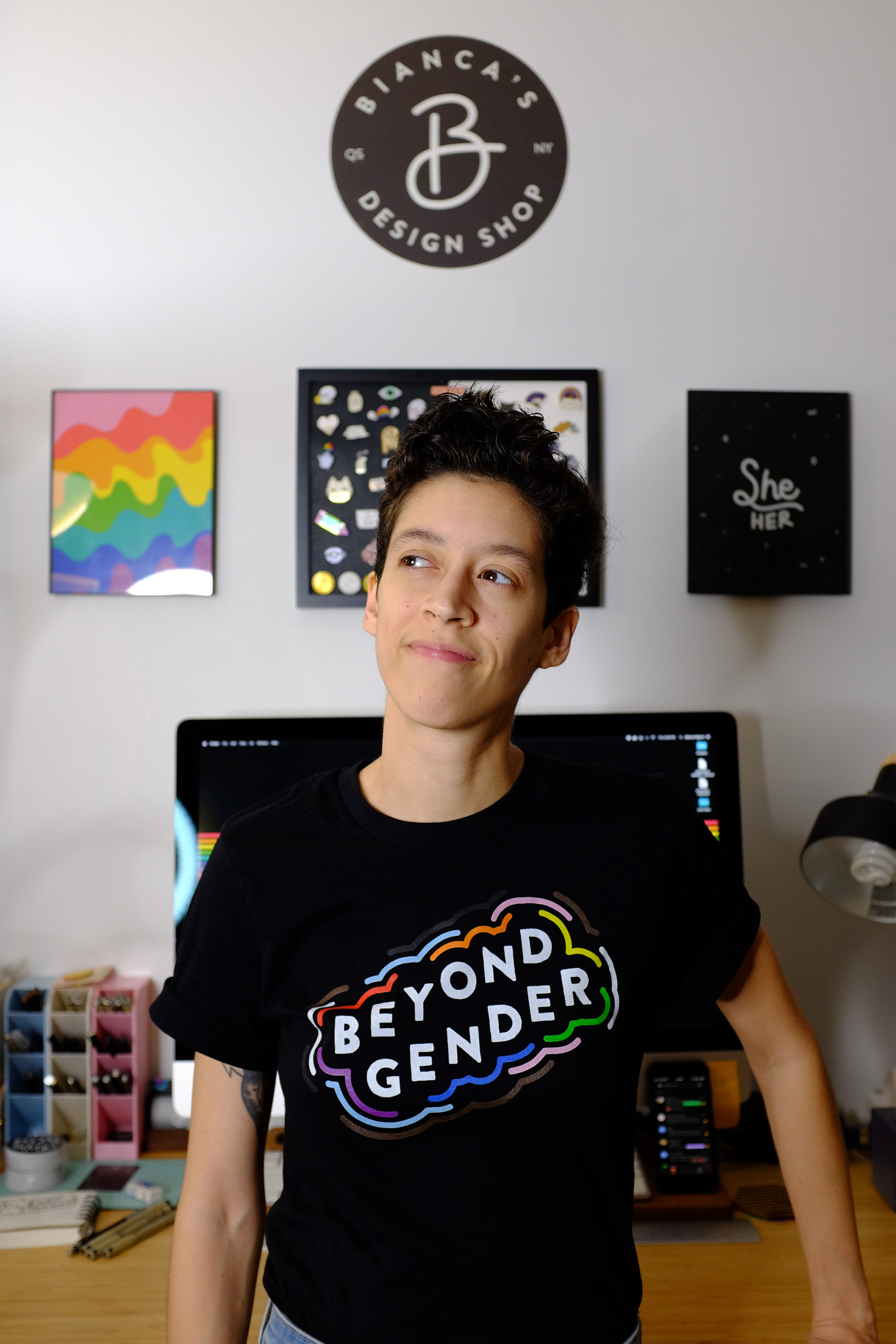 2. Which LGBTQ+ artists are you currently inspired by?
There are so many!! @gaypinguys, @emulsify.art, @sarahdayarts, and @atribecalledqueer are some I admire.
3. How has your queerness shaped your life?
I've always known that I was queer, and I am lucky to be in an accepting space so that I can live my life openly. After coming out, I felt confident enough to express myself more around family and in the places I've worked. Over time I've discovered more of myself and have continued to grow. When I was younger, I only identified as lesbian. Now that I know myself more, I am queer, gender-fluid, and use she/they pronouns.
4. Do you have any upcoming projects or collaborations you are looking forward to?
Yes! A recent collaboration that just launched was with Ole Henriksen, I made a pride sticker sheet with them that is being given out for free with every order made on their website. I have a couple of inclusive projects coming soon and I also have a collaboration launching soon that I can't talk about just yet haha.
5. What does an inclusive future look like to you?
More representation and visibility for those who don't feel seen. More accessibility for disabled folks in LGBTQ+ spaces such as pride parades but also everywhere! LGBTQ+ rights worldwide. Gender-neutral bathrooms. People being their true selves without being judged or bullied. All pronouns are respected. People are more open minded, open to change and learning. More love, kindness, and compassion. Zero hate.