January 17, 2020
1/17/20
Global campaign created by National Museum of Women in the Arts returns for Women's History Month in March 2020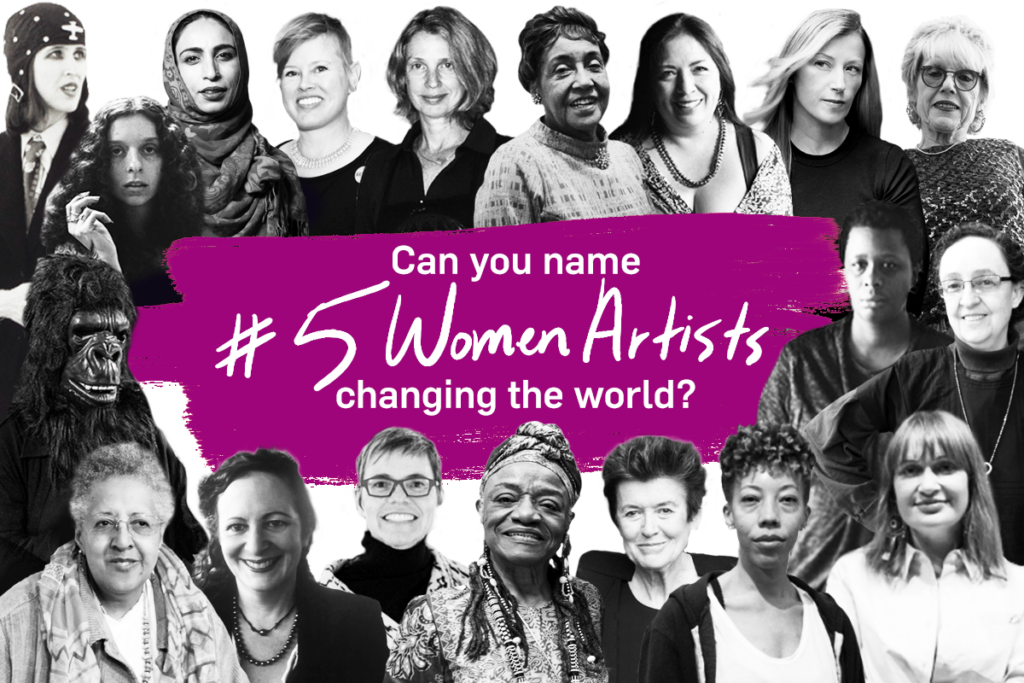 WASHINGTON—The National Museum of Women in the Arts (NWMA)—the only major museum in the world solely dedicated to championing women through the arts—announces the return of the popular, award-winning #5WomenArtists social media campaign. Since 2016, the campaign has launched each March for Women's History Month. To date, NMWA has galvanized more than 1,500 cultural institutions from seven continents and over 50 countries with this innovative initiative.
To increase awareness of gender inequity in the art world and beyond, the global campaign asks the question, "Can you name five women artists?" At the start of the decade, #5WomenArtists recognizes how women are using art to make change and drive awareness about globally relevant issues and topics. NMWA is asking museums, galleries and other cultural institutions to share art and information about artists who explore key social issues, including gender equity, immigration, LGBTQ rights, racial justice, climate change and more.
"The #5WomenArtists initiative has evolved into a year-long conversation about gender equity in the arts," said NMWA Director Susan Fisher Sterling. "This year, we want to showcase artists who are tackling today's complex social and political issues, to further drive home the point that art can, and does, empower individuals and communities to make changes."
#5WomenArtists Social Media Campaign
Using the hashtag #5WomenArtists, the 2020 campaign will launch on March 1 on the museum's website and blog, as well as on Instagram, Twitter and Facebook. Throughout the month, the museum will share information about women artists and their social activism—including biographies, videos, graphics, quotes and statistics—using the hashtag. To create an inclusive campaign and share a wide range of work by women artists, NMWA invites other cultural institutions to use #5WomenArtists on social media, and will amplify and share their content on the museum's platforms. To reach the widest possible audience, the museum's posts will encourage the public to comment and share their favorite artists, especially those working to create awareness and action for social change.
Last year, participating institutions included the British Museum; Brooklyn Museum; J. Paul Getty Museum; the Los Angeles County Museum of Art (LACMA); Le Gallerie degli Uffizi; Metropolitan Museum of Art; Museo de Arte Latinoamericano de Buenos Aires (MALBA); Museo Frida Kahlo; Museo Guggenheim Bilbao; Museum of Fine Arts, Boston; National Gallery, London; Tate and more than 750 other organizations from 38 countries. Cultural organizations interested in participating in #5WomenArtists are encouraged to fill out the survey here.
Women's History Month Events at NWMA
Free Community Day
Sunday, March 1, 12–5 p.m.
The first Sunday of every month is a free Community Day for the public. Visitors will have the opportunity to explore current exhibitions as well as the museum's collection.
Drop-In Tour: Fierce Women 2.0
Sunday, March 1, 1–2 p.m.
Discover a diverse cast of fierce women artists who refused to let men define their place; pushed back on the limited roles society accorded them; and blazed trails as artists, activists and innovators.
Lunchtime Gallery Talks
Wednesdays, March 4, 11, 18 and 25, 12–12:30 p.m.
Express lunchtime talks—30 minutes or less—are offered most Wednesdays. Facilitated by museum staff members, these conversational thematic talks highlight #5WomenArtists.
International Women's Day
Sunday, March 8, 12–5 p.m.
Celebrate International Women's Day at NMWA with free admission. The museum will be hosting half-hour Conversation Pieces, special local D.C. vendor pop-ups, and more. The Betty Boyd Dettre Library and Research Center, usually only open on weekdays, will also welcome visitors.
Cultural Capital: Motherhood Redux
Wednesday, March 11, 7–9 p.m.
Since 1968, the O.B. Hardison Poetry series at the Folger Shakespeare Library has welcomed acclaimed writers to Washington, D.C. From traditional poetry readings to eclectic combinations of lecture, conversation and performance, the series is committed to expanding the contexts in which poetry is experienced. Listen to Camille Dungy, Tina Chang and Beth Ann Fennelly read their work about motherhood. The reading is followed by a wine reception and book signing.
Wikipedia Edit-a-thon: Women Artists of Latin America
Saturday, March 14, 10 a.m.–3 p.m.
NMWA hosts its 7th annual Art+Feminism edit-a-thon, which aims to improve Wikipedia entries related to notable women artists and art world figures. This year's event will focus on women artists of Latin America. Held in collaboration with Wikipedia Edit-a-thons across the city at the libraries of the National Gallery of Art, the Smithsonian American Art Museum and the Hirshhorn Museum, NMWA's edit-a-thon also commemorates the adoption of the 19th Amendment to the U.S. Constitution in 1920, which granted women the right to vote. This event is part of a global initiative to help improve Wikipedia's gender imbalance. In 2019, more than 3,800 Art+Feminism participants created or improved 21,000 Wikipedia pages.
Tour: Spring Fever
Friday, March 20, 1–2 p.m.
In honor of the Spring Equinox and Earth Day, explore artworks with fascinating flora, frightening fauna and reimagined recycled materials during this drop-in tour. Featuring collection highlights—from 17th-century still lifes to contemporary sculptures—visitors will look closely, consider and discuss artists' responses to the natural world and humankind's interaction with it.
Artist Lecture: Delita Martin
Friday, March 20, 5:30–7:30 p.m.
Texas-based artist Delita Martin (b. 1972) discusses her large-scale multimedia works, through which she forges a new iconography for African American women and men. Rooted in African tradition, personal recollections and physical materials, Martin's imagery exudes a powerful presence that highlights the historical absence of black bodies in Western art. Following the lecture, the artist will sign copies of her new book, Shadows in the Garden, which will be available for purchase.
Cultural Capital: Environmental Film Festival
Saturday, March 21, 1–3 p.m.
The Environmental Film Festival in the Nation's Capital is the world's premier showcase of environmentally themed films. A proud partner since 2013, NMWA hosts a film highlighting women and the environment. Title to be announced.
NMWA Late Hours
Thursday, March 26, 5–8 p.m.
Visit NMWA during special late hours. Attend docent-led tours of the collection galleries and the exhibition Graciela Iturbide's Mexico.
Exhibitions on View in March
Graciela Iturbide's Mexico
On view through May 25, 2020
Delita Martin: Calling Down the Spirits
On view through April 19, 2020
DMV Color
On view through March 4, 2020
New York Avenue Sculpture Project: Betsabeé Romero
On view through September 20, 2020
National Museum of Women in the Arts
The National Museum of Women in the Arts (NMWA) is the only major museum in the world solely dedicated to championing women through the arts. With its collections, exhibitions, programs and online content, the museum seeks to inspire dynamic exchanges about art and ideas. NMWA advocates for better representation of women artists and serves as a vital center for thought leadership, community engagement and social change. NMWA addresses the gender imbalance in the presentation of art by bringing to light important women artists of the past while promoting great women artists working today. The collections highlight painting, sculpture, photography and video by artists including Louise Bourgeois, Mary Cassatt, Frida Kahlo, Shirin Neshat, Faith Ringgold, Pipilotti Rist and Élisabeth Louise Vigée-LeBrun.

NMWA is located at 1250 New York Avenue, NW, in Washington, D.C. It is open Mon.–Sat., 10 a.m.–5 p.m., and Sun., noon–5 p.m. Admission is $10 for adults, $8 for visitors 65 and over and students, and free for NMWA members and youth 18 and under. Admission is free the first Sunday of each month. For information, call 202-783-5000, visit nmwa.org, Broad Strokes Blog, Facebook, Twitter, or Instagram.