January 8, 2020
1/8/20
WASHINGTON—On January 17, the National Museum of Women in the Arts (NMWA) opens Delita Martin: Calling Down the Spirits, a new exhibition showcasing seven monumental works by Delita Martin (b. 1972). Through her work, Martin aims to create a new iconography for African Americans based on African tradition, personal recollections and physical materials. Delita Martin: Calling Down the Spirits is open through April 19, 2020.
Delita Martin creates large-scale prints onto which she draws, sews, collages and paints. She claims space for her subjects, particularly black women, creating a powerful presence that simultaneously highlights the historical absence of black bodies in Western art. Martin uses a variety of techniques to make her work. In any one piece, she may combine up to six or seven processes, including different methods of printing (collagraph, gelatin, relief), drawing in ink or charcoal and stitching various materials onto the surface of the paper.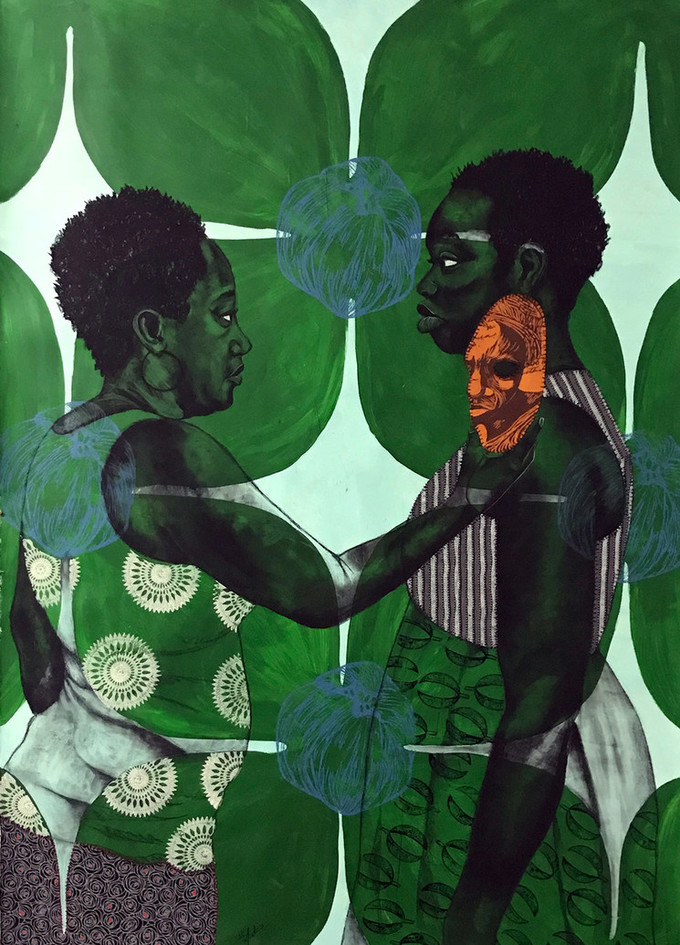 A recurring theme throughout Martin's work is the connection between past and present generations, which she locates in a transitional space between the physical and spiritual worlds. She conveys these connections through symbols such as circles, birds and masks. Martin's birds represent the human spirit. The masks that appear in her works New Beginnings (2017) and The Moon and the Little Bird (2018) are inspired by the Sowei and Ife masks of West Africa and signify communication between worlds.
Martin's use of color and shape is symbolic. The color blue in particular holds association with spirituality. The saturated blue in Soul Keeper (2016) complements the gold leaf in the figure's earring and collar. The use of gold leaf in this work in particular is reminiscent of early Christian religious icons, an association strengthened by the presence of the halo-like sphere behind the subject's head. Circles, which appear as patterning elements as well as hoop earrings, are symbolic in Martin's work of the female, the moon and infinity, as well as totality, wholeness, timelessness and all cyclic movement.
"Martin expertly combines her drawing and printing skills honed during years of professional training with the sewing and quilting techniques she learned from her grandmother in childhood," said Virginia Treanor, Associate Curator. "This physical layering of technique and material signify the liminal space in which Martin's subjects exist—between the physical and spiritual worlds."
Delita Martin: Calling Down the Spirits, presented in the Teresa Lozano Long Gallery of the National Museum of Women in the Arts, is organized by the museum and generously supported by the members of NMWA. Additional support is provided by the Belinda de Gaudemar Curatorial Fund.
About Delita Martin
Delita Martin (b. 1972), currently based in Huffman, Texas, earned a BFA in drawing from Texas Southern University and an MFA in printmaking from Purdue University. She has held positions at The Mint Museum UPTOWN, Charlotte, NC; the University of Arkansas at Little Rock, Department of Art and Design; and Purdue University, Department of Visual and Performing Arts. Martin has had several solo exhibitions throughout the southern U.S.; her work has been exhibited nationally and internationally including presentations at the Havana Biennial, State of the Arts at Crystal Bridges Museum, the David Driskell Center at the University of Maryland and Art Basel, Miami. She is a founding member of Black Women of Print and the owner of Black Box Studio.
National Museum of Women in the Arts
The National Museum of Women in the Arts (NMWA) is the only major museum in the world solely dedicated to championing women through the arts. With its collections, exhibitions, programs and online content, the museum seeks to inspire dynamic exchanges about art and ideas. NMWA advocates for better representation of women artists and serves as a vital center for thought leadership, community engagement and social change. NMWA addresses the gender imbalance in the presentation of art by bringing to light important women artists of the past while promoting great women artists working today. The collections highlight painting, sculpture, photography and video by artists including Louise Bourgeois, Mary Cassatt, Frida Kahlo, Shirin Neshat, Faith Ringgold, Pipilotti Rist and Élisabeth Louise Vigée-LeBrun.

NMWA is located at 1250 New York Avenue, NW, in Washington, D.C. It is open Mon.–Sat., 10 a.m.–5 p.m., and Sun., noon–5 p.m. Admission is $10 for adults, $8 for visitors 65 and over and students, and free for NMWA members and youth 18 and under. Admission is free the first Sunday of each month. For information, call 202-783-5000, visit nmwa.org, Broad Strokes Blog, Facebook, Twitter, or Instagram.