October 29, 2020
10/29/20
Empowering and Original Holiday Gifts at the National Museum of Women in the Arts
WASHINGTON—This holiday season, the National Museum of Women in the Arts (NMWA) presents a wide selection of gifts for everyone on your list. From housewares and jewelry to apparel and books, you will find gifts that combine function and beauty at every price point.
Browse the recently redesigned online shop or visit during regular museum hours, Monday–Saturday, 10 a.m.–5 p.m., and Sunday, noon–5 p.m. Social distancing measures are in place. Museum members receive 10% off all purchases.
High-resolution images are available for all items. Featured items include:
Membership
Give the gift of a museum membership this holiday season! Share your support of women in the arts. NMWA membership is a truly meaningful present that lasts all year long and includes free admission to the museum, Women in the Arts magazine subscription and more. To make your gift even more special, you can add on an exclusive Alma Woodsey Thomas facemask to your order. (Allow two weeks for delivery.)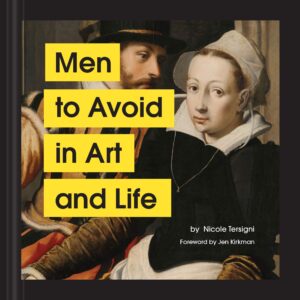 Men to Avoid in Art and Life, $14.95
Men to Avoid in Art and Life pairs classical fine art with modern captions that epitomize the spirit of mansplaining. This hilarious book perfectly captures those relatable moments when a man explains to a woman a subject about which he knows considerably less than she does.
Frida Box Set, $100
Whether you're a Frida enthusiast or wanting to learn more about the female Mexican painter, this is the gift set for you. Included in the package is Frida A to Z: The Life of an Icon From Activism to Zapotec, a 500-piece puzzle, candle, double sided mask, soap bar and a pair of socks.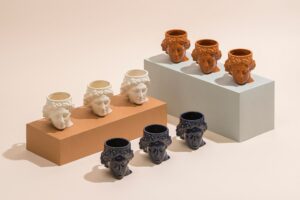 Hestia Mug, $16
This ceramic mug is shaped as the Greco-Roman goddess Hestia, who presided over the familial hearth, the right ordering of domesticity and family and fire and the state. Available in three colors: black, white and terracotta.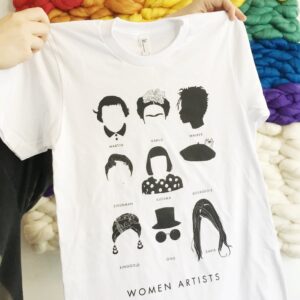 Women Artist Faces T-Shirt, $40
Show your support for the arts with this comfortable and stylish t-shirt. The design by Stefanie Boyd-Burks responds to the many iterations of this motif that typically celebrate male artists. The shirt features Agnes Martin, Frida Kahlo, Kara Walker, Nicole Eisenma, Yayoi Kusama, Louise Bourgeois, Faith Ringgold, Yoko Ono and Vaginal Davis. 100% cotton, machine washable.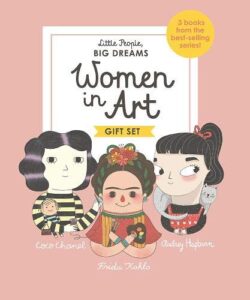 Little People, Big Dreams: Women in Art Gift Set, $39.99
Meet three inspirational women from the world of art: Frida Kahlo, Coco Chanel and Audrey Hepburn! This boxed gift set of three hardcover books from the internationally best-selling Little People, Big Dreams series introduces little dreamers to the lives of these incredible women who worked in the arts and changed the world.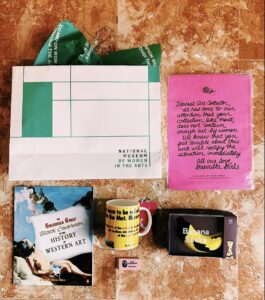 Guerilla Girls Box Set, $80
Release the inner Guerrilla Girl in you and learn more about the feminist activist artists. This box set includes a mug, The Guerilla Girls' Bedside Companion to the History of Western Art, an eraser, banana socks and a handkerchief.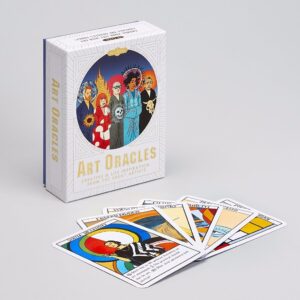 Art Oracles, $16.99
Be guided and inspired by the world's greatest artists with this creative set of oracle cards. Are you suffering from creative block? Struggling to make a difficult life decision? Find out what Delauney, Kusama, Kahlo and other great artists would have done. Simply select an artist's card from the pack and receive the oracles' advice and any obstacle becomes surmountable. Contains 50 oracle cards plus a booklet featuring the artists' biographies and details of how to use the cards.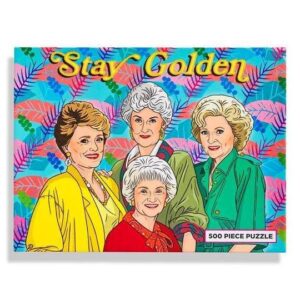 Stay Golden Puzzle, $24
This 500-piece puzzle by The Found features artwork with the likenesses of the Golden Girls: Rose, Blanche, Dorothy and Sophia. Measures 18" x 24" when complete and includes an 8 x 10" color insert.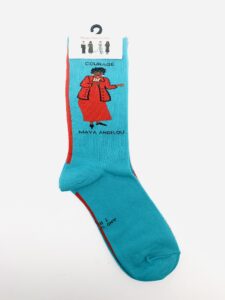 Maya Angelou Socks, $15.50
These embroidered feminist icon socks depict Maya Angelou and her quote, "And still I rise." Made by Maggie Stern Stitches, these socks are mostly cotton (with a little spandex), and available with other feminist icons, like Ruth Bader Ginsberg, Kamala Harris and Gloria Steinem. One size fits most, machine washable.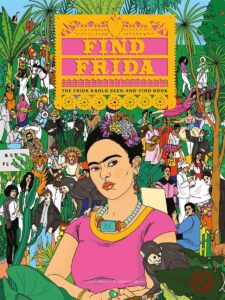 Find Frida, $17.99
Immerse yourself in the colorful world of Frida Kahlo with this search and find book, which details key aspects of her life—from her eccentric teenage years and infatuation with Diego Rivera, to her dynamic arrival as an international artist, her incredible studio and house in Mexico and her deep love of Mexican culture.

Find Frida not only features the iconic artist but is populated with a cast of over 200 extras for you to spot—including artists, filmmakers, writers and photographers—allowing the book to tell the complete story of Kahlo's life and her huge cultural influence.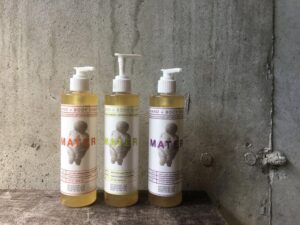 Mater Hand + Body Soap, $24
Mater Hand and Body soap is true soap made with 100% organic and sustainably harvested plant-based ingredients. Bottled in 100% post-consumer recycled plastic, this gentle soap is safe for the whole family and the environment. Formulated with coconut, shea, olive, aloe and jojoba, this soap is available in three scents: Flori, Holy and Arbor.
National Museum of Women in the Arts
The National Museum of Women in the Arts (NMWA) is the only major museum in the world solely dedicated to championing women through the arts. With its collections, exhibitions, programs and online content, the museum inspires dynamic exchanges about art and ideas. NMWA advocates for better representation of women artists and serves as a vital center for thought leadership, community engagement and social change. NMWA addresses the gender imbalance in the presentation of art by bringing to light important women artists of the past while promoting great women artists working today. The collections highlight painting, sculpture, photography, and video by artists including Louise Bourgeois, Mary Cassatt, Judy Chicago, Frida Kahlo, Shirin Neshat, Faith Ringgold, Pipilotti Rist, Amy Sherald and Élisabeth Louise Vigée-LeBrun.
NMWA is located at 1250 New York Avenue, NW, Washington, D.C. It is open Mon.–Sat., 10 a.m.–5 p.m. and Sun., noon–5 p.m. Admission is $10 for adults, $8 for visitors 65 and over and students, and free for NMWA members and youths 18 and under. Admission is free the first Sunday of each month. For information, call 202-783-5000, visit nmwa.org, Broad Strokes Blog, Facebook, Twitter or Instagram.