December 10, 2021
12/10/21
Available products include a limited-edition print, wall clock, and throw blanket
WASHINGTON—The Museum Shop at the National Museum of Women in the Arts (NMWA) is launching new products that draw inspiration from the work of Surrealist Leonora Carrington. UK-based artist Micaela Cianci created an original illustration, Procession to the Lake (2021), that references Carrington's painting Crookhey Hall (1986), part of NMWA's collection. The bold design is available as a limited-edition print and a wall clock. Additional illustrations by Cianci, inspired by the museum's mission, are available as a throw blanket and prints. The collaboration is second in a line of #5WomenArtists-inspired products created exclusively for NMWA.
"I love that with Surrealism the only limit is your own imagination," said Cianci. "Leonora Carrington's paintings give a glimpse into another world—full of oddities, creatures, wraiths and intriguing rituals. Her painting Crookhey Hall reminds me of a stately English home set in a similar landscape that has a lot of memories for me, so personal experience and a love of Carrington's paintings are melded together in my drawing."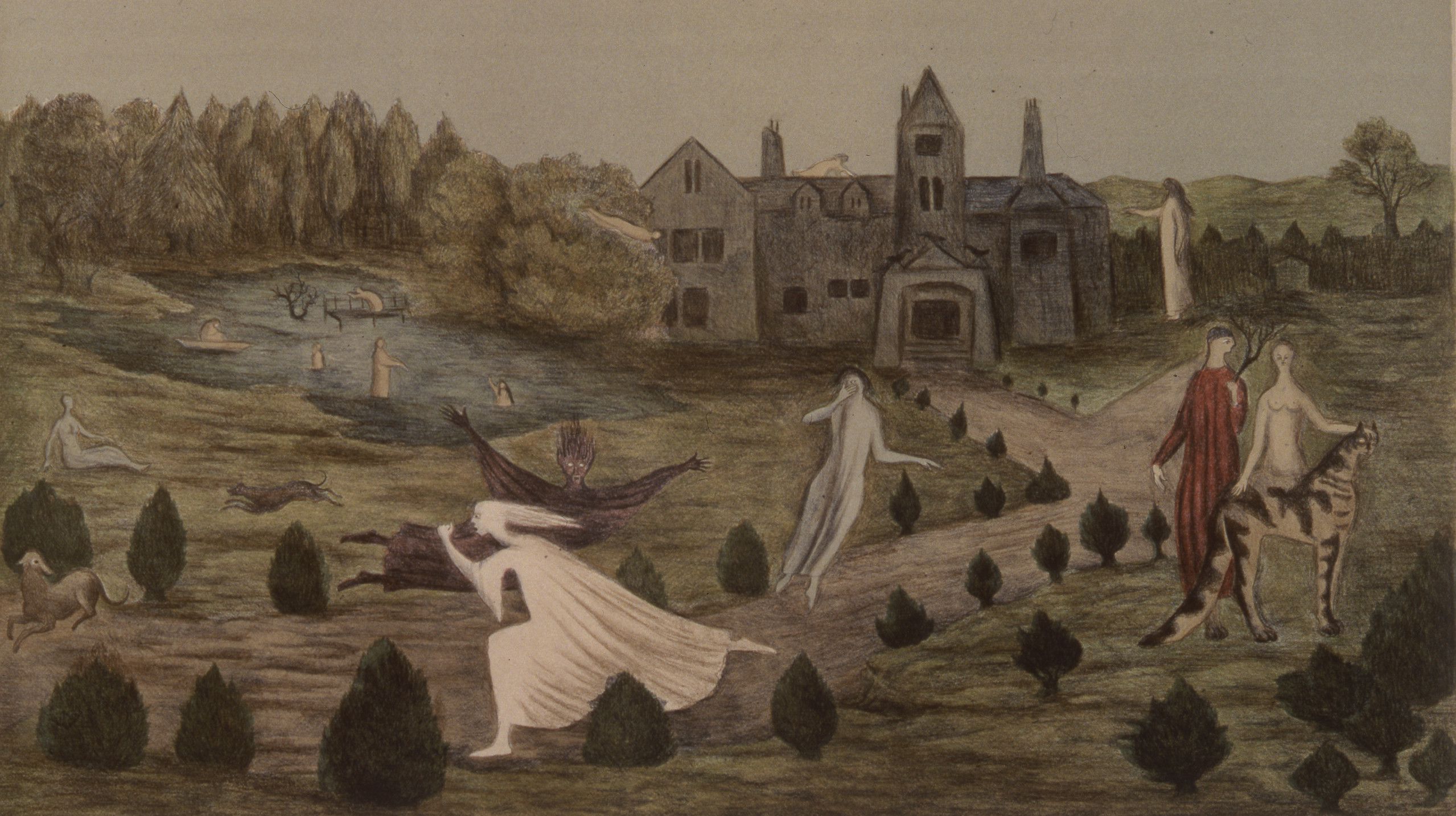 This collection is part of NMWA's award-winning #5WomenArtists campaign that asks, "Can you name five women artists?" Using the hashtag #5WomenArtists, the campaign calls attention to the fact that women have not been treated equally in the art world, and today they remain dramatically underrepresented and undervalued in museums, galleries and auction houses. Since 2016, thousands of cultural organizations and tens of thousands of individuals have taken to social media to answer the challenge, sparking a global conversation about gender equity in the arts.

The first product in the series was a colorful set of psychedelic T-shirts designed by artist Ambar Del Moral. Additional products will be introduced every few months through June 2022.
About Micaela Cianci
Micaela Cianci is a London-based illustrator and photographer born in Padua, Italy, and raised in Cambridge, England. Highlights from her 20 years as a photographer include a private commission to create the series "A Year on the Leconfield Estate" (2002) and being shortlisted in the Taylor Wessing Photographic Portrait Prize for her portrait Joe & Danae in 2014. Cianci is now known for detailed digital drawings, which feature imagined, often surreal, landscapes.
About Leonora Carrington
Surrealist painter Leonora Carrington (1917–2011) was born into an upper-class, Irish-Catholic family in England, but struggled to conform to societal standards. She found refuge in art, and in 1936 she enrolled in new art academy founded by painter Amédée Ozenfant in London.

Carrington met Surrealist Max Ernst in 1937 and lived with him in southern France. Most critics dismissed women Surrealists, but Ernst encouraged Carrington, and she exhibited with the Surrealists internationally. During World War II, she fled to Spain and was institutionalized at a psychiatric hospital, suffering from extreme emotional distress. She eventually married Mexican diplomat and poet Renato Leduc to facilitate her flight from Europe. Following a period in New York, where she was reunited with many expatriate Surrealists, Carrington traveled to Mexico and found a vibrant artistic community, including fellow Surrealist Remedios Varo.
She was honored with her first one-woman exhibition at New York's Pierre Matisse Gallery in 1948, followed by solo and group shows around the world. Carrington died in 2011, one of the last living links to the Surrealist movement.
The Museum Shop offers merchandise inspired by NMWA's collections and special exhibitions, as well as art books, note cards, jewelry, scarves, home decor, clothing and more. All products are created by women-owned and -operated businesses. The shop also features custom products by local women artists and designers created specifically for the museum. During the building renovation, the online shop is open and fulfilling orders. Museum members receive 10% off all purchases.
National Museum of Women in the Arts
The National Museum of Women in the Arts (NMWA) is the first museum in the world solely dedicated to championing women through the arts. With its collections, exhibitions, programs and online content, the museum inspires dynamic exchanges about art and ideas. NMWA advocates for better representation of women artists and serves as a vital center for thought leadership, community engagement and social change. NMWA addresses the gender imbalance in the presentation of art by bringing to light important women artists of the past while promoting great women artists working today. The collections highlight painting, sculpture, photography and video by artists including Louise Bourgeois, Mary Cassatt, Judy Chicago, Frida Kahlo, Shirin Neshat, Faith Ringgold, Pipilotti Rist, Amy Sherald and Élisabeth Louise Vigée-LeBrun.
The museum building is closed for a major renovation, with plans to reopen in fall 2023. Visit nmwa.org/renovation for more information. During the building closure, NMWA continues its mission-based work and engages supporters and friends through a dynamic slate of online programs and events, off-site and virtual exhibitions and digital content. For more information, call 202-783-5000, visit nmwa.org, Broad Strokes blog, Facebook, Twitter or Instagram.