September 30, 2021
9/30/21
First in a Series of Five Custom Products by Emerging Artists
WASHINGTON—This fall the Museum Shop at the National Museum of Women in the Arts (NMWA) is launching a psychedelic T-shirt that draws inspiration from artist Bonnie MacLean's iconic rock posters from the 1960s and '70s and pays homage to NMWA's award-winning #5WomenArtists social media campaign. Designed by artist Ambar Del Moral, the T-shirt features NMWA's slogan, "Champion Women through the Arts," in a trippy typeface on the front. The back of the shirt lists the names, birth year and home countries of 75 women artists, many in NMWA's collection, in the style of show dates on a rock tour.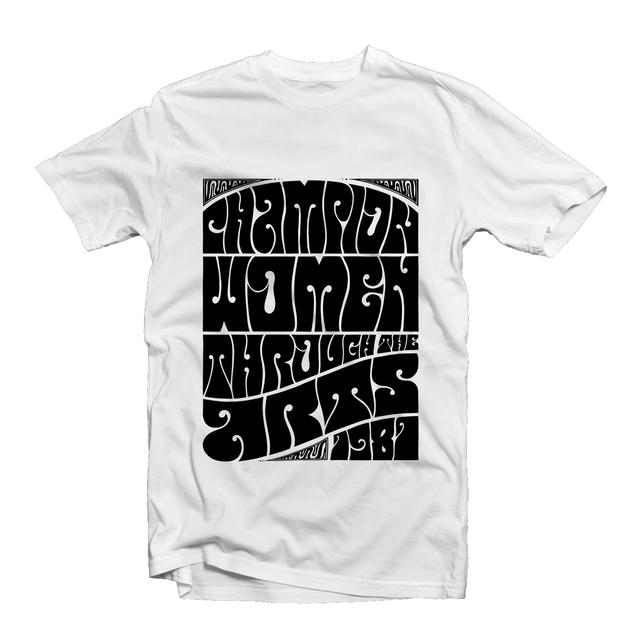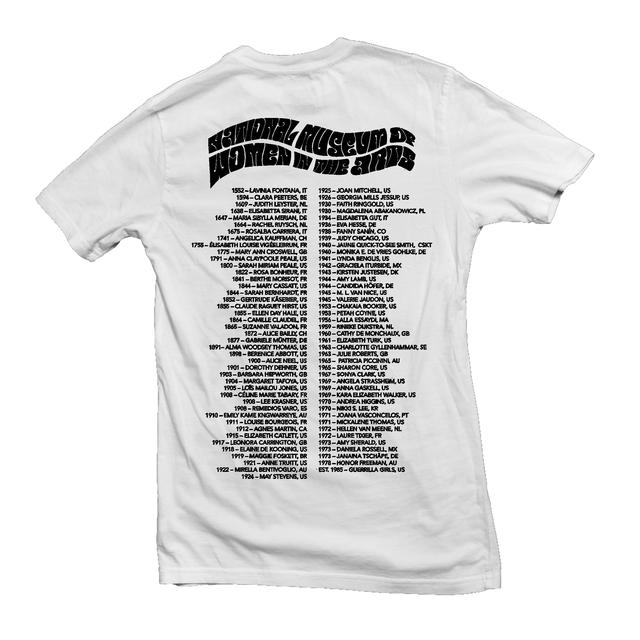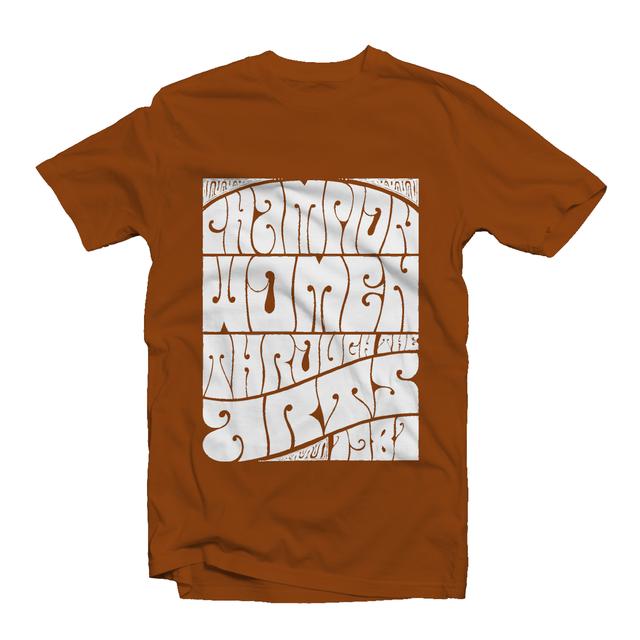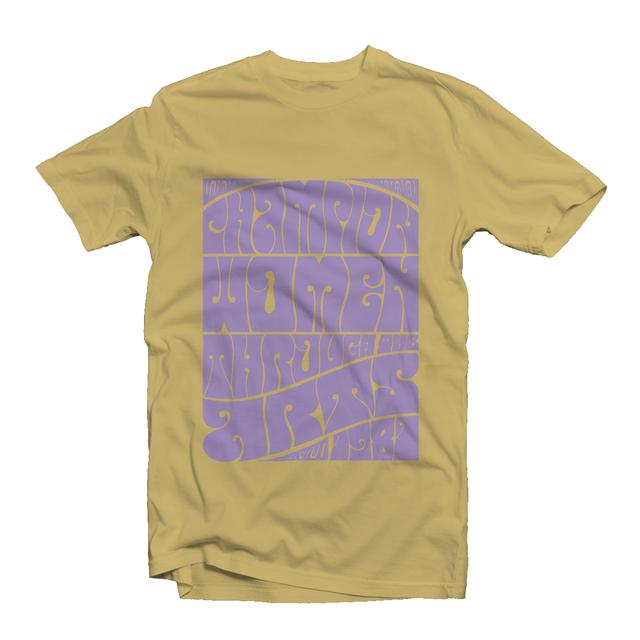 Del Moral's design is the first in a line of #5WomenArtists custom products that will be created exclusively for NMWA by five emerging artists. Additional products will be introduced every two months through June 2022. Del Moral's T-shirts are available from the online Museum Shop beginning today.
"I'm so pleased that my T-shirt design was chosen to kick off this new product series inspired by the #5WomenArtists campaign," said Del Moral. "My intent is to present an abundance of names to help answer the question, 'Can you name five women artists?' For this project, I learned about Bonnie MacLean, a prolific poster artist for rock shows in San Francisco during the psychedelic movement. Her style was my main source of inspiration."
The #5WomenArtists Psychedelic T-shirt, designed by Ambar Del Moral, is 100% cotton and available in sizes XS–2XL and a variety of colors. It is priced at $35. To order online, visit the Museum Shop at https://shop.nmwa.org/collections/nmwa-x-ambar-del-moral.
#5WomenArtists: A Year-Round Initiative
Can you name five women artists? Since 2016, the National Museum of Women in the Arts has asked this question on social media each March during Women's History Month. Using the hashtag #5WomenArtists, the campaign calls attention to the fact that women have not been treated equally in the art world, and today they remain dramatically underrepresented and undervalued in museums, galleries and auction houses. Each year, hundreds of cultural organizations and thousands of individuals take to social media to answer the challenge, sparking a global conversation about gender equity in the arts.
In 2020, NMWA expanded the campaign to a year-round, museum-wide initiative. Throughout the year NMWA staff extend the campaign beyond the boundaries of social media, incorporating it into programs across museum departments. The campaign encourages art institutions around the world to focus on women artists not just in the month of March, but all year long.
About Ambar Del Moral
Ambar Del Moral (b. 1990) grew up in Caracas, Venezuela, and currently resides in New York. She holds a B.F.A. in communication design from Parsons School of Design and an M.A.T. in art education from the School of Visual Arts, where she received the Paula Rhodes Memorial Award for exceptional achievement. She has worked as an illustrator for Mashable and a graphic designer for Amy Poehler's Smart Girls.
Museum Shop
The Museum Shop offers merchandise inspired by NMWA's collections and special exhibitions, as well as art books, note cards, jewelry, scarves, home decor, clothing and more. All products are created by women-owned and -operated businesses. The shop also features custom products by local women artists and designers created specifically for the museum. During the building renovation, the online shop is open and fulfilling orders. Museum members receive 10% off all purchases.
National Museum of Women in the Arts
The National Museum of Women in the Arts (NMWA) is the only major museum in the world solely dedicated to championing women through the arts. With its collections, exhibitions, programs and online content, the museum inspires dynamic exchanges about art and ideas. NMWA advocates for better representation of women artists and serves as a vital center for thought leadership, community engagement and social change. NMWA addresses the gender imbalance in the presentation of art by bringing to light important women artists of the past while promoting great women artists working today. The collections highlight painting, sculpture, photography and video by artists including Louise Bourgeois, Mary Cassatt, Judy Chicago, Frida Kahlo, Shirin Neshat, Faith Ringgold, Pipilotti Rist, Amy Sherald and Élisabeth Louise Vigée-LeBrun.
The museum building is closed for a major renovation, with plans to reopen in fall 2023. Visit nmwa.org/renovation for more information. During the building closure, NMWA continues its mission-based work and engages supporters and friends through a dynamic slate of online programs and events, off-site and virtual exhibitions, and digital content. For information, call 202-783-5000, visit nmwa.org, Broad Strokes blog, Facebook, Twitter or Instagram.
Media Contact
Amy Mannarino, amannarino@nmwa.org, (202) 783-7373