Be inspired by great women artists and advocate for gender equity in the arts―from home!
Can't visit the museum in person? NMWA can be accessed anywhere⁠ you have an internet connection. We invite you to explore our online resources and to follow @WomenInTheArts on social media. Join us to keep sharing, amplifying, and celebrating women artists who are changing the world.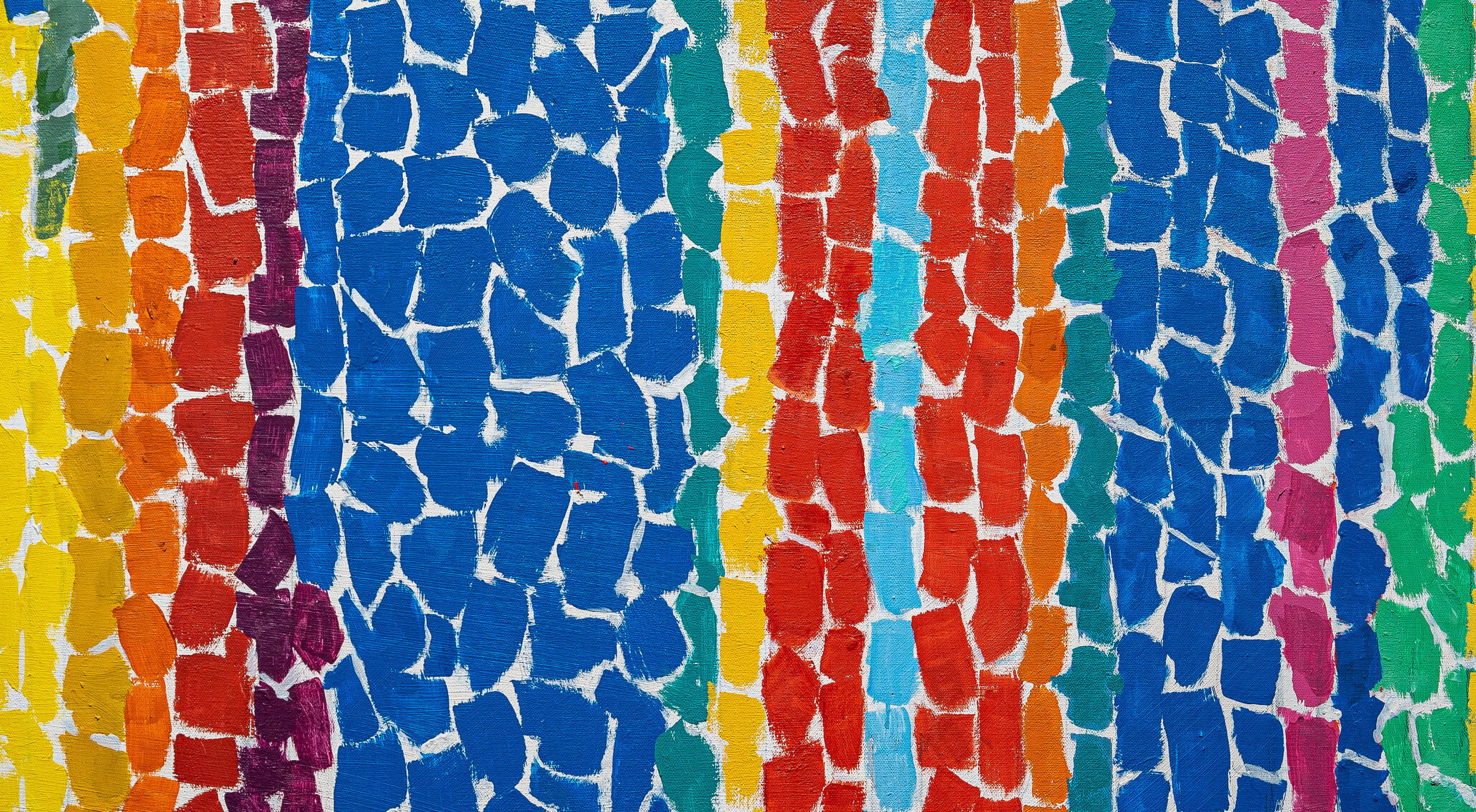 Alma Woodsey Thomas, Iris, Tulips, Jonquils, and Crocuses (detail), 1969; National Museum of Women in the Arts, Gift of Wallace and Wilhelmina Holladay; © Estate of Alma Woodsey Thomas; Photo by Cameron Robinson
Online Exhibitions
Graciela Iturbide's Mexico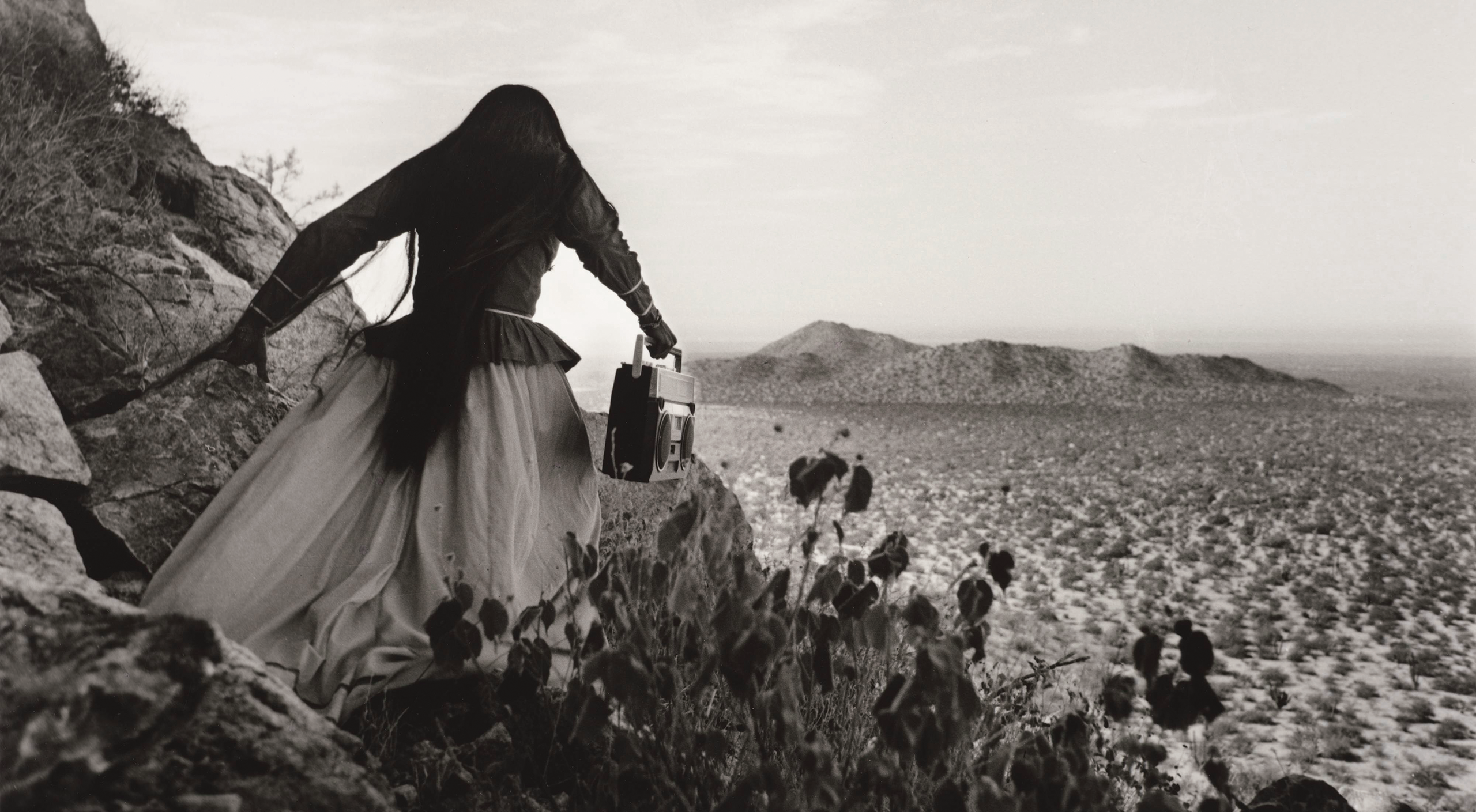 Explore the online version of the most extensive U.S. exhibition of the artist's work in more than two decades, revealing Iturbide's own journey to understand her homeland and the world.
Delita Martin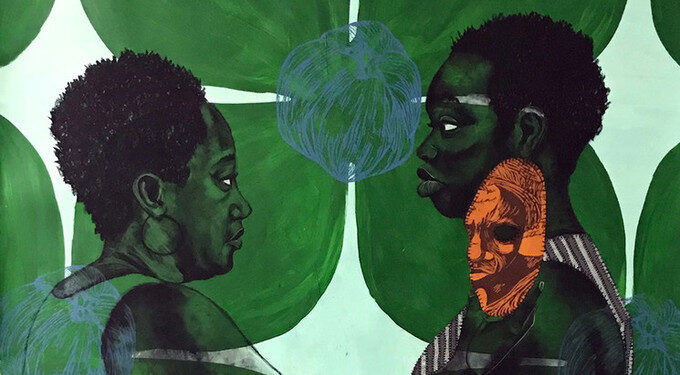 Delita Martin: Calling Down the Spirits showcases seven monumental works that bridge time and space between generations.
Dutch Women Artists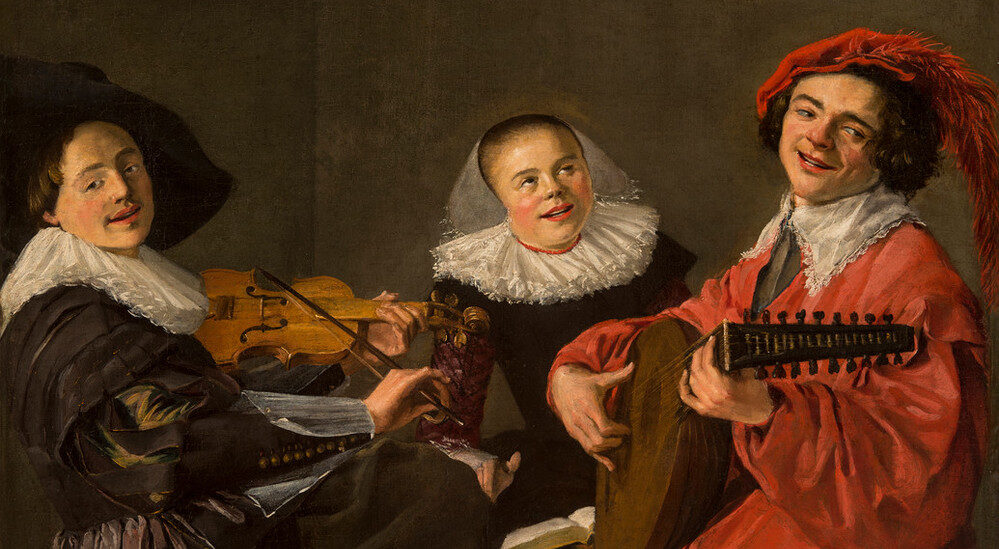 Explore an online version of Women Artists of the Dutch Golden Age, an exhibition examining the lives and works of several highly successful artists in the Netherlands during the 17th and early 18th centuries.
Blog
Our Broad Strokes blog features in-depth explorations of artworks and stories of artists in our collection and exhibitions. Every week we publish Art Fix Friday, a round-up of news about women artists and notable exhibitions around the world. Creative Coping is a series where we check in with NMWA staff in their own homes for a personal look at the creative ways they're staying connected, inspired, and grounded.
Magazine
Explore the museum's collection and exhibition history through past issues of Women in the Arts magazine. The magazine features interviews with women artists, insightful essays by NMWA curators, and much more.
Related Posts
Posted: Oct 23, 2020 in Art Fix Friday

Simone Leigh will be the first Black woman to represent the United States at the 59th Venice Biennale in April 2022; Jenny Holzer's newest public art project encourages voting; and more.

Posted: Oct 22, 2020 in Advocacy

As the 2020 presidential election nears, we revisit the wisdom of Fresh Talk speaker, Alexandra Bell, an artist who explores how the news media shapes how we think about the world—and, consequently, how we vote.

Posted: Oct 19, 2020 in 5 Fast Facts

Impress your friends with five fast facts about Delita Martin, whose work is featured in the online exhibition Delita Martin: Calling Down the Spirits.
Fresh Talks
Our signature Women, Arts, and Social Change public program highlights the power of women and the arts as catalysts for change. You can watch all previous Fresh Talk events on our Youtube Channel! You can also explore Fresh Takes, one to two minute clips of Fresh Talk speakers discussing their work and activism.
Story Time with Women in the Arts
Enjoy videos in the NMWA@Home playlist created and curated by NMWA staff to help you stay entertained and safe at home. Story Time with Women in the Arts videos feature books for kids authored or illustrated by women.
Art 21
Art 21 is a celebrated global leader in presenting thought-provoking and sophisticated content about contemporary art. They've produced many videos about important women artists.
Tateshots
This series of short films explores the stories and achievements of contemporary artists. In honor of our #5WomenArtists campaign, Tate compiled a special playlist of over 130 videos highlighting women artists.
Coloring Books
What better soothing activity for an art lover is there besides coloring! We've created the first ever NMWA Coloring Book, featuring some favorite artworks from the collection and a few you might not know. Just print the PDF at home and get coloring!
Other coloring pages featuring women artists:
This special pack features works by Mary Cassatt from the NMWA collection.
Femme Fatale D.C. is a platform for womxn creatives and entrepreneurs to collaborate by sharing their passions. Their coloring pages feature the work of female-identifying artists and creators in the D.C. area
Charlene Eckels is a Bolivian-American artist, whose interest lies in intersecting the two through interactive education. Due to COVID-19, she is offering free bilingual coloring pages and paper dolls.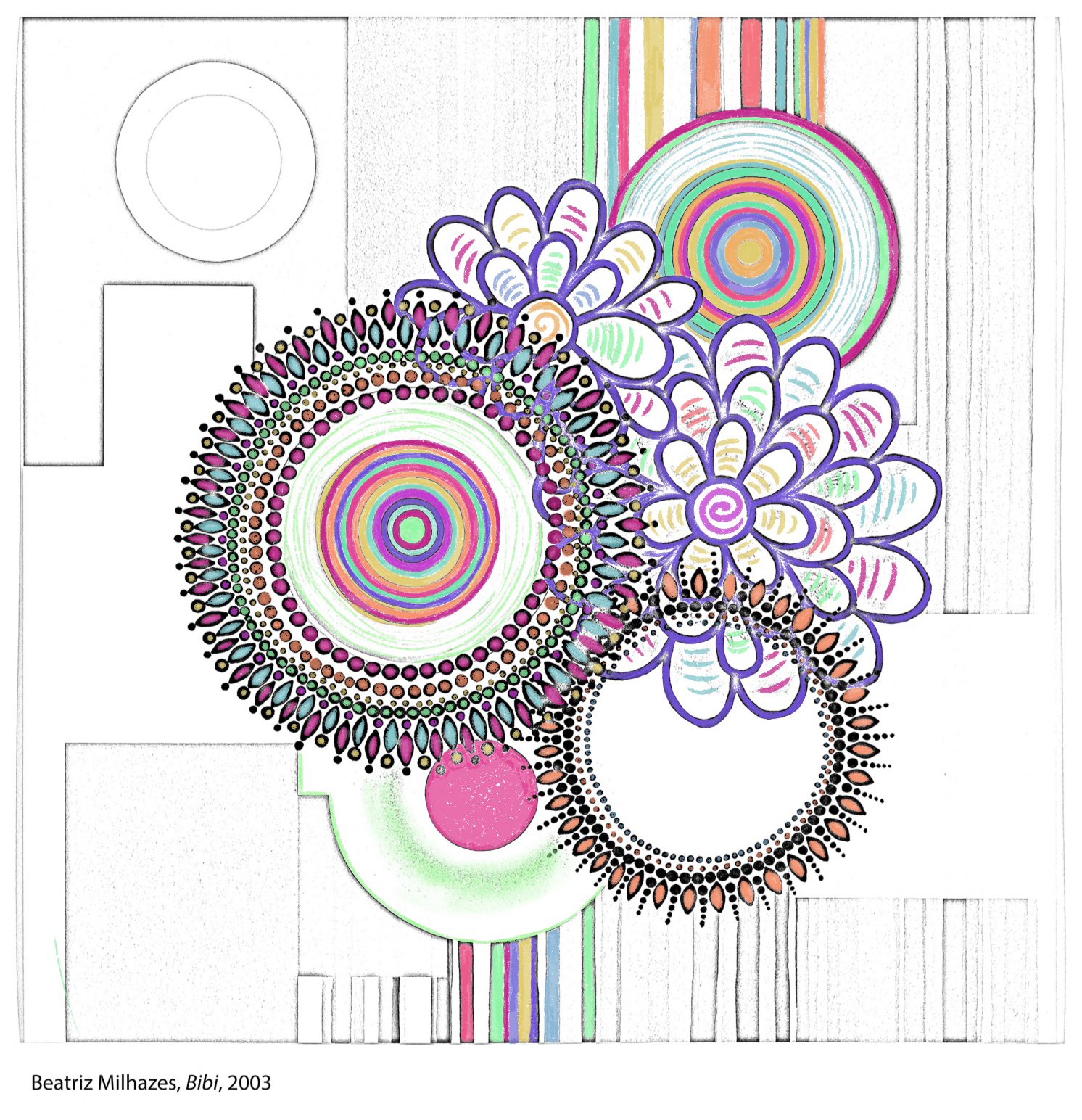 Beatriz Milhazes, Bibi, 2003; National Museum of Women in the Arts, Gift of Heather and Tony Podesta Collection; © Beatriz Milhazes; Color by Adrienne Poon
Attend a Virtual Event
Related Events
Date: Oct, 30

Time: 5 to 5:45 pm

Date: Nov, 06

Time: 5 to 5:45 pm

Date: Nov, 06

Time: 12 to 1 pm
Go on a Scavenger Hunt
Take part in a virtual scavenger hunt to learn more about #5WomenArtists. Use these prompts to enjoy NMWA@Home and discover five artists in the museum's collection and online exhibitions.
Contribute to Wikipedia
Though our seventh annual Art+Feminism Wikipedia Edit-a-Thon was postponed, you can create or improve entries about notable women artists anytime, anywhere! This guide explains how and provides a basic overview of Wikipedia editing practices.
Relax with Slow Art
Each year in April, NMWA participates in Slow Art Day, an international event encouraging people of all ages to visit museums and to look at art slowly in order to develop a better understanding of it. This guide introduces simple slow looking prompts that you can practice from home.
See For Yourself Cards
Create your own museum experience using our fun, interactive See For Yourself art cards. Use them to engage with artworks, discover fascinating facts, and reflect on your experience. We're also creating special NMWA@Home packs:
D.C. Women Artists: These five women artists in NMWA's collection called Washington, D.C., home for a significant part of their lives and important contributions as teachers, mentors, and role models.
5 Artists/5 Continents: Be an armchair traveler across five continents as you discover the work by these five women artists in NMWA's collection.
Critter Capers: Discover creatures real and imagined in the works of these five women artists in NMWA's collection.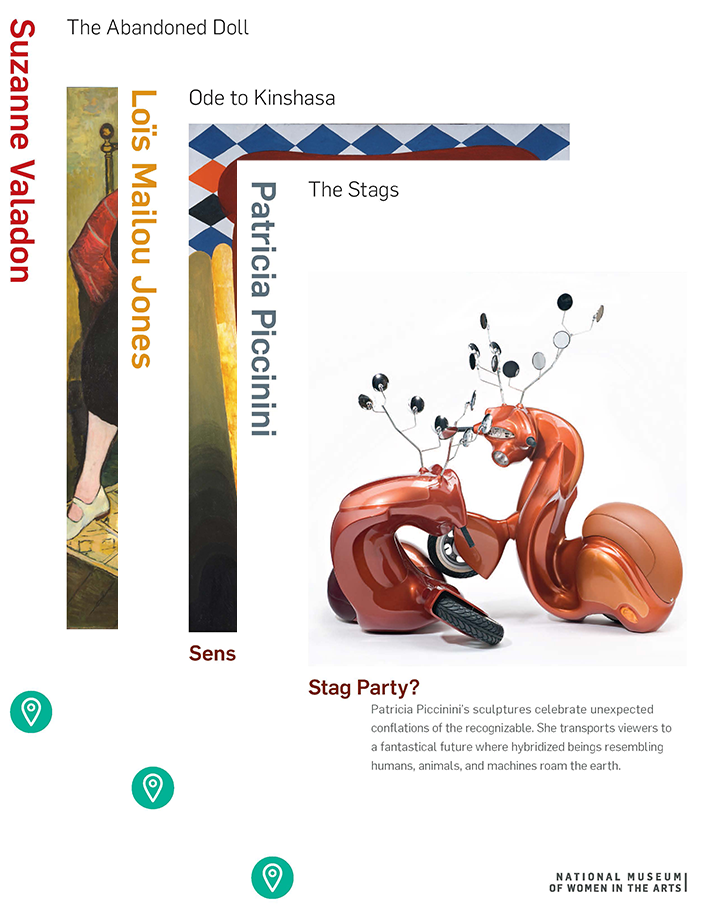 Library and Research Center Guides
Perfect for high school and college students, the research guides created by the LRC staff feature curated bibliographies and online resources for topics like artist Graciela Iturbide, art historian Linda Nochlin, and contributing to Wikipedia. Additional guides will continue to be added.
Other Learning Resources
NMWA Senior Educator Addie Gayoso moderates a weekly interactive feature from The New York Times called, "What's Going On in This Picture?" Each Monday, Times shares intriguing images stripped of their captions and invites students to discuss them live.
The D.C. Arts and Humanities Education Collaborative has created the Distance Learning Resource Database, a compilation of online and printable arts and humanities learning resources for students, teachers, and families. The database includes resources submitted by NMWA educators.
Art, Books, and Creativity
Art, Books, and Creativity (ABC) is a model arts integration curriculum developed by NMWA. The curriculum unites visual arts and language arts through the creation of artists' books, while also maintaining a specific focus on the cultural contributions of women artists.
The ABC curriculum comprises fourteen lesson plans, high resolution images, artists' biographies, book-making instructions, and a vocabulary list. Lesson plans and vocabulary lists are available in English and Spanish versions.
Explore our library of short video clips related to the ABC curriculum. Clips by artists, teachers, writers, and students demonstrate book forms and art media; offer suggestions for developing text and images; and provide ideas for integrating visual arts into the core curriculum.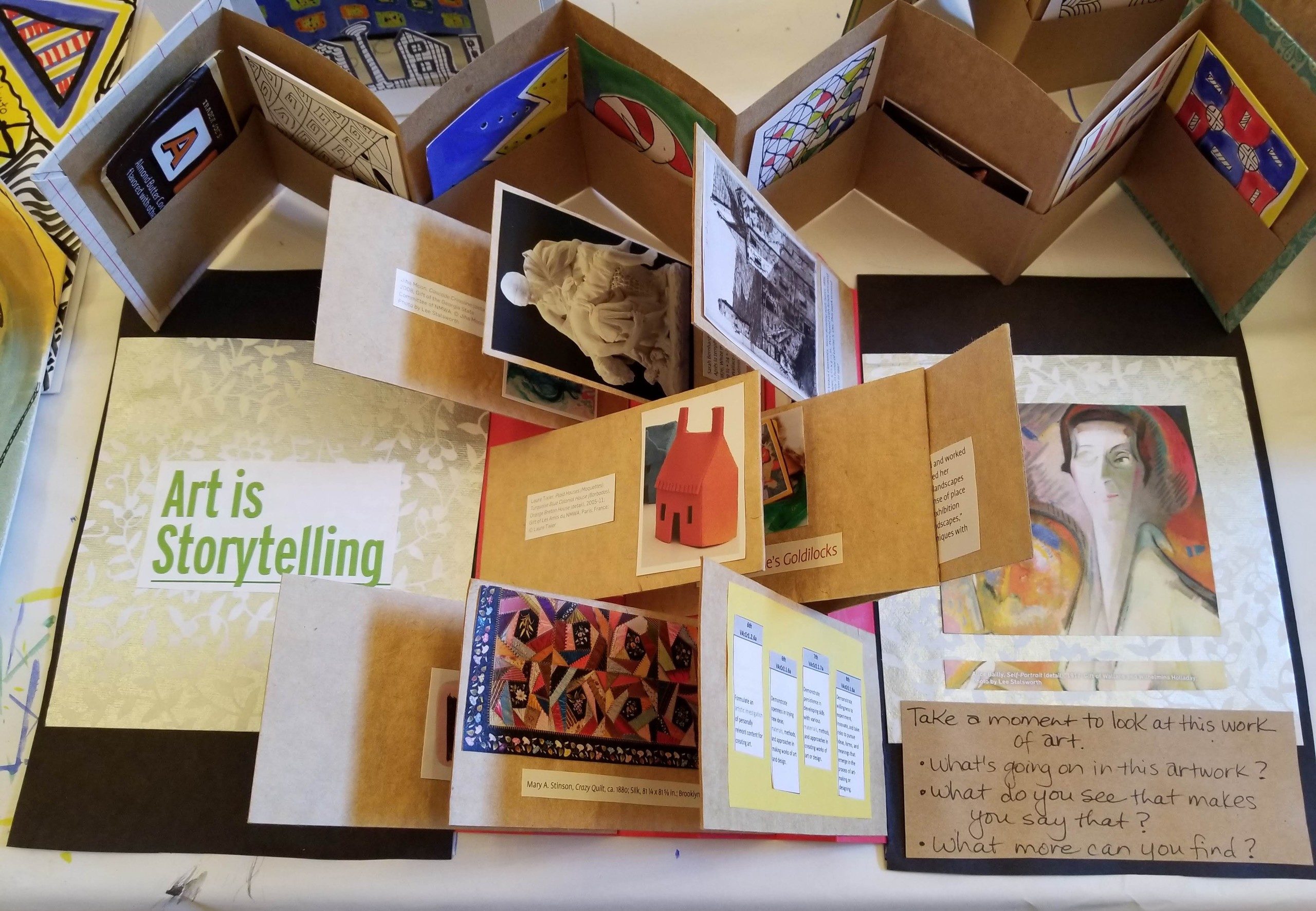 Photo credit: Deborah Gaston, NMWA
Here are our recommendations for podcasts about women artists: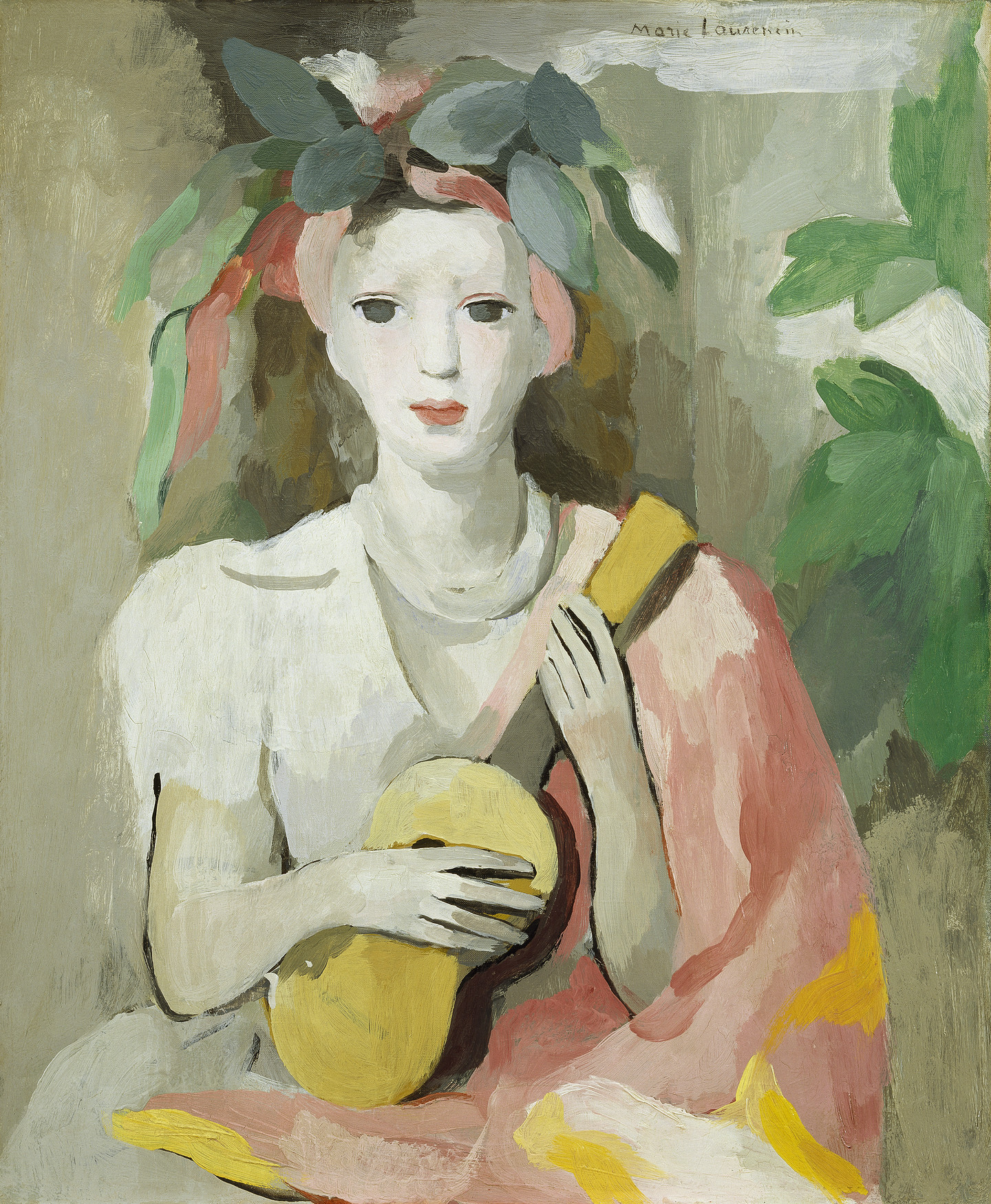 Marie Laurencin, Jeune fille á la guitare, ca. 1945; Oil on canvas, 24 x 19 3/4 in.; National Museum of Women in the Arts, Millennium gift of Sara Lee Corporation; © Sara Lee Corporation
Section thanking a fiscal sponsor
With Thanks
NMWA@Home is generously sponsored by Marcia Myers Carlucci.