November 17, 2020
11/17/20
First survey of artist Sonya Clark's 25-year career features nearly 100 works that address race, visibility and Blackness
WASHINGTON—Beginning March 3, 2021, the National Museum of Women in the Arts (NMWA) presents Sonya Clark: Tatter, Bristle, and Mend, a mid-career survey exhibition of works by textile and social practice artist Sonya Clark. Throughout her 25-year career, Clark has become renowned for her application of fiber art techniques to human hair, combs, currency, hair salon chairs and other everyday materials to explore the social and cultural impacts of the African Diaspora. The exhibition features nearly 100 works that reflect the breadth and depth of the artist's practice. Illuminating the central themes of Clark's art—including heritage, labor, language and visibility—the show aims to reveal Clark's radical ability to combine an intensity of handwork and subject matter with an economy of form. Tatter, Bristle, and Mend is open through June 27, 2021.
"This timely exhibition affirms Clark's prowess as both maker and visionary," said NMWA Deputy Director for Art, Programs and Public Engagement/Chief Curator Kathryn Wat. "She uses concept, process and participation rather than didactic imagery to reflect questions and truths back to us."
Clark describes "mining" common objects, particularly those bound to identity and power, because "they have the mysterious ability to reflect or absorb us." The artist transmutes these objects through the application of a vast range of fiber-based processes: weaving, folding, braiding, trimming, pulling, rubbing, twisting, pressing, snipping, dyeing, tying or stacking her diverse source materials. By stitching black thread cornrows and Bantu knots onto flags, rolling human hair into necklaces, or stringing a violin bow with a dreadlock, she reasserts the Black presence in histories from which it has been pointedly omitted.
For example, Clark's Afro Abe II (2010)—a five-dollar bill embellished with black threads that form an Afro for President Abraham Lincoln—is witty, poignant and provocative. The stitched intervention induces a sharp, penetrating moment of recognition and connection and infuses the currency with new, layered meaning. Clark's use of currency-as-canvas evokes personal, cultural and historical associations with money, including freedom, self-determination and property ownership. As Clark observes, "It's crowning the emancipator with the hair most associated with Black liberation and black power," simultaneously embodying the historical absence of Black political agency as well as the promise of it. That liminality—the creation of objects that simultaneously denote humankind's capacity to suppress as well as persevere—is the formidable essence of Clark's practice.
Hair as the Primordial Textile
Drawing on the rich complexity of her heritage, with a Jamaican mother, Trinidadian father and Scottish great-grandfather, Clark has a unique vantage point on American identity and craft. Her interest in textiles extends in part from her maternal grandmother (a tailor) and her own study of textiles in art school. "Textiles have a lot of power," Clark says. "You might not know how something is woven or knit or the structure, but you know something of cloth, and cloth is surrounding you all the time."
Because it emanates from the body, hair is sometimes considered taboo as an art-making material. Hair's connection to the individual body, however, is precisely why Clark embraces it as the most essential textile fiber available to her. A strand of hair possesses a person's whole DNA sequence, standing in for the physical body as well as an extended genealogy. Clark crafted her Hair Wreath (2002) from gathered and bound stands of dark hair. Whereas a wreath usually adorns the head as a decorative or celebratory ornament, here she illustrates that hair itself is a worthy adornment.
Clark keenly perceives the immense social power of hair and its potential as a communal form of expression. For Hair Craft Project (2014), the artist collaborated with eleven hair stylists to create original designs for her own hair and then documented them with large-scale photographs. The experience recast vivid childhood memories. Growing up in Washington, D.C., her family's neighbors included the ambassador of Benin, whose daughters often styled Clark's and her sister's hair into West African styles. Recognizing the meaning encoded in hair, the artist considers how material culture reifies that sense of self. Her work responds to the legacy of hair culture, evolving hair and race politics, and notions of "good hair" and "bad hair."
Combing Through
The artist's sculptures made from black pocket combs are among her best known. In some, Clark winds thread through the teeth and over the spines of combs. Densely packed and multi-hued, these threads function like pigment with which the artist builds shapes and shading. Through subtle changes in thread color, the luminous image of a young woman materializes across a stack of combs in Madam C.J. Walker II (Comb Tapestry) (2019). In other works, hundreds of combs are stacked into vibrant patterns that reference African textiles, including Kente cloth.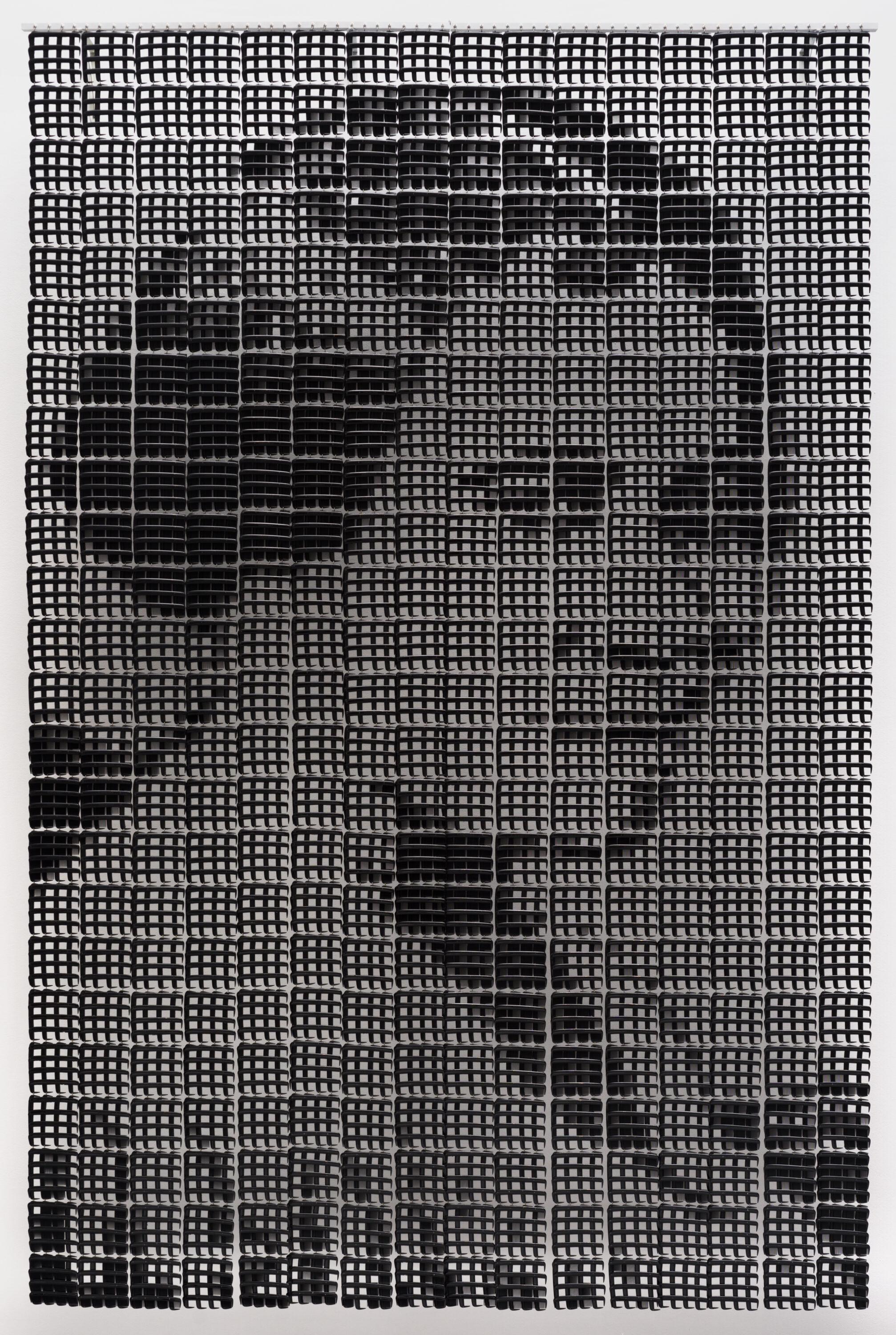 Clark sometimes utilizes a bold reductive sculpting technique in which she snips away comb teeth to create swaths of light and shade, arranging multiple combs to form recognizable images or patterns. In addition to directly echoing the trimming of hair, this assertive snipping action also lends an aggressive tone to the piece. "The word 'comb' has roots connecting it to the word 'teeth,'" she explains. "This work, in that sense, attempts to bite back. Like the saying 'to comb through,' which suggests a thorough investigation, I examine the comb by reconfiguring it."
Unraveling Invisibility
Clark works much like a linguist, studying language to see how we make meaning. She frequently employs puns in her titles, acutely aware that codes, inflections, abbreviations and double-entendre influence the stories we tell and remember. Excavating language is one method that she uses to lay bare the embedding of the past in the present.
This exhibition presents the never-before-exhibited sculpture Schiavo/Ciao (2019), made from neon light tubing that spells out the word "schiavo"— Italian for "slave." The lighting toggles; sometimes all of the letters are illuminated, and other times only the letters "c," "i," "a," and "o"—"ciao"—are lit. This informal salutation extends from an Italian phrase meaning, "I am your slave"; its purported purpose was to suggest that one was at another's service. "Millions of people around the world toss off a casual 'ciao' to friends, but virtually none of them know that the phrase is born of a reference to an institution that negates human dignity," said Wat.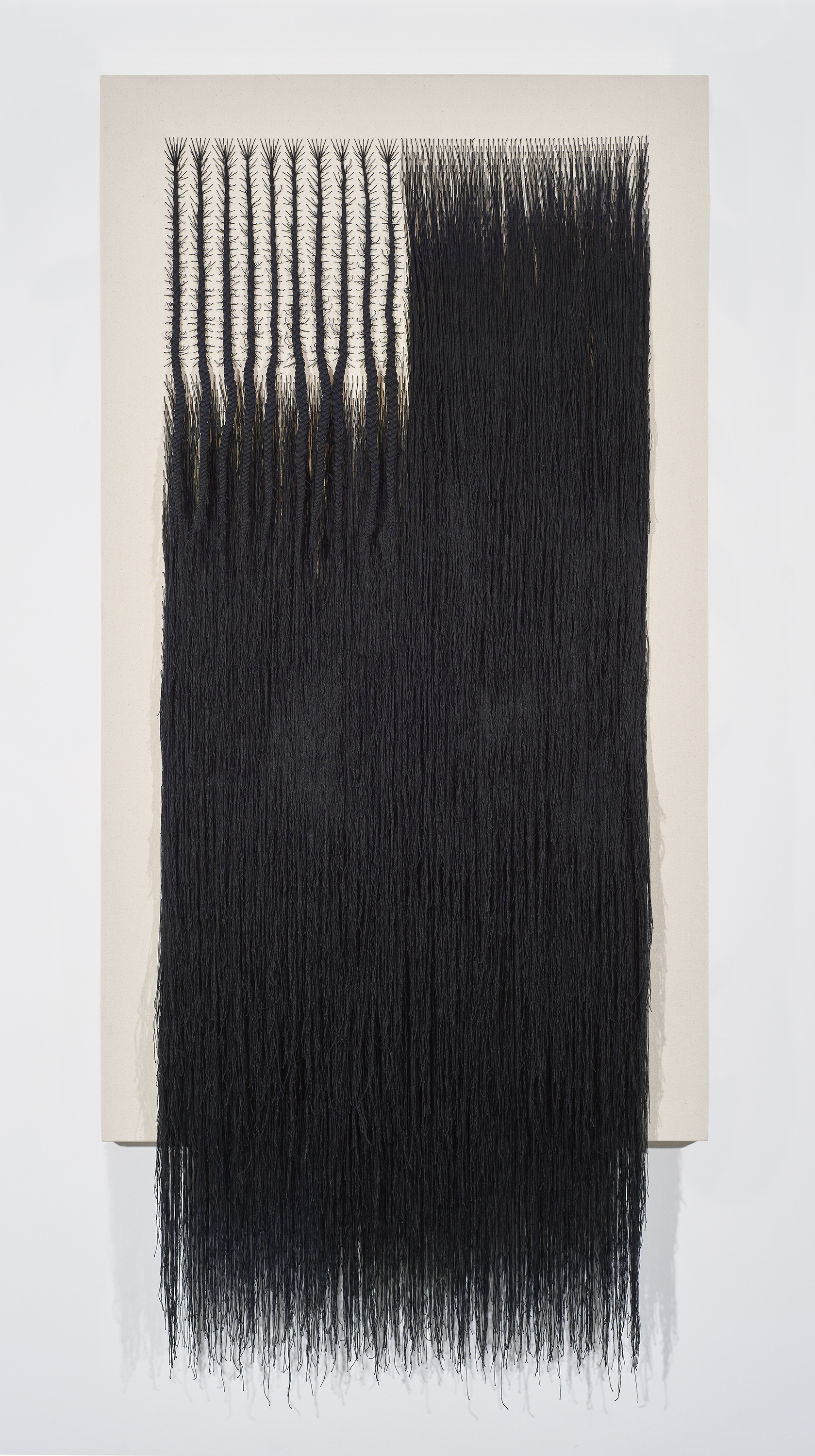 Clark's drive to reveal layers within common cultural phrases or artifacts continues in an expansive body of work related to the obscure Confederate truce flag, a simple white dishcloth used by surrendering troops at the end of the American Civil War in 1865. This evocative series also responds to the Confederate battle flag, an emblem known to virtually every American, and poses profound questions about why cultures promote certain symbols from their histories and expunge others. For her ongoing performative work, Unraveling (2015–), Clark invites museum visitors to work with her, side by side, to take apart a Confederate battle flag thread by thread. Their painstaking work to dismantle a potent symbol within American culture manifests, Clark explains, "the slow and deliberate work of unraveling racial dynamics in the United States."
In Octoroon, Clark uses black thread—a stand-in for hair—to stitch the composition of the current United States flag onto a light-colored canvas. To form the stars, she braided the thread in a cornrow style, while hanging threads—some more than six feet in length—approximate the flag's stripes. The title of the work refers to the racial classification system prevalent in the U.S. into the 20th century; the term octoroon identified an individual who had one Black great-grandparent (forming 1/8 of their ancestry). The work's title and Clark's formation of a flag from "hair," still an intense sociopolitical marker in American culture, speaks to the devastating power inherent in measuring, categorizing and labeling human beings.
Triangulation
Another group of sculptures investigates the 16th-century sugar trade in the Caribbean. Across the region, enslaved Africans planted and harvested sugar cane, which was sold to Europe and its colonies. This centuries-long spiral of subjugation, toil and greed is sometimes called the Triangular Trade.
The intoxicating pleasure induced by sugar forms a stark contrast with—and a screen for—the brutality of its production. Clark plays on this dichotomy with currency encased in crystallized sugar, rock sugar nuggets that form the stones of gold "engagement" rings and nests of delicate sugar flowers interspersed among burst cotton-plant pods. Within these objects, she melds desire and discomfort, pairing the beauty of the crystalline sugar with materials that allude to the crushing economic power of other commodities linked to Africa, including cotton, gold, diamonds and, most catastrophically, Africans themselves.
Clark's Gold Coast Journey (2016) quantifies one measure of the trade's scale and reach. The work comprises a spool carved from ebony around which Clark wound a hair-thin "thread" of 18-karat gold (both materials were sourced responsibly from Africa). Clark's gold strand measures 5,200 inches, symbolic of the 5,200 miles between her former home in Richmond, Virginia, and the nation of Ghana, an ancestral home to Clark's maternal family. Formerly known as the Gold Coast when colonized by Europeans, Ghana was abundantly rich in the natural resource, while Richmond was the second largest port of human trafficking in North America in the mid-19th century.
Prayer Beads
Clark's beaded works are perhaps her most elegiac creations. Similar to objects in a range of mediums across her practice, this series expresses her abiding interest in cultural continuity. Intricately beaded headpieces, her earliest works from the 1990s, respond to traditional African customs of adornment. Built from thousands of tiny, glimmering glass spheres, her bead sculptures depict hands, outstretched arms and chromosomal strands—ethereal manifestations of familial and ancestral bonds.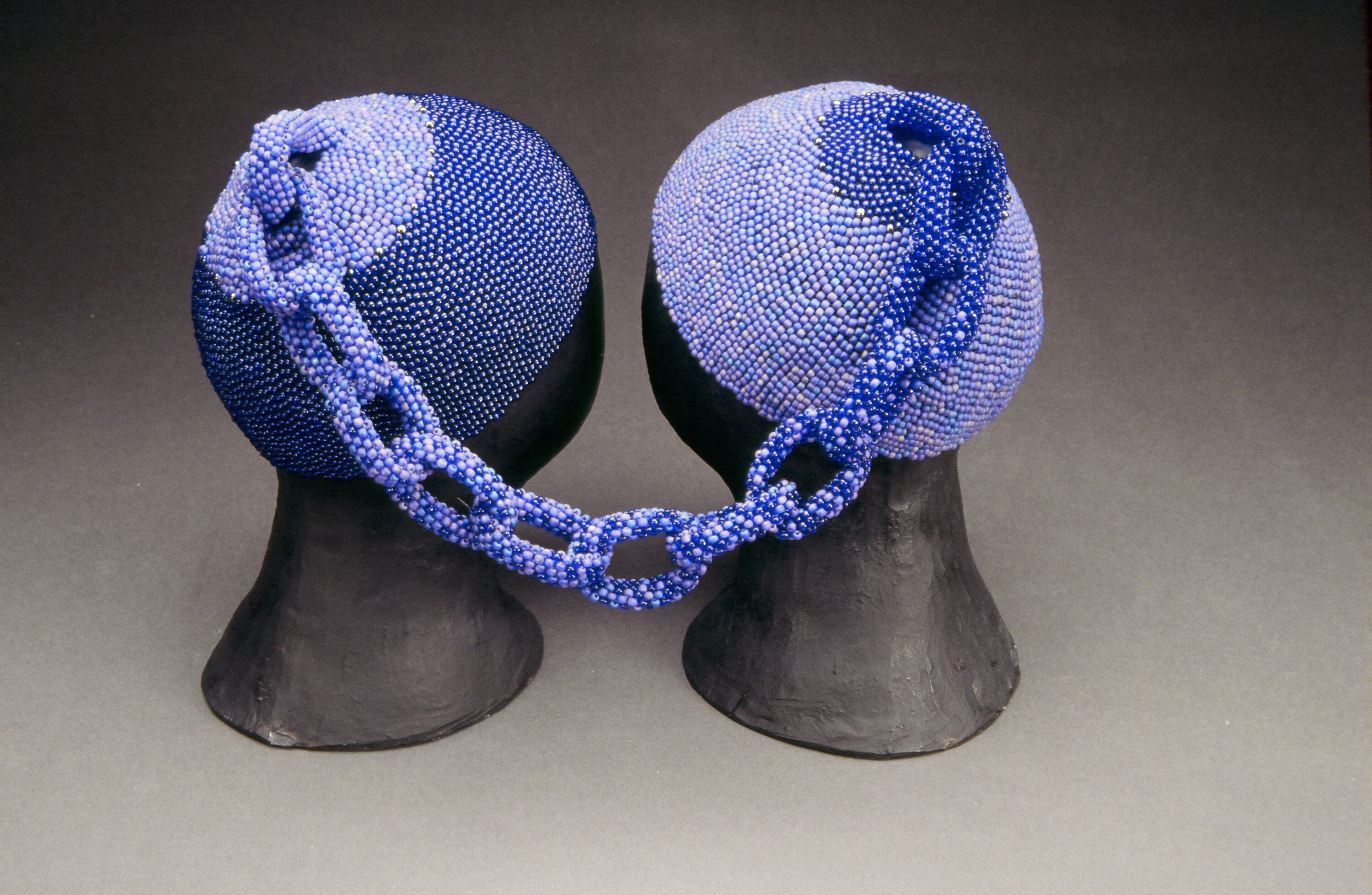 Clark embraces the prayerful connotations of beads and their pan-cultural use for meditation and contemplation. In Black Man (Invisible) (2016), a tightly sewn casing of black beads forms an impenetrable skin around a copy of Ralph Ellison's 1952 novel Invisible Man. Clark's beads bar access to Ellison's words, vivifying the writer's central theme. Her beads also serve to protect or sanctify Ellison's shattering insight: "I am invisible, understand, simply because people refuse to see me…. When they approach me, they see only my surroundings, themselves, or figments of their imagination, indeed, everything except me."
Sonya Clark: Tatter, Bristle, and Mend is organized by the National Museum of Women in the Arts. The exhibition is made possible by The Coby Foundation, Ltd., with additional funding provided by Share Fund, Clara M. Lovett, the Sue J. Henry and Carter G. Phillips Exhibition Fund, Stephanie Sale and the Lenore G. Tawney Foundation.
Publication
Published by NMWA in February 2021, Sonya Clark: Tatter, Bristle, and Mend is a fully illustrated, 176-page companion to the midcareer survey of renowned textile and social practice artist Sonya Clark. The catalogue features a conversation between Clark and Nell Painter, distinguished historian, writer and visual artist, as well as new poetry by Nikky Finney, winner of a National Book Award. Also included are essays by Bridget R. Cooks, curator and associate professor in the Department of Art History and the Department of African American Studies at the University of California, Irvine; Tiya Miles, writer and Radcliffe Alumnae Professor in the Department of History at Harvard University; Salamishah Tillet, New York Times contributing critic-at-large and Henry Rutgers Professor of African American and African Studies and Creative Writing at Rutgers University; and curators Kathryn Wat and Hannah Shambroom of NMWA.
About Sonya Clark
Born in 1967 in Washington, D.C., Sonya Clark is professor of art and the history of art at Amherst College, and formerly a Distinguished Research Fellow in the School of the Arts at Virginia Commonwealth University. She earned an MFA from Cranbrook Academy of Art and a BFA from the School of the Art Institute of Chicago. She also holds a BA from Amherst College, from which she received an honorary doctorate in 2015. She is the recipient of the Rappaport Prize, James Renwick Alliance Distinguished Educator Award, United States Artists Fellowship, Anonymous Was a Woman Award, ArtPrize Juried Grand Prize, Pollock Krasner Foundation award and The 1858 Prize, among others. Clark is one of 16 international artists selected to participate in the inaugural Black Rock Senegal residency program (2020) in Dakar, a project launched by artist Kehinde Wiley. Clark's art has been presented in more than 350 museums and galleries around the world and reviewed in publications including Artforum, The Art Newspaper, The Los Angeles Times and The New York Times.
National Museum of Women in the Arts
The National Museum of Women in the Arts (NMWA) is the only major museum in the world solely dedicated to championing women through the arts. With its collections, exhibitions, programs and online content, the museum inspires dynamic exchanges about art and ideas. NMWA advocates for better representation of women artists and serves as a vital center for thought leadership, community engagement and social change. NMWA addresses the gender imbalance in the presentation of art by bringing to light important women artists of the past while promoting great women artists working today. The collections highlight painting, sculpture, photography, and video by artists including Louise Bourgeois, Mary Cassatt, Judy Chicago, Frida Kahlo, Shirin Neshat, Faith Ringgold, Pipilotti Rist, Amy Sherald and Élisabeth Louise Vigée-LeBrun.
NMWA is located at 1250 New York Avenue, NW, Washington, D.C. It is open Mon.–Sat., 10 a.m.–5 p.m. and Sun., noon–5 p.m. Admission is $10 for adults, $8 for visitors 65 and over and students, and free for NMWA members and youths 18 and under. Admission is free the first Sunday of each month. For information, call 202-783-5000, visit nmwa.org, Broad Strokes Blog, Facebook, Twitter or Instagram.