Barbara Hepworth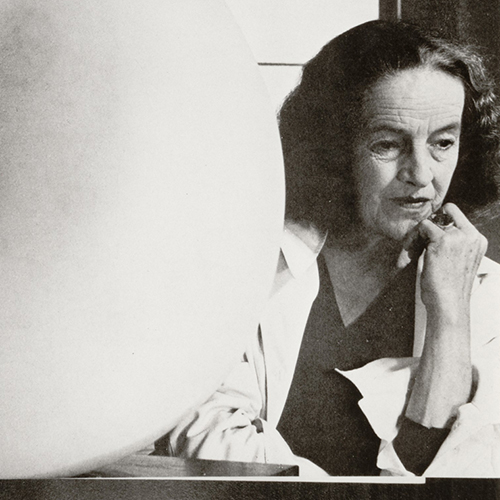 Hepworth discovered her passion for sculpture as a young child. She entered Leeds School of Art in 1920, where she began a lifelong friendship with fellow student Henry Moore. A year later, she was admitted to the Royal College of Art in London.
While on a postgraduate fellowship in Italy, Hepworth worked with master stone carvers and met British sculptor John Skeaping, whom she later married. Back in London, Hepworth was one of a group of avant-garde sculptors committed to exploring abstraction. Though her earliest works featured simplified, naturalistic forms, she increasingly focused on formal issues. By the early 1930s, Hepworth was creating purely abstract work.
Her mature style was characterized by a sensuous kind of organic abstraction. Hepworth possessed a significant sensitivity for her materials and typically practiced direct carving. She sometimes incorporated strings, wires, and colored paint into her sculptures. She was fascinated by the play between mass and space, and her approach created a tension between an open, interior space and the material mass surrounding it.
In 1931, Hepworth and Skeaping divorced; two years later she married the English avant-garde painter Ben Nicholson, with whom she lived and worked for the next two decades.
During the 1950s, Hepworth's reputation grew exponentially: her work appeared in the Venice Biennial exhibition and won a first prize at the Biennial in São Paolo; she was made a Commander of the Order of the British Empire in 1958, and was later awarded the rank of Dame in 1965.