Barbara Morgan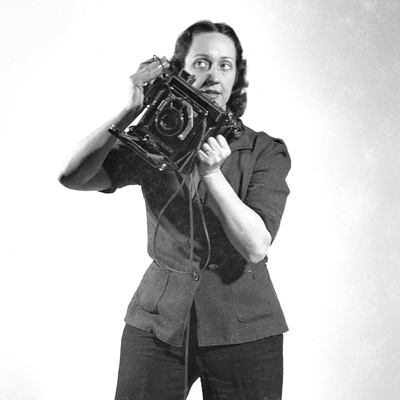 Raised in southern California, Morgan studied painting and printmaking at the University of California, Los Angeles, where she later taught design, woodcut, and painting for five years. In 1925, she married Willard Morgan, a photographer, writer, and editor, with whom she had two sons. After moving to New York City in 1930, she began to pursue photography over her other artistic practices, exploring the medium and experimenting with different lighting and printing techniques.
Attending a performance by the fledgling Martha Graham Company, Morgan decided to create a book of photographs of Graham's troupe. Published in 1941, Martha Graham: Sixteen Dances in Photographs was a landmark in both Morgan's and Graham's careers. The photographs impart an instant of action—these moments in time are transformed into timeless gestures that also convey emotional truths.
In addition to their extraordinary power and beauty, her photographs were educational. Displayed in traveling exhibitions, the images introduced people across the U.S. and abroad to modern dance, then a relatively unknown art form. Many of Morgan's photographs are considered the defining images of dancers, including Martha Graham, Merce Cunningham, and Erick Hawkins.
At her home in Scarsdale, New York, where she moved in 1941 and lived out her life, Morgan continued taking photographs of dancers, children, and other subjects. She experimented with pictures of light sources in motion, published several more books, and received numerous grants and honors.