Beatrice Wood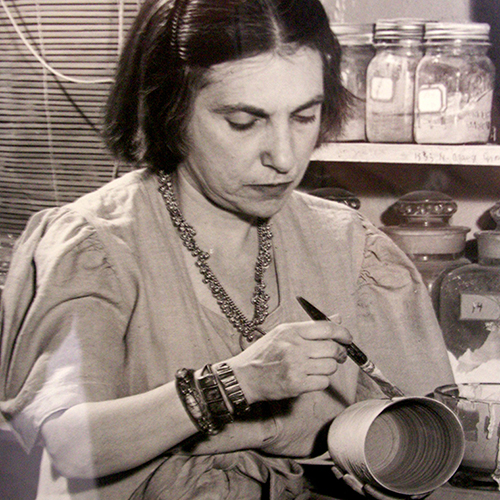 Before discovering her love for clay, Wood explored painting, drawing, writing, and acting. After studying painting at the Académie Julian in Paris, Wood returned to her native New York City in 1911 to join the theater scene. At that time, she also became a member of the avant-garde New York Dada art group. She helped develop Dada publications and organize the group's riotous soirées. She also exhibited her lyrical paintings and drawings at Dada exhibitions.
In 1928, Wood settled permanently in southern California. After purchasing a lusterware plate on a trip to Europe, Wood began taking pottery classes in the adult education department of Hollywood High School. In the late 1930s, she studied with Modernist ceramicists Glen Lukens and Gertrud and Otto Natzler, whose cleanly shaped vessels with variegated or textured glazes influenced Wood. Setting up a studio in Ojai, a small community outside of Los Angeles, Wood found both commercial and critical success. Her lusterware objects were sold through galleries and high-end department stores and featured in numerous one-person museum exhibitions.
In 1961, she was named Goodwill Ambassador to India by the U.S. government. Wood's ceramics, which she continued to create until her death at age 105, are part of museum collections worldwide. In 1994, the Smithsonian Institution named her an Esteemed American Artist.