Clementine Hunter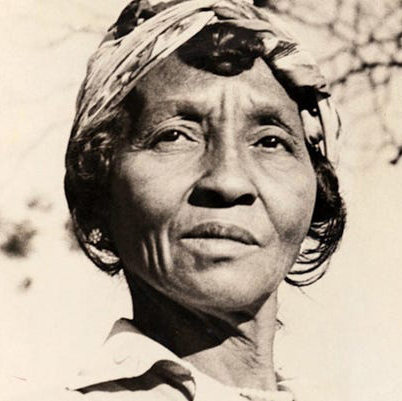 Hunter lived and worked most of her life on the Melrose cotton plantation near Natchitoches, Louisiana. She did not start painting until the 1940s when she was already a grandmother. Her first painting, executed on a window shade using paints left behind by a plantation visitor, depicts a baptism in Cane River.
Hunter painted at night, after working all day in the plantation house. She used whatever surfaces she could find, drawing and painting on canvas, wood, gourds, paper, snuff boxes, wine bottles, iron pots, cutting boards, and plastic milk jugs.
Working from memory, Hunter recorded everyday life in and around the plantation, from work in the cotton fields to baptisms and funerals. She rendered her figures, usually Black, in expressionless profile and disregarded formal perspective and scale.
Though she first exhibited in 1949, Hunter did not garner public attention until the 1970s when both the Museum of American Folk Art in New York and the Los Angeles County Museum of Art exhibited her paintings.
Even with such success, Hunter chose to stay in Louisiana, working at Melrose Plantation until 1970 when she moved to a small trailer a few miles away on an unmarked road.