Jaune Quick-to-See Smith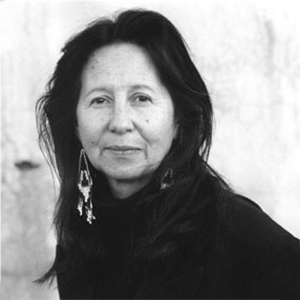 Raised on the Flathead Reservation, Smith is deeply connected to her heritage. She creates work that addresses the myths of her ancestors in the context of current issues facing Native Americans. her inspiration stems from the formal innovations of such artists as Pablo Picasso, Paul Klee, and Robert Rauschenberg, as well as traditional Native American art.
Smith works with paint, collage, and appropriated imagery. Through a combination of representational and abstract images, she confronts subjects such as the destruction of the environment, governmental oppression of native cultures, and the pervasive myths of Euro-American cultural hegemony.
Smith has had more than eighty solo exhibits over the past thirty years. During the same period , she organized and curated more than thirty Native exhibitions and lectured at almost 200 universities, museums, and conferences.
She has also completed several collaborative public art works such as the floor design in the Great Hall of the Denver International Airport; an in-situ sculpture piece in Yerba Buena Park, San Francisco, and mile-long sidewalk history trail in West Seattle.