Käthe Kollwitz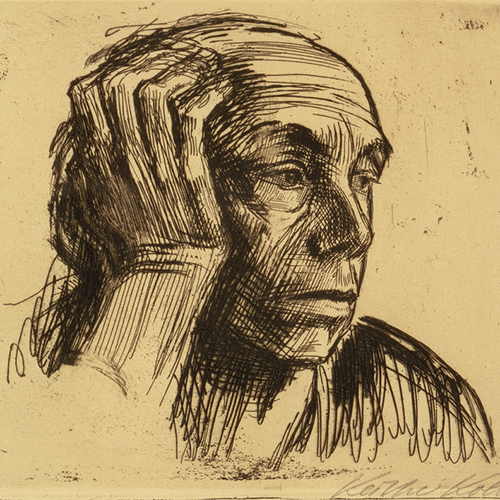 Raised in a politically progressive middle-class family, Kollwitz enjoyed family support for her artistic ambitions. When she became engaged to a medical student in 1889, her father even sent her to study in Munich to persuade her to choose art over marriage. Following graduation, she returned to Berlin to marry her fiancé Karl Kollwitz in 1891.
Though Kollwitz studied both painting and printmaking, she turned exclusively to the print in the early 1890s. Influenced by fellow German artist Max Klinger, she saw the potential of the print for social commentary. Prints could be reproduced inexpensively and in multiples, allowing her to reach more people.
For the next 50 years she produced dramatic, emotion-filled etchings, woodcuts, and lithographs—generally in black and white but sometimes including touches of color. Initially, her husband's working-class patients proved worthy models and subjects. Beginning in the teens, Kollwitz's subject matter came to reflect her experience as a witness to both World Wars. She was devastated by the suffering and loss of human life, including the loss of a son in the first war and a grandson in the second.
Although Kollwitz's wrenching subjects and virtuoso technique soon made her work popular throughout Germany and the Western world, they also generated controversy. In 1933, the Nazi government forced her to resign her position as the first female professor appointed to the Prussian Academy (in 1919); soon thereafter she was forbidden to exhibit her art.
During her final years, Kollwitz produced bronze and stone sculpture embodying the same types of subjects and aesthetic values as her work in two dimensions. Much of her art was destroyed in a Berlin air raid in 1943. Soon thereafter, Kollwitz evacuated to Moritzburg, a town just outside Dresden, where she died two years later.