Lilly Martin Spencer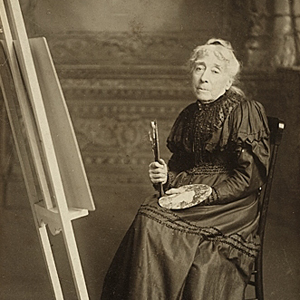 In 1830, the eight-year-old Angélique Marie Martin, called Lilly, arrived in the U.S. from her native England. Her parents, a politically progressive couple of French descent, raised their daughter in the small town of Marietta, Ohio.
When her artistic abilities and ambitions outstripped the cultural resources available there, her father took her to Cincinnati, where she studied with the portrait painter John Insco Williams.
At 22, Lilly Martin married Benjamin Rush Spencer. They made their home first in New York City, then in Newark, New Jersey, and then moved into a large house in Highland, New York, across the Hudson River from Poughkeepsie. The couple had 13 children, seven of whom survived to adulthood.
Lilly was the principal breadwinner, while Benjamin managed their growing household. In the late 1840s and 1850s, the artist's work became popular in Europe and America.
Spencer exhibited her paintings at the National Academy of Design and was represented at the Women's Pavilion of the Philadelphia Centennial Exhibition in 1876. She also produced work for a number of prominent patrons. However, much of Spencer's fame resulted from the widespread sale of inexpensive engraved copies of her oil paintings.