Louise Abbéma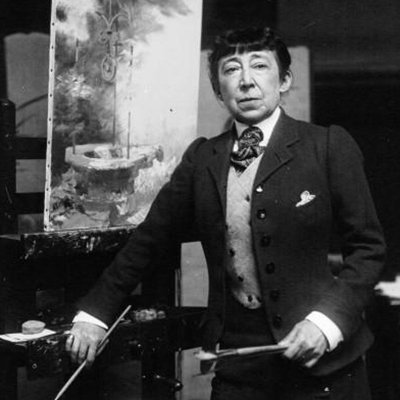 Born into a wealthy aristocratic Parisian family with close ties to the city's artistic community, Abbéma studied art with several master painters. Portraits of actors and actresses at the Comédie Française dominated her early works until she made a name for herself at the Salon of 1876 with her portrayal of the "Divine Sarah."  Abbéma ultimately executed multiple portraits and a bronze medallion of Bernhardt, with whom she was a close friend and possibly lover.
Like most women artists of the time, Abbéma focused mainly on portraiture and genre scenes (images of everyday life). Her high-society portraits executed with a light touch and rapid brushstrokes reveal the academic and Impressionist influences that shaped her style. Her sitters included French diplomats and other notable members of society. Abbéma developed a variety of techniques using oil paints, pastel, and watercolor, and worked on various supports, including fans.
Abbéma received commissions for decorative panels for town halls throughout Paris as well as the Palace of the Governor of Dakar in Senegal. Abbéma solidified her international reputation after exhibiting works, including two wall murals (on canvas), at the Women's Building at the 1893 World's Columbian Exposition in Chicago. She continued to exhibit at the Salon until 1926, a year before her death at the age of 73.