Rose Wylie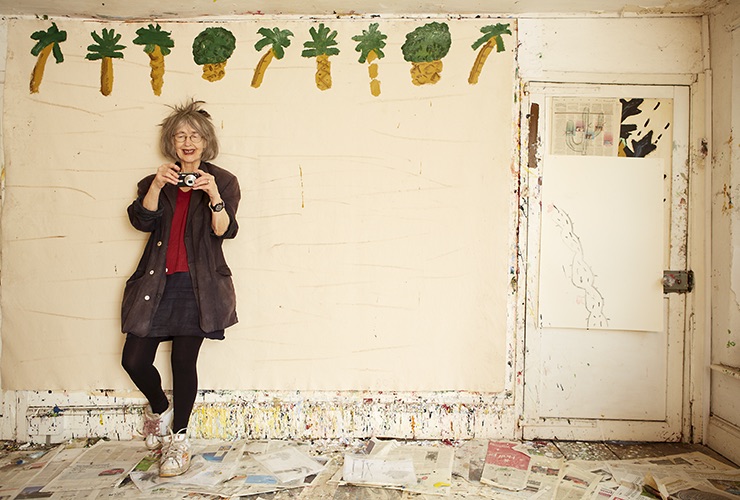 Wylie draws on a range of visual sources, from art history and film to cartoons and the cult of celebrity for her large-scale, broadly painted canvases. A proponent of spontaneity in the creative process, she often paints or collages over finished sections of her canvases as she seeks the desired effect. This approach creates both dynamic shifts in scale and variegated surface textures.
Born in 1934 in the coastal town of Hythe in Kent, England, she trained at Folkestone School of Art in Kent in the 1950s and received her MA from the Royal College of Art in 1981. During the intervening decades, she focused on her marriage to artist Roy Oxlade and on raising their three children.
Wylie was in her 40s before she turned her attention back to painting, which may explain the tendency by critics to view her as "up and coming" when she began garnering serious attention in her late 60s. At that time, she was nominated for several painting and drawing prizes by the Royal Academy of Arts and other contemporary arts organizations in the U.K. In 2009, she was shortlisted for Britain's Threedneedle Prize for excellence in figurative art.
Inspired in part by Wylie's inclusion in NMWA's Women to Watch exhibition in 2010, renowned critic Germaine Greer profiled the artist in London's The Guardian in July 2010. Wylie was selected as 2010 guest artist for British fashion label Twenty8Twelve, led by designer Savannah Miller. Since 2007, Wylie's paintings have been featured at international art fairs and in one-person exhibitions in New York, Philadelphia, London, Berlin, and Moscow.