September 10, 2018
9/10/18
The fifth installment of NMWA's Women to Watch exhibition series, Heavy Metal, is presented by the museum and participating national and international outreach committees. The exhibition showcases contemporary artists working in metal, including those who create sculpture, jewelry, and conceptual forms. Heavy Metal engages with the fluidity between "fine" art, design, and craft, whose traditional definitions are rooted in gender discrimination.
Heavy Metal—Women to Watch 2018
Artist: Holly Laws
Nominating committee: Arkansas Committee / Consulting curator: Matthew Smith, Arkansas Art Center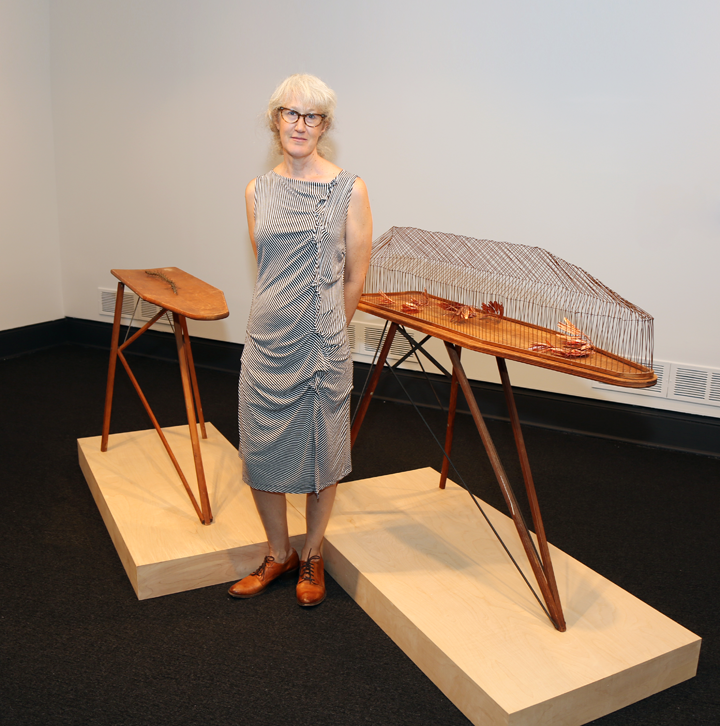 1. What do you like best about working with metal?
I am intrigued by the almost infinite variety of processes and techniques associated with metal, as well as the range of metals available to the contemporary sculptor. From fine gold beaten into delicate sheets for leafing to molten iron for casting, one could spend a lifetime discovering new ways of working.
2. How do your works on view in Heavy Metal fit into your larger body of work?
For the past several years I have been focusing on immersive installations with interconnected objects, using recorded sound and dialogue to explore the repercussions of human actions and interactions. These two works are metaphors for our current sociopolitical climate, and were part of a larger body of work exploring the divisive state of affairs in American politics and the collective interpersonal polarization, splintering, and miscommunication.
3. As an artist, what is your most essential tool? Why?
Because I employ so many different materials and methods of construction in my work, I don't have just one essential tool. When I'm extruding rubber, my most essential tool is my miniature precision caulking gun. When I'm sewing rawhide, it would be my Japanese screw punch, and when I'm growing alum crystals it would be my kitchen stove and a large enameled pot. This is probably why my house and studio are packed to the rafters with miscellaneous tools and materials.
4. Who or what are your sources of inspiration and influence?
All the women in my family who came before me are a huge influence. My father's mother tatted. My mother's mother sewed clothing for her five daughters and herself. My aunts sewed, did needlework, Ikebana flower arranging, and many other creative pursuits that required a good eye for design and fine motor skills. There were never idle hands. I grew up with everyone around me making.
5. What is the last exhibition you saw that you had a strong reaction to?
Women Artists in Paris, 1850–1900 at the Clark Art Institute in Williamstown, Massachussetts is great. The exhibition was a stark reminder of the struggles women artists have faced and all the obstacles they needed to overcome to study and to carve out a place for themselves in a male-dominated art world. These women were trailblazers, and marveling at the fruits of their labors was uplifting and empowering.
Visit the museum to see Heavy Metal, on view through September 16, 2018. Hear from more of the featured artists through the online Heavy Metal Audio Guide.