August 14, 2018
8/14/18
The fifth installment of NMWA's Women to Watch exhibition series, Heavy Metal, is presented by the museum and participating national and international outreach committees. The exhibition showcases contemporary artists working in metal, including those who create sculpture, jewelry, and conceptual forms. Heavy Metal engages with the fluidity between "fine" art, design, and craft, whose traditional definitions are rooted in gender discrimination.
Heavy Metal—Women to Watch 2018
Artist: Katherine Vetne
Nominating committee: San Francisco Advocacy for NMWA / Consulting curator: Jenny Gheith, San Francisco Museum of Modern Art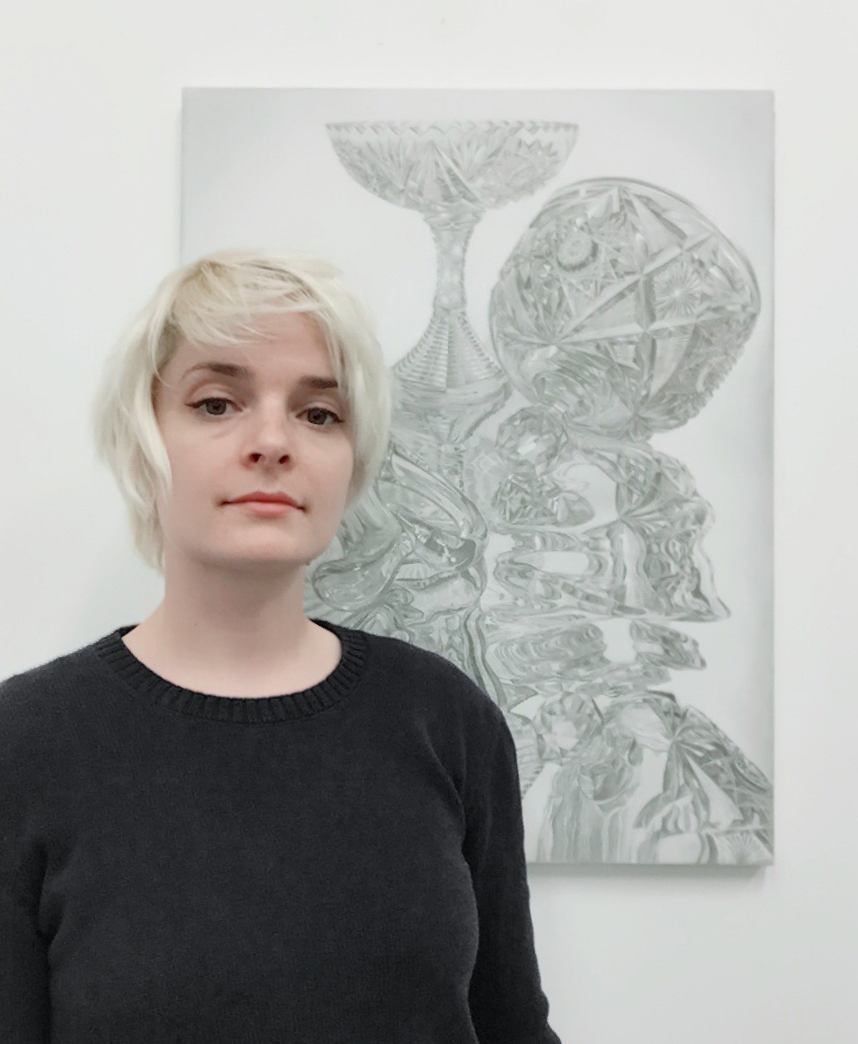 1. What do you like best about working with metal?
Metal acts as a mirror when it is reflective. My use of high-gloss silver nitrate on melted lead crystal distorts the reflections of viewers as they peer into the surface of one of my sculptures. I also work in a Renaissance-era drawing medium called metalpoint. Using metal as a drawing tool creates the potential for an over-the-top level of precision that informs the sense of opulence in my work.
2. How do your works on view in Heavy Metal fit into your larger body of work?
My work in Heavy Metal builds on my current interests: mainstream womanhood, notions of desire, commodity culture, class, and excess. Using lead crystal as subject matter in my drawings and sculptures allows me to mine the history of still-life alongside an examination of the ways in which idealized (and distorted) forms of femininity are bought, sold, consumed, and mass-produced.
3. As an artist, what is your most essential tool? Why?
Ebay. It's a great tool for observing the detritus of our domestic culture. Most of the crystal I buy looks dated, and there often isn't a demand for it. These objects become a burden on people. Lead crystal is technically valuable, and yet there is no market for other people's unwanted heirlooms. Sometimes I suspect that I am the only one buying it.
[URISP id=13927]
4. Who or what are your sources of inspiration and influence?
I'm interested in cultural phenomena that symbolize oddness and excess. Currently I'm looking at competitive table-setting competitions, home decorating in the era of Reaganomics, and Louise Linton's infamous Instagram post full of designer goods and hurt feelings. I also look up to artists Cornelia Parker, Lynda Benglis, Brett Reichman, Petah Coyne, Laura Krifka, Rachel Stern, and Clara Peeters.
5. What is the last exhibition you saw that you had a strong reaction to?
I could have spent weeks wandering the galleries of the Michelangelo drawing show that was on view at the Metropolitan Museum of Art in New York last winter.
Visit the museum to see Heavy Metal, on view through September 16, 2018. Hear from more of the featured artists through the online Heavy Metal Audio Guide.