August 8, 2018
8/8/18
The fifth installment of NMWA's Women to Watch exhibition series, Heavy Metal, is presented by the museum and participating national and international outreach committees. The exhibition showcases contemporary artists working in metal, including those who create sculpture, jewelry, and conceptual forms. Heavy Metal engages with the fluidity between "fine" art, design, and craft, whose traditional definitions are rooted in gender discrimination.
Heavy Metal—Women to Watch 2018
Artist: Kerianne Quick
Nominating committee: Southern California Committee / Consulting curator: Bobbye Tigerman, Los Angeles County Museum of Art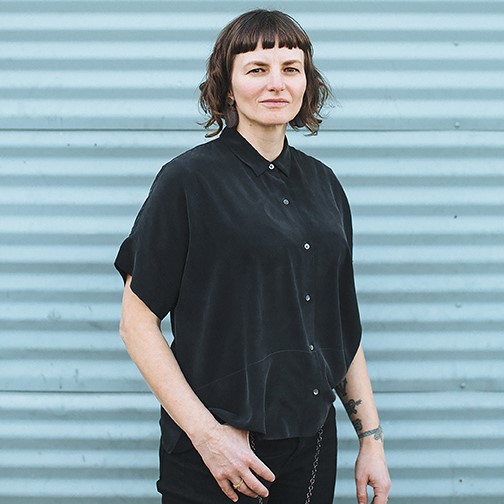 1. What do you like best about working with metal?
Metal is an amazing shapeshifter that can be endlessly re-formed, from solid to liquid and back to solid. I love the idea that the metal I work with has an unseen history. It was once part of the regalia of ancient royalty, or a simple circle worn for decades around your grandmother's finger. Because we carry it, use it to mark occasions, and re-form it to suit the needs of its user, metal continually bares witness to individual lives and the history of humanity.
2. How do your works on view in Heavy Metal fit into your larger body of work?
I am currently exploring contemporary forms of portable wealth. For millennia, jewelry has been an important means of transporting wealth. Material value plays an important role, but it is not the only value jewelry holds. Jewelry can reconnect the wearer to spaces that are no longer accessible. My current project A Portrait of People in Motion looks at the role of objects in movement and migration, both voluntary and forced. The works in Heavy Metal explore my own experience with spatial displacement—both real and imagined.
3. As an artist, what is your most essential tool? Why?
My hands are my most essential tools. Making by hand is a way of thinking and learning that is not directly associated with intellect. I rely on proprioceptive interactions between my body and the material, leading me to act intuitively as I work.
4. Who or what are your sources of inspiration and influence?
I am obsessed with material and the information it can carry. I am inspired by the stories that objects can relate, authenticate, and enhance. I have made several bodies of work in this material-specific way of working. I explored communal sheep farming practices in the Orkney Isles, sugar farming in Hawaii, native copper mining in Ontonagon County, and derelict brickyards in New York's Hudson Valley.
5. What is the last exhibition you saw that you had a strong reaction to?
I loved Dahn Vo: Take My Breath Away at the Guggenheim. He masterfully re-contextualizes objects in the physical space of the museum, allowing their historical significance to become an amalgam of new meaning and a new narrative. As a metalsmith, I think Vo's We the People is a must see!
Visit the museum to see Heavy Metal, on view through September 16, 2018. Hear from more of the featured artists through the online Heavy Metal Audio Guide.