July 2, 2018
7/2/18
The fifth installment of NMWA's Women to Watch exhibition series, Heavy Metal, is presented by the museum and participating national and international outreach committees. The exhibition showcases contemporary artists working in metal, including those who create sculpture, jewelry, and conceptual forms. Heavy Metal engages with the fluidity between "fine" art, design, and craft, whose traditional definitions are rooted in gender discrimination.
Heavy Metal—Women to Watch 2018
Artist: Rana Begum
Nominating committee: U.K. Friends of NMWA / Consulting curator: Caroline Douglas, Contemporary Art Society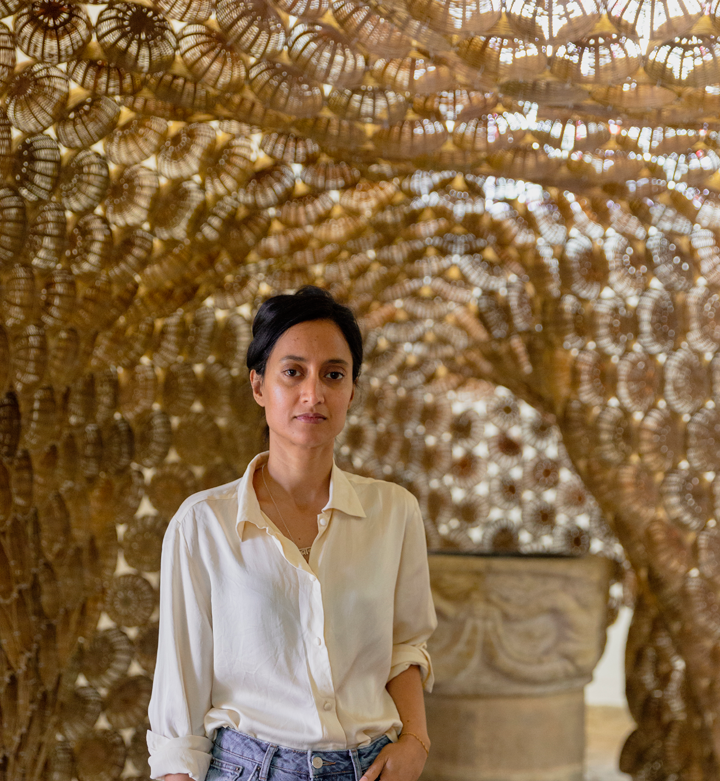 1. What do you like best about working with metal?
I look to architecture for inspiration, which accounts for my attraction to working with industrial materials. Using metals gives my work a physicality and feeling of permanence, juxtaposed with more abstract, meditative, and contemplative pursuits. Combined with color and light, these materials allows me to push visual boundaries and work on a variety of scales.
2. How do your works on view in Heavy Metal fit into your larger body of work?
These works are made from extruded aluminum bars, something I use extensively. I like to work with aluminum as a lightweight material that I can physically handle. As material can often inform the outcome in my work, it is essential that I can engage with it in a hands-on manner.
These two works continue the dialogue with light, form, and color. They are part of a series which explores the way in which the viewer may connect with a seemingly static work as light and color are activated by movement.
3. As an artist, what is your most essential tool? Why?
Light, because without it neither form nor color can survive. Rather than mixing color by hand, I use light and reflection instead. Light delineates form. As it changes in density, it constantly refreshes the work.
The main challenge I face is how to capture and control light in a way that also allows space for the unexpected.
[URISP id=13879]
4. Who or what are your sources of inspiration and influence?
I draw inspiration from my surroundings and the way light affects them. Just as the light changes each day, so too does everything it touches. When I am out in London or other cities, the majority of photographs I take have light as the focal point. This can be the way light is revealing a specific element or how it is creating patterns through reflection. Capturing these fleeting moments inspires and informs my work.
Tess Jaray has been my mentor and a huge influence on my work. I am also very fortunate to be working with amazing women—those who run galleries I work with and curators such as Diana Campbell, Helen Phyby, and Anne Barlow. These women have been an inspiration to me, encouraging me to keep aiming higher and keep pushing myself and my practice.
5. What is the last exhibition you saw that you had a strong reaction to?
I loved seeing Rachel Whiteread's exhibition at the Tate. The way she transforms and elevates everyday objects—creating solidity from impermanence—really resonates with me. There is a delicacy and poetry to the way she uses materials, akin to what I am trying to achieve in my own practice.
Visit the museum to see Heavy Metal, on view through September 16, 2018. Hear from more of the featured artists through the online Heavy Metal Audio Guide.
Posted In
Artist Spotlight
NMWA Exhibitions