August 17, 2018
8/17/18
The fifth installment of NMWA's Women to Watch exhibition series, Heavy Metal, is presented by the museum and participating national and international outreach committees. The exhibition showcases contemporary artists working in metal, including those who create sculpture, jewelry, and conceptual forms. Heavy Metal engages with the fluidity between "fine" art, design, and craft, whose traditional definitions are rooted in gender discrimination.
Heavy Metal—Women to Watch 2018
Artist: Susie Ganch
Nominating committee: Mid-Atlantic Region Committee / Consulting curators: Stefanie Fedor, Visual Arts Center of Richmond, and Megan Rook-Koepsel, independent curator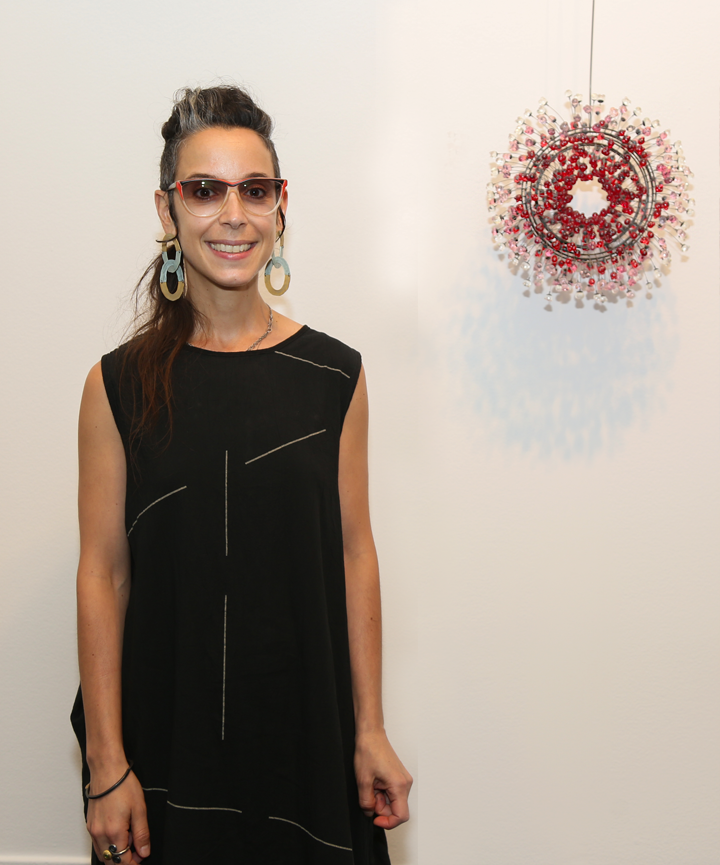 1. What do you like best about working with metal?
I love understanding the properties and characteristics of each metal that I work with. I encourage the material to do what it wants to do naturally. I feel like metal communicates so clearly. Over the years I've learned to listen carefully and respond accordingly. But that isn't to say we don't argue. Metal can be stubborn—but so can I.
2. How do your works on view in Heavy Metalfit into your larger body of work?
The work in Heavy Metal is pivotal to my studio practice today. These pieces were the first time I explored techniques and larger scales that were unfamiliar to me as a jeweler. Falling in Love: 1999 (2011–13) was the first time I used collected material rather than generating my own. Now, I often work with trash including used coffee lids, collected bottle and container lids, and other unwanted items easily gathered from my community. I connect my work to the outside world.
[URISP id=13912]
3. As an artist, what is your most essential tool? Why?
As an artist my most essential tool is my curiosity. In the studio, I am driven to create things that I would not otherwise see, to understand things I can't fully grasp. This is my drive as an artist. Any physical tool would be useless without this state of mind.
4. Who or what are your sources of inspiration and influence?
Inspiration and influence change as my work changes over time. These days, I am often motivated by my concerns for the environment and our collective habits of consumption.
5. What is the last exhibition you saw that you had a strong reaction to?
The Institute of Contemporary Art at Virginia Commonwealth University recently held its grand opening with Declaration. I was incredibly moved by Cassils's Inextinguishable Fire (2015) and Paul Rucker's Storm in the Time of Shelter.
Earlier this year I saw Unspeakable: Atlas, Kruger, Walker: Hammer Contemporary Collection and was overwhelmingly moved by Kara Walker's work. The American Folk Art Museum's exhibition War and Pieced was a moving display of the power of material and the healing force of craft.
Visit the museum to see Heavy Metal, on view through September 16, 2018. Hear from more of the featured artists through the online Heavy Metal Audio Guide.