September 4, 2018
9/4/18
The fifth installment of NMWA's Women to Watch exhibition series, Heavy Metal, is presented by the museum and participating national and international outreach committees. The exhibition showcases contemporary artists working in metal, including those who create sculpture, jewelry, and conceptual forms. Heavy Metal engages with the fluidity between "fine" art, design, and craft, whose traditional definitions are rooted in gender discrimination.
Heavy Metal—Women to Watch 2018
Artist: Venetia Dale
Nominating committee: Massachusetts State Committee / Consulting curator: Emily Zilber, editor, Metalsmith (formerly of the Museum of Fine Arts, Boston)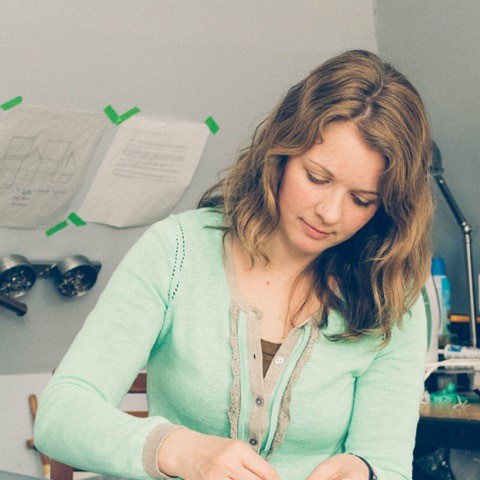 1. What do you like best about working with metal?
Pewter was commonplace in colonial homes in the form of practical objects like plates and tankards. Today, pewter is often used to make souvenir spoons, wizard figurines, and other trinkets. I am constantly negotiating this associated space, as kitsch and fantasy meet the colonial American home, when I am making my work. I love both the reverence and sense of play that these associations carry.
2. How do your works on view in Heavy Metal fit into your larger body of work?
The works Touchmarks: Made in India (2009), As it Comes to Bear (2015), and Between: Kitchenaid Mixer (2017) share a common thread. I took common-but-overlooked objects (Styrofoam inserts, keychains, and plastic baskets) and translated them through material and form. These works, like most I create, use a similar making methodology of fragmenting an object, then molding and casting it in pewter. Once I have a good stockpile of castings, I cut, piece, and solder them together.
3. As an artist, what is your most essential tool? Why?
My three-wheel vintage Craftsman bandsaw is my most useful tool. It expedites my process by making quick, straight cuts to my castings. I am fascinated by the way people adapt objects to fit their needs. When I bought this bandsaw on Craigslist, it was outfitted with a DIY motor taken from a treadmill. I fell in love with two disparate objects of use becoming one.
[URISP id=13863]
4. Who or what are your sources of inspiration and influence?
I am drawn to what people leave behind and what those traces can tell us about our relationships to things and to one another. My work relies on things people use out of delight, need, or convenience. Sometimes tracing one's habits of buying and throwing away—or imagining why something is made, and how—guide my work.
5. What is the last exhibition you saw that you had a strong reaction to?
In 2013, I visited Ann Hamilton's installation the event of a thread at the Armory in New York. Hamilton took a spacious drill hall and turned it into a place where intimate yet connected interactions occurred. Objects became facilitators that connected the viewers. It was unexpectedly moving, and that is likely why it has stayed with me.
Visit the museum to see Heavy Metal, on view through September 16, 2018. Hear from more of the featured artists through the online Heavy Metal Audio Guide.