April 29, 2020
4/29/20
Last month, NMWA's #5WomenArtists social media campaign launched for a fifth year of raising awareness about women artists. Once again, the campaign pushed beyond the signature question—"Can you name five women artists?"—and encouraged cultural organizations and individuals to name women artists who are working to change the world by addressing social issues.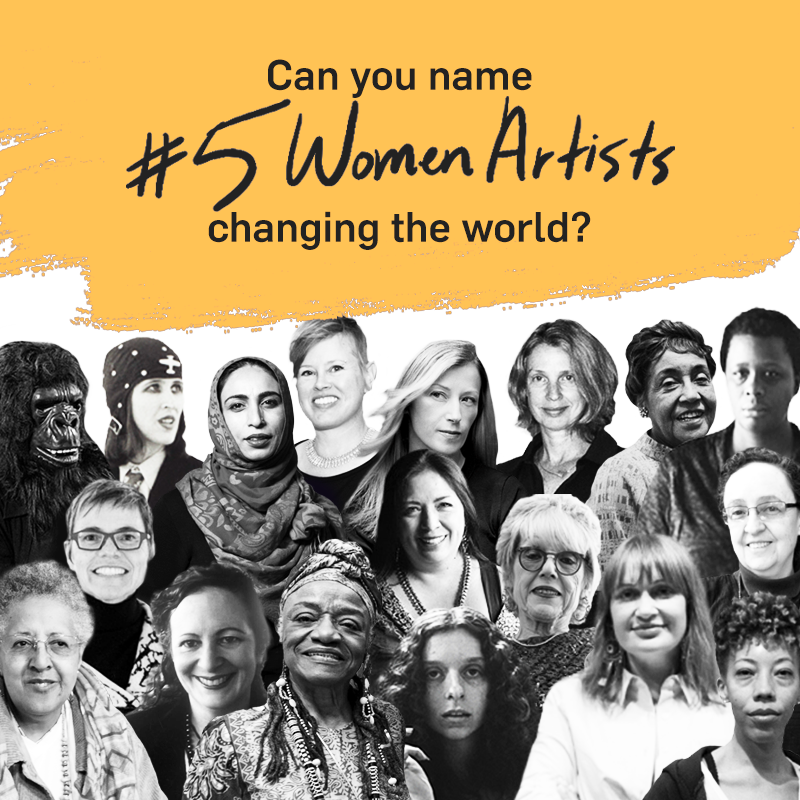 Inspiring Numbers
This year, women artists who explore gender equity, immigration, LGBTQ rights, racial justice, and climate change were highlighted by more than 675 cultural institutions and 5,129 individuals. Participants came from 49 states, plus Washington, D.C., and Puerto Rico, and 36 countries in total, including Australia, Brazil, Colombia, France, India, Israel, Italy, Lebanon, Nigeria, Qatar, Spain, and South Africa, among others. The campaign garnered more than 4,092 Instagram posts and 9,568 tweets.
2020 Highlights
The Guggenheim reflected on an installation by Pia Camil (b. 1980), who worked with Latino communities in East Harlem and Queens to transform secondhand T-shirts into commentary on consumer culture, trade, and immigration.
The Fitzwilliam Museum shared work by Bridget Riley (b. 1931) who painted a bright, bold mural in the trauma unit corridor at London's St. Mary's hospital—lifting the spirits of patients, doctors, and visitors.
The Whitney Museum celebrated Emma Amos (b. 1938), who addresses racism, sexism, and ethnocentrism in her groundbreaking paintings and prints.
Harvard Art Museums highlighted Ambreen Butt (b. 1969), whose "Daughters of the East" series explores the role of female students who protested the 2007 military siege of the Red Mosque in Islamabad, Pakistan.
Explore more highlights on Twitter!
Long-Term Impact
We surveyed returning participants about how their institutions have changed as a result of participating in the campaign. Here's what they had to say:
"All exhibitions at the Jewish Museum this season feature women artists or art dealers!"—Jewish Museum, New York
"We've made a more concentrated effort to shine light on women artists in our collections."—Detroit Institute of Arts, Michigan
"We completed a survey of our collection to determine the ratio of number of works by male artists vs. female artists."—Springfield Art Museum, Missouri
Looking Forward
Since 2016, #5WomenArtists has become an integral part of NMWA's mission to champion women artists. Because of that, we've decided to make the campaign a year-round effort! We'll continue Instagram takeovers with other cultural institutions and encourage you to keep the momentum. Don't forget to use #5WomenArtists and tag @womeninthearts!