August 12, 2020
8/12/20
Quest Skinner is a Washington, D.C.-based mixed-media artist, teacher, and community activist. In June, NMWA commissioned her to paint a mural on the plywood covering the museum's façade on a day that saw thousands of peaceful protesters gathered in support of Black lives. We spoke to Quest Skinner about her artistic practice in the time of COVID-19 and the Black Lives Matter movement.
How does your personal, family, and cultural history inform your practice?
Every incident from birth to death has a story and a reason for its inception. Being born of a family rich with talent inspired me to reach as flowers reach for light. My sculptures, murals, and clothing are influenced by the change of time, the path of my ancestors, and the stories of my youth—all while taking time to right the wrong and heal from the storms of life.
How did you pivot your artistic practice in the face COVID-19?
This year has truly been a test. I realized that being about money instead of family wasn't going to work. I've been taking time to focus on well-being and health. I'm no longer painting massive pieces for Burning Man or to sell at Eastern Market—this year I closed my doors. I'm saddened by the loss of income, but finding balance has refueled my heart and the creations that are coming now. The real pivot for me was realizing that money and work were not worth endangering the people who would be coming out to support me.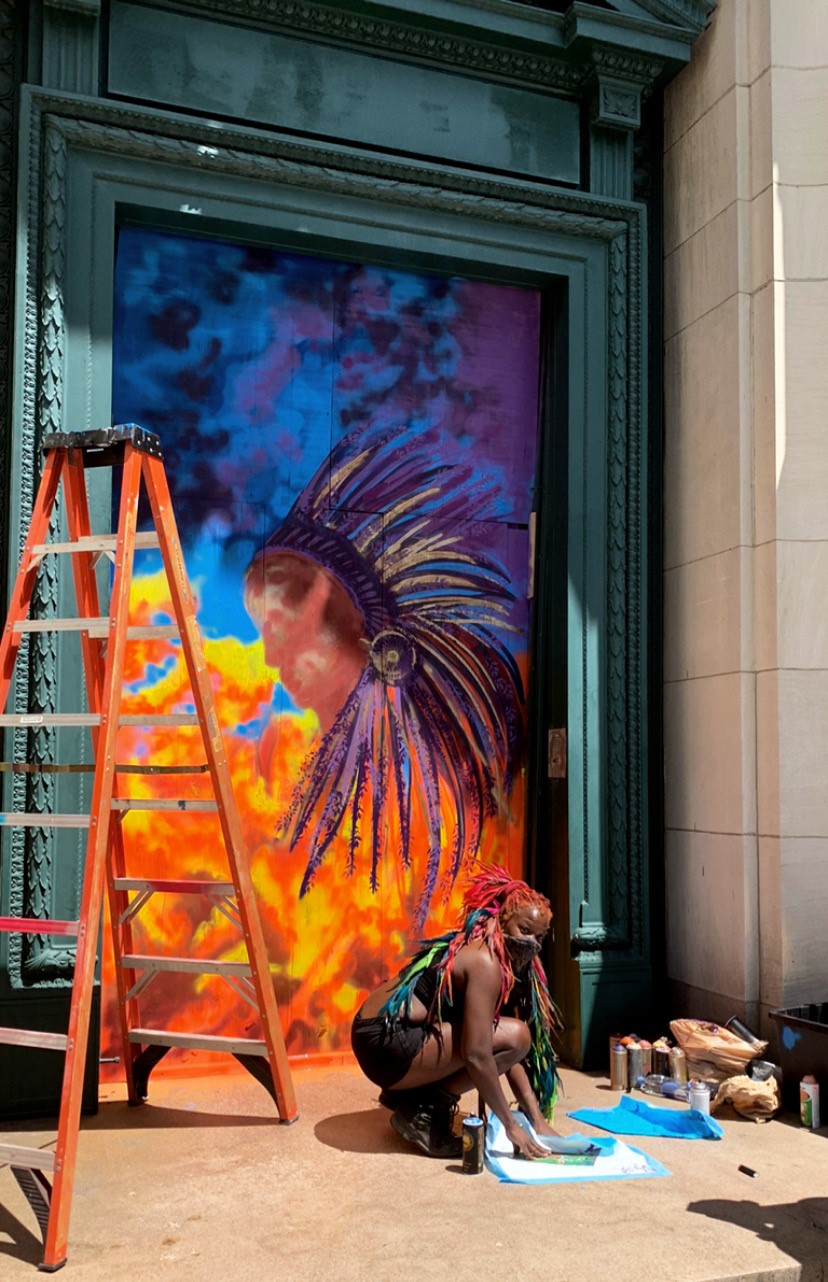 What is your dream for artists on the other side of this pandemic and uprising?
That we can learn from their stories. That we realize many artists/dancers/gig workers and their families were left out of the stimulus package. I'm exhausted when I think about the many artists who did not receive support, especially because many of the relief packages were designed to help us. My dream is that we, as a country, find ways to support and fund our creatives better and with more urgency and intention.
What is the inspiration for the mural you painted for NMWA?
Octavia E. Butler's Parable of the Sower! This novel seems to be a premonition of what we are facing right now, and we can learn from the story and create a better future.
How can art be a tool for change in this current moment?
Art can allow us to remember what has transpired. In 100 years maybe our creations will speak of our last dark age before our golden era. May our art be a reminder that we found our way out of a pandemic, out of racism, and into a dawning of new consciousness. Art can be a tool for cathartic healing for everyone—be you a collector, enthusiast, creator, or humble everyday person. Art can be a voice of change for us all. It is ultimately a way for us to find new ways of moving forward.
---
Support for creation of the murals was provided by MaryRoss Taylor.