December 4, 2015
12/4/15
The significant number of works by women at this year's Art Basel Miami Beach has the art world buzzing.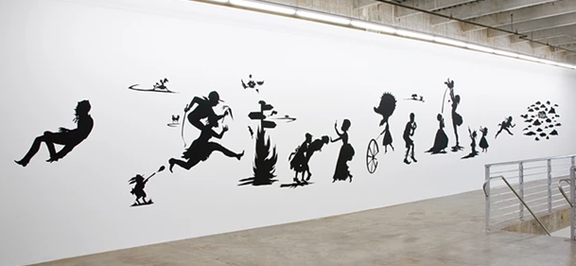 Highlighting a handful of young artists at the main fair, The Wall Street Journal includes noteworthy Moroccan artist Yto Barrada's exhibit evoking a natural-history museum and Mexican artist Fritzia Irizar's gold-threaded Phrygian hat.
The Frisky lists 15 works by women artists who exhibited at Art Basel, including Hannah Wilke, Helen Frankenthaler, Marina Abramović, and Kara Walker. The Observer also selects seven must-see booths, including works by Rosalyn Drexler, Louise Nevelson, Emily Sundblad, and Zilia Sánchez.
A showcase by collectors Don and Mera Rubell, No Man's Land, presents work by more than 100 women artists. The Guardian writes, "The whole presentation works more than fine as an art world cross-section, and you really don't miss the men."
Front-Page Femmes
Three decades after her tragic death, Cuban-American artist Ana Mendieta "seems to inspire, generally: devotion, even obsession."
Hyperallergic explores the fluid, abstract works of Philadelphia-based painter Jan Baltzell.
Examining femininity and domesticity, Patty Carroll's "Anonymous Women" photos depict textile-cloaked women blending into their environments.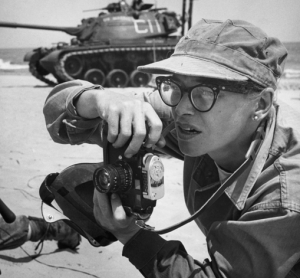 Dickey Chapelle, the first American woman photojournalist killed in action, captured historical moments from Iwo Jima to the Vietnam War.
This year's Pirelli calendar—famous for featuring sexualized, nude models—features women role models under the direction of photographer Annie Leibovitz.
B.A. Shapiro's new novel, The Muralist, tells the fictional story of two Abstract Expressionist painters.
Slate writer Anne E. Fernald traces the links between Gertrude Stein and Goodnight Moon author Margaret Wise Brown.
Known for her pioneering work in Islamic feminism, Moroccan writer and sociologist Fatima Mernissi died Monday at the age of 75.
Orange Is the New Black actress Uzo Aduba discusses acting, smiling, and her ten-year ice skating career.
Critiquing Hollywood image and weight standards for actresses, Star Wars star Carrie Fisher says, "They don't want to hire all of me—only about three-quarters! Nothing changes, it's an appearance-driven thing."
A new play for the Royal Shakespeare Company, written by Helen Edmunson, delves into Queen Anne's relationship with the aristocrat Sarah Churchill.
Blank on Blank animates an interview with Nina Simone and European jazz singer Lillian Terry, which progresses from a discussion of pop culture to violence.
Shows We Want to See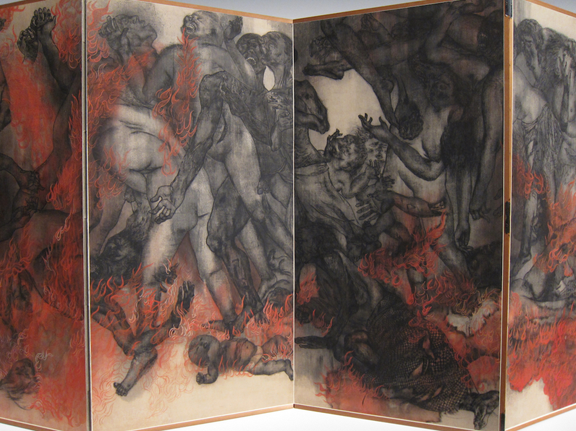 Haunting panel scenes by married artists Iri and Toshi Maruki encapsulate the horrors they witnessed three days after the atomic bomb exploded in Hiroshima in 1945.
Hyperallergic reviews Mary Heilmann's works, which combine "a do-it-yourself ethic with a vision of unconventional domesticity."
A Georgia O'Keeffe retrospective in Grenoble, France includes O'Keeffe's paintings alongside the works of her contemporaries. The Huffington Post explores the exhibition's abstracted floral imagery and the artist's success in "escaping the classic images of female sexuality."